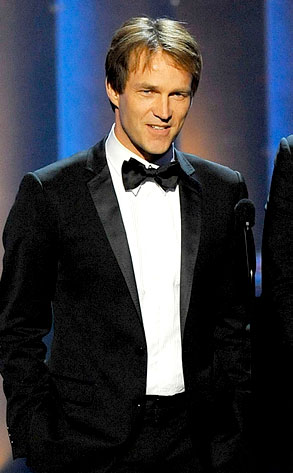 Mathew Imaging/Getty Images
Stephen Moyer hanging out in supergood spirits at the HBO Emmys afterparty, even though True Blood got totally snubbed nomination-wise.
Stephen looked absolutely divine in a fitted black tux, with his Bill Compton-esque hair a smidge lighter than usual. But where was Anna Paquin? His on- and offscreen lovah was noticeably absent from the show, and party, but don't worry—there is no trouble in human-vampire paradise.
When asked where Anna was, S.M. responded in his delicious British accent, "Oh, she just had a prior engagement." Must not have had anything to do with her real engagement to Moyer, but either way glad this couple can hang apart.
Just because HBO is True Blood territory doesn't mean some Twilighters didn't show up...