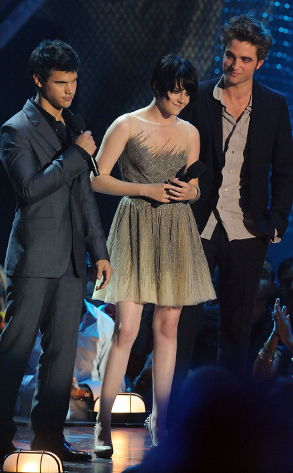 Jeff Kravitz/Getty Images
Leave it to Kanye West to steal New Moon's thunder. After the rapper rudely interrupted the adorable Taylor Swift onstage at last night's show, 'Ye's outburst was all anyone could talk about. Probably the only people that were mildly okay with that were Robert Pattinson and Kristen Stewart, because it totally took all the heat off them.
Like we told you last week would happen, PDA between Robsten was kept at a minimum. And while we were fairly certain Rob would be a no-show on yesterday's red carpet, Kristen skipped out, too.
Poor Taylor Lautner not only had to present two awards, but he was the Twilight cast member directed to walk the carpet and handle most of the press (Robsten questions not permitted, of course). Geez, this poor kid is really working for his New Moon paycheck huh?
So why were Rob and Kristen hiding out? Maybe because even more on set sources are coming to us, confirming that the two are very much together.