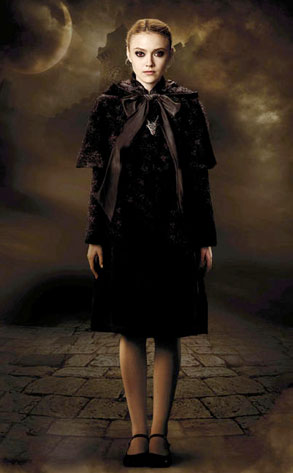 Summit Entertainment
It was only a matter of time before new New Moon photos started to see the (twi)light of day.
And luckily for the breathlessly waiting Twi-hards, that time is now.
Feast your eyes (and any other body parts you wish) on the film's vicious, red-pupiled fresh meat, courtesy of a crop of five new promotional photos released today by Summit.
Sure, they may be missing the Robert Pattinson, Kristen Stewart and Taylor Lautner Twi-umvirate, but if you had vampires this bad ass staring you down, you'd probably mosey on out of frame, too.
Still, new photos of Dakota Fanning as the angel-faced Jane, Cameron Bright as her twin Alec, Michael Sheen as Volturi leader Aro, Jamie Campbell Bower as Caius and Christopher Heyerdahl as Marcus—a group we only caught glimpses of in the film's official trailer—isn't such a bad way to enter the weekend.