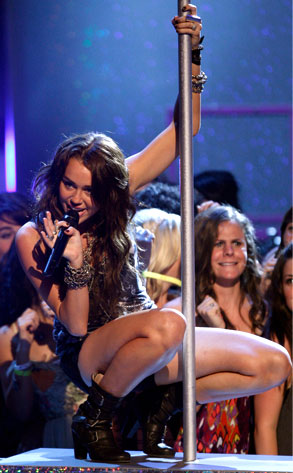 Kevin Winter/TCA 2009/Getty Images for Fox
Dear Ted:
Are we wrong to assume that Summit had their hand in lumping the presentation for Best Movie Liplock Award to the others Twilight won at TCA?
—Tinkelo
Dear Liplock Lockdown:
How much power do you really think Summit gets at the friggin' Teen Choice Awards?
Dear Ted:
Okay, does someone need to remind Miley Cyrus that she is only sixteen years old? Ugh. Pretty girl, but she needs to stop trying so hard and act her age.
—Leigh Ann
Dear Hannah Montragedy:
Does someone? Absolutely. But it's definitely not gonna be Nick Jonas who'll break the news to Mi-Cy anytime soon, trust.
Dear Ted:
A little gossip is good, but these Robsten fans go beyond obsessed. I find it incredibly disturbing to see all of the postings in the comments section (as I try to weed through to anything other than Robsten topics). There's such a creepy factor to the whole thing. Can they at minimum be encouraged to post on your message board rather than trashing up the comments sections, saving for folks that want to post a comment about the actual topic you've covered?
—Karen
Dear Robsten Rant:
In one ear, out the other, munchkin. There's no stopping the Robsessed. But, here's the good news: the comment boards are all yours. Your franchise to do with as you please. Is there something you and your pals are passionate about and want to start a campaign on, like how much you apparently hate Robsten? Go to town! (Just don't expect me to join.)
Dear Ted:
Do you think it is a coincidence that today Ashley Greene not only had pictures making out with Chace Crawford but also naked pictures released, at the same time that pictures of Kristen and Rob were everywhere this weekend? I smell Summit conspiracy.
—Kim