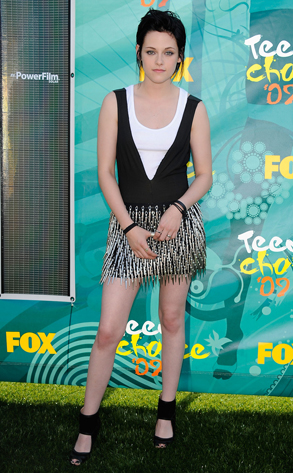 Frazer Harrison/Getty Images
Sure, it ain't Oscar material, but a certain vampire flick definitely delivered the goods at the Twilight Choice Teen Choice Awards.
Twilight sucked up 11 of the 12 surfboards it was up for, even smacking down the Academy Award-winning Slumdog Millionaire for Choice Drama. Pretty much everyone except the Twilight key grip carried home hardware, led by Robert Pattinson's four surboards, including Choice Actor, Drama (yes, Kristen Stewart was Choice Actress) and Male Hottie.
But Pattz wasn't all that. He actually lost the overall trophy tally to Miley Cyrus who accounted for a half-dozen Teen Choice Awards, including Choice Music/Dance Movie Actress and the oh-so-prestigious Hissy Fit.
Ms. Montana also had the honor of presenting the night's biggest award, the Ultimate Choice, to Britney Spears, declaring herself a "huge fan" of the Britster before bestowing the prize.
But wait, there's more...