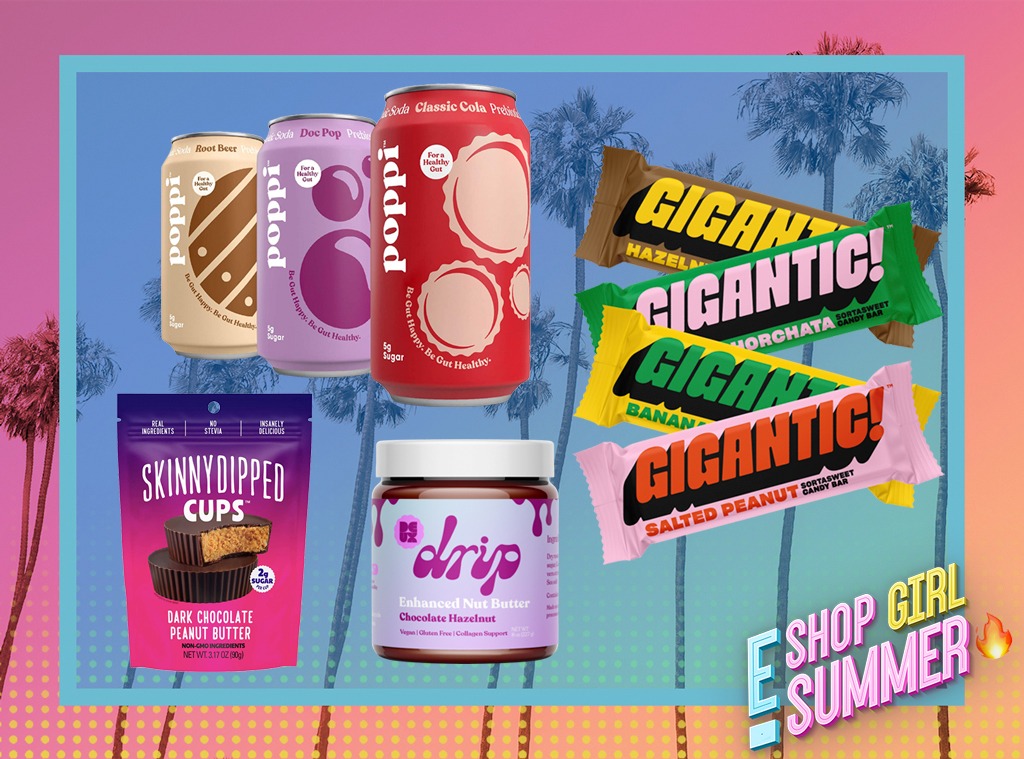 E! illustration
We love these products, and we hope you do too. E! has affiliate relationships, so we may get a small share of the revenue from your purchases. Items are sold by the retailer, not E!.
Summertime and the snacking is easy.
Is there anything better than lounging in the hot sun with a refreshing drink in one hand and a satisfying treat in the other? Actually, yes, there is: Finding snacks that are just as nutritious as they are delicious. In honor of the first official days of the summer season, we've rounded up our list of the newest and tastiest drinks and food products you need to add to your grocery list ASAP, including the crackers we truly can't stop devouring and the chocolate bar you can eat before a workout. Yes, dreams really do come true.
So whether you're always in the mood for something sweet—think not-that-bad-for-you candy or a nostalgic bowl of cereal—or live to satisfy your savory cravings because sometimes a bag of chips really is all that and a bag of chips, we've got you covered.
Here are our top picks for the items to stock your pantry with this summer.
Poppi Classics Variety Pack (12 Count)
Get ready for a Cool Poppi Summer 'cause these prebiotic cans are basically the hottest wellness accessory of the moment. After launching with fruit-forward flavors like Strawberry Lemon and Orange, the Shark Tank-approved company just released an epic throwback trio: Cola, Doc Pop and Root Beer a.k.a. your new best beach buddies. 
Gigantic! Variety Pack (8 Count)
OK first of all, who knew a candy bar could look so chic? Second, who knew they could be this delicious with tons of sweetness? The four flavors—almond horchata, banana pecan, hazelnut cafe, and, our personal fave, salted peanut—are all plant-based and have less than seven grams of sugar. Pro-tip: Put them in the freezer and thank us later.  
Siete Grain Free Kettle Cooked Potato Chips (8 Count)
If you host a barbecue and you don't serve Siete's gluten and dairy-free crisps, did you actually throw a BBQ at all? With four flavors, Chipotle BBQ, Fuego, Sea Salt, and Sea Salt and Vinegar, these bags will spice up any party  and are the perfect addition to your snack table. 
Ancient Provisions Vegan Cheddar Cheezish Crackers (2 Count)
It's a scientifically proven fact that the burnt Cheez-Its are the superior crackers. (This study may or may not have been conducted by Dr. Our Taste Buds.) So imagine our total delight when we discovered this cheesy lil' delights minus the actual cheese, made with green banana flour, the perfect amount of salt and, apparently, magic.
DEUX Drip Hazelnut Spread
Excuse us while we lather our entire lives in this cookie dough company's newest chocolately offering. And you know what? We probably could do just that considering it is enhanced with aloe vera extract, basically making it an essential part of your post-beach routine. Put it on ice cream. Slather it on your toast. Dip your veggies in it. Live your truth!
Mid-Day Squares High Protein Chocolate Bars (12 Count)
Step away from the protein powder, people! With the perfect balance of fat, carbs and protein, Mid-Day's three offerings, including Fudge Yah, Almond Crunch and Peanut Butta, can actually serve as a pre-workout snack that tastes like candy. As Kelly Clarkson once sang, some people wait a lifetime for a moment like this
Base Culture Sourdough Bread (2 Count)
Rejoice, you can finally stop pretending you enjoy the five-day process that is making your own sourdough starter! Beginning June 22, Base Culture's newest product is a paleo and keto-certified take on the Internet's favorite slice, featuring better-for-you ingredients and only six net carbs per slice. Millennials, do what you do best and toast away.  
Magic Spoon Cereal (4 Count)
Anyone else yearn for the summer mornings where you'd wake up at 11 a.m., pour yourself a giant bowl of cereal and watch reruns of Dawson's Creek on TBS? Life was simple and good, just like these high-protein, low-carb and grain-free boxes of nostalgia that will remind you of your childhood minus all the junk ingredients. 
Lakanto Lemon Poppy Seed Muffin Mix
Dream of having muffins every morning, but are trying to watch your sugar intake? Prepare to fall in love with Lakanto's mixes, which are sweetened with monkfruit and are lifestyle-friendly. Add in eggs, water and coconut oil and you are just 18 minutes after from having 12 more baked goods in your life. What are you waiting for? Other mixes include blueberry muffins, banana bread, brownies and sugar cookies.
Primal Kitchen Pizza Sauce, Unsweetened
Elevate your 'za game with this keto, paleo, vegan, gluten-free and Whole 30-approved jar of saucy goodness, which is made up of avocado oil, organic tomato paste and a bevy of spices that might just have you breaking up with your local pizza joint. It's not them, it's Primal Kitchen. 
KIND Frozen Dark Chocolate Sea Salt Bars (5 Count)
Rather than be tempted by the sweet sounds of the ice cream truck's music, feel free to dive into KIND's hidden gem of an ice cream energy bar. Seriously, this may be one of the most underrated good-for-you options out there, coming in at 180 calories, with almonds as the no. 1 ingredient. Feel free to go nuts. 
Chomps Grass Fed Beef Jerky Meat Snack Sticks (10 Count)
Is there anything worse than being in between meals and not wanting a huge snack but desperately need something to hold you over? Say hello to your new best friend, with each of Chomps' sticks packing a lot of protein and only 90 calories. And with seasonings such as jalapeño, cranberry habanero and Italian style, on-the-go just got a lot more flavorful. 
SkinnyDipped's Dark Chocolate Peanut Butter Cups (4 Count)
There is no better combination than peanut butter and chocolate, especially when it's made with real ingredients and has less than two grams of sugar, like SkinnyDipped's new cups, which are made with maple sugar, a touch of real cane sugar and allulose. PSA: You will eat the whole bag in one sitting.