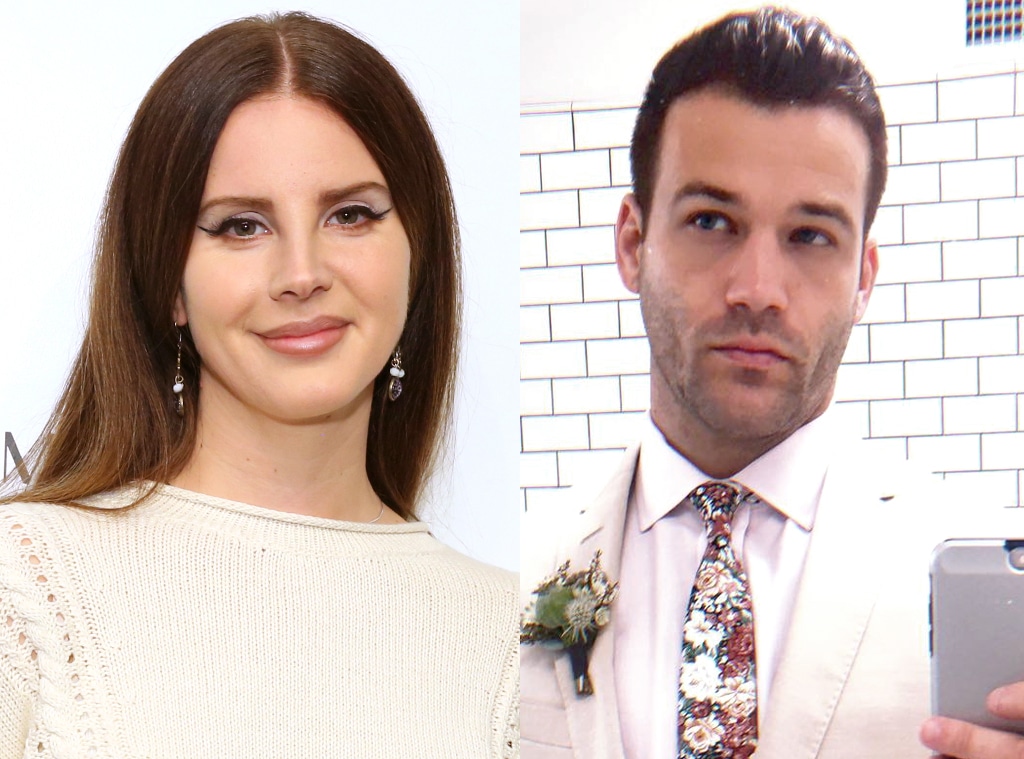 Getty Images/Instagram
Lana Del Rey certainly has a lust for life now that her relationship has reached a new level.
According to multiple outlets, including People and Us Weekly, the 35-year-old star is engaged to her boyfriend, Clayton Johnson, after less than one year of dating. At this time, the couple hasn't publicly addressed their engagement. Moreover, E! News has reached out to both Lana and Clayton's reps for comment and has yet to receive a response.
A source told US Weekly Clayton, 31, recently popped the big question. Although, it's unclear when exactly the proposal took place.
It was just yesterday that fans noticed the Norman F--king Rockwell! musician wearing a diamond ring on that finger. During her performance on The Tonight Show on Monday, Dec. 14, in which she sang "Love You Like a Woman," she donned a massive jewelry piece.
What's more? It seemed to be the only accessory she had on.
According to People, Lana and Clayton first sparked romance rumors in August when they began following each other on Instagram. The duo added more fuel to the fire when eagle-eyed fans saw they began to appear on each other's pages.
Back in October, one Twitter user shared a photo of the couple celebrating Halloween together. Lana was dressed as Dorothy from The Wizard of Oz, with Clayton wearing a scarecrow costume. 
In that image, the "Lust for Life" singer also rocked a diamond jewelry piece on her ring finger.
People reported through a source that the pair met on a dating app. However, since they've both been private about their relationship, it's unknown how they met and when exactly they began dating.
News of Lana and Clayton's engagement comes nine months after she and Live P.D.'s Sean Larkin broke up.
In March, the A&E television star opened up about their split in a New York Times profile. "Right now, we're just friends," Sean said at the time. "We still talk and whatnot, we just have busy schedules right now."
He explained that they both "hit it off from day one," however, they decided it was best to go their separate ways.
Watch:
Lana Del Rey & Sean Larkin Split After 6 Months of Dating
As fans of the singer will know, she and Sean made their red carpet debut as a couple at the 2020 Grammys.
"I was asked if I was nervous and not at all," Sean recalled of the big moment during the awards show. "We drive cars 120 miles per hour, and I don't want to sound like a tough guy, but I mean, when you're behind a known shooting suspect and he jumps out the car running, you've got to get out chasing."
"Taking pictures and answering questions," he continued. "I'm not trying to sound like a bravado tough guy, just like, you know. It was enjoyable, for sure."
Lana never commented on her break up with Sean. However, when asked by the Los Angeles Times if fans shouldn't care about her personal life, she had a blunt response. "Hell no," she said. "I care about what Bob Dylan is doing right now. I'm curious to know if he's wearing a hoodie or a blazer. I get it."