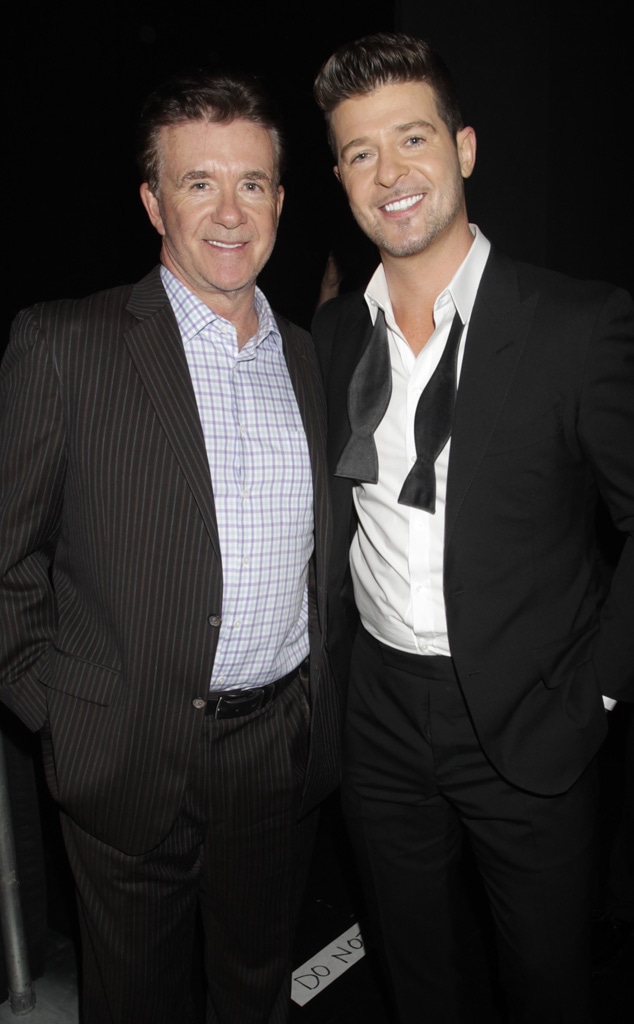 Francis Specker/CBS via Getty Images
Robin Thicke is taking a moment to honor his late father, Alan Thicke, on the four-year anniversary of his death.
Just two days after welcoming his third child with girlfriend April Love Geary, the 43-year-old singer opened up about how he missed his father even more during this time.
"Four years ago today, on December 13, 2016, my beloved Father passed away," he captioned his Instagram post, alongside a photo of him in bed with his newborn son, Luca Patrick. "As I wake up next to this little guy [sic] his first night home, I miss my father so much, but I feel his love in my heart every time I kiss my babies on the head the same way he would kiss me."
"I'm crying a little right now," Robin admitted. "Partly because I'm sad you're not here, but mostly because I'm happy that I had you to love me, guide me, and show me the way. I hope I make you proud. I miss you every day. Thank you Dad."
After sharing his post, the Blurred Lines singer was showered with love and support. "We love you so much. You're the best daddy," the star's girlfriend, 26, commented.
Robin's younger brother, Carter Thicke, replied, "Proud of you. Dad of the year."
"He was a great great man just like you," Joel McHale responded, with Nicole Scherzinger adding, "love you brother. I'm sure he is shining down, smiling from the beautiful family you've made."
The Growing Pains alum passed away in 2016 at the age of 69 after suffering from a "ruptured aorta" and a "Stanford type A aortic dissection," his official death certificate revealed at the time, which was obtained by E! News.
Robin's tribute to his father comes only a couple of days after he and April welcomed their first son together. The couple shares Mia, 2, and Lola, 20 months. Robin is also the proud dad to his 10-year-old son Julien, who he shares with his ex-wife Paula Patton.
Watch:
"E! News" Remembers the Late Alan Thicke in 1991
"Luca Patrick Thicke is in the house!!! Thank you God, and my darling @Aprillovegeary for this blessing," the American-Canadian singer shared on Instagram on Saturday, Dec. 12. "I Wish my Dad and Andre Harrell were [sic] still here to meet him. But I will do my best every day to teach him what they taught me about Family, Friendship and Love. Thank you all for your kindness and support! I love you Luca!"
April shared the news about her little one's arrival on Friday, Dec. 11, writing, "My Luca Patrick, you are so perfect. Mommy & daddy love you so much."