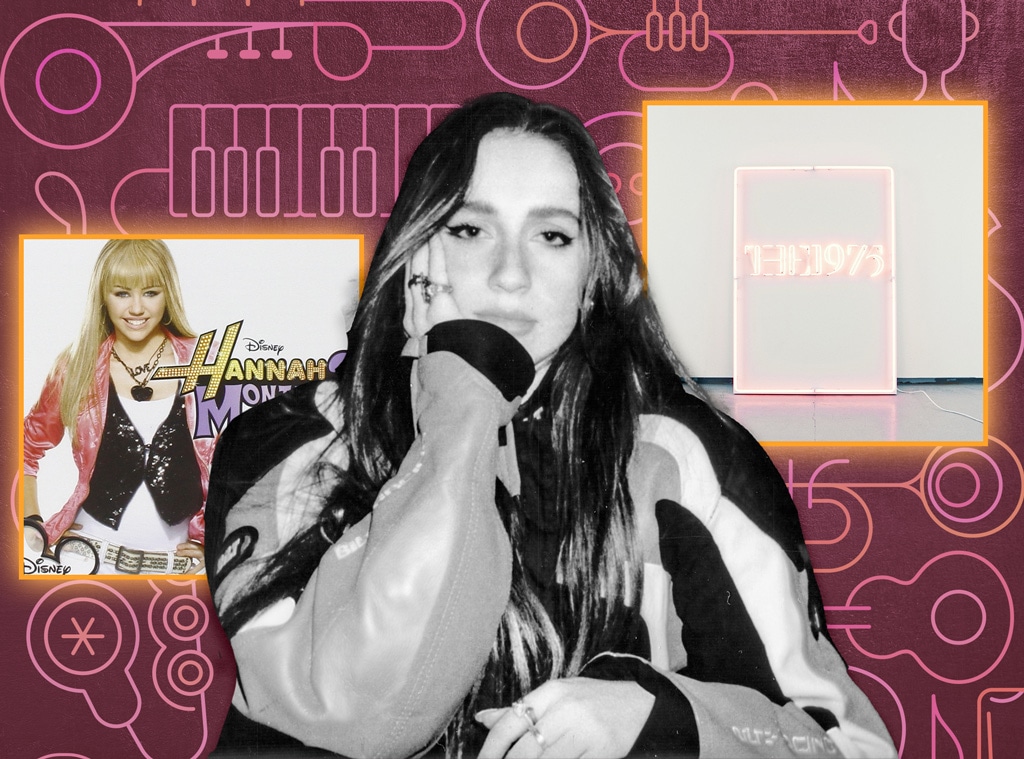 E! Illustration
Tate McRae is sending out 2020 in style.
The rising pop star kicked off the year with the release of her debut EP, all the things i never said, back in January, when the calendar held such promise for all of us. And while the year failed to live up to just about any of our expectations, things certainly didn't slow down for Tate.
The EP, with its lead single "tear myself apart" (co-written by Billie Eilish and her brother Finneas O'Connell!) amassing over 10 million streams, peaked at No. 16 on Billboard's US Heatseekers Albums chart, which highlights sales by new and developing recording artists. She followed that up with the release of her most successful single to date, "you broke me first," which rode a wave of TikTok popularity to her first appearance on the Billboard Hot 100, peaking at No. 50. 
And now, the youngest musician to appear on Forbes' 30 Under 30 list this year has released one last 2020 track, the ukulele-driven "r u ok."
"'r u ok' is a song that I never thought I'd write," Tate said in a statement marking the song's release on Dec. 10.  "It has a very sassy and feisty tone, which made it a challenge to dive into that perspective – as I think I'm quite the opposite. I love that in this song there is a lot of emotional meaning behind the lyrics, with very trappy, bright and contrasting production at the same time."
In honor of the new track, E! News asked Tate to pull back the curtain on the artists and albums that have influenced her life and career. From the song she turns to at her lowest to the LP she wishes she'd recorded herself, this is the soundtrack to her life.
The song/album that reminds me of childhood: "Small" by Amanda Falk. I remember every single time my mom would play this song, I would immediately get up and start dancing. From the age of 2 until I was around age 9, I swear I would listen to it on repeat. 
The first album I remember buying: Probably some sort of Disney soundtrack! I was obsessed with Camp Rock, Hannah Montana, and High School Musical. 
The song/album people might not expect me to love: What You See Is What You Get by Luke Combs. My brother is a huge country fan and whenever we'd go on drives together, he'd always play that album. I used to not be a fan of country music, but I've grown to really really love it. 
The song/album that makes me think of falling in love: "What a Time" by Julia Michaels. She knows how to write songs like no other. She can really tap into my deep emotions and make me feel something. She's really captured how to put the feeling of love into words. 
The song/album I turn to when I'm at my lowest: "when the party's over" by Billie Eilish. This song is everything. From the production to the lyrics to every single harmony, it's incredible. When I'm at my lowest, instead of listening to something super sad, I'll listen to something that makes me feel like I can block everything out. "when the party's over" can always give me that feeling. 
The song/album I hope I never hear again: Some of my old YouTube songs are hard to listen to. I've grown so much since then that it's hard to look back and really love them. 
If I could only hear one song for the rest of my life, it would be: "Somebody Else" by The 1975. I don't know why, but this song makes me feel like I'm in another world. It's my go-to driving song whenever I kinda feel like my world is falling apart. The 1975 is one of my favorite bands. 
The song/album that's guaranteed to get me turned all the way up: "UCLA" by RL Grime. There's something about this song that always gets everyone in the room hype. The melodies in this song are crazy good. 
The song/album I wish I wrote/recorded: Over It by Summer Walker. I genuinely just think Summer Walker is the coolest person ever. I've never skipped one song in this album. It's incredible. 
My own song that I'll be happy to retire: "one day." I wrote this when I was 13 and, for some reason, it still does super well. I love it, it's my baby, but it's gotta go hahah.
My own song that I'll never get tired of performing: "you broke me first." I love singing [it]. I feel like the lyrics in this song never get old. It always makes me feel something, no matter how many times I perform it. 
"r u ok" is available now.
Watch:
MTV VMAs 2020 Red Carpet Fashion