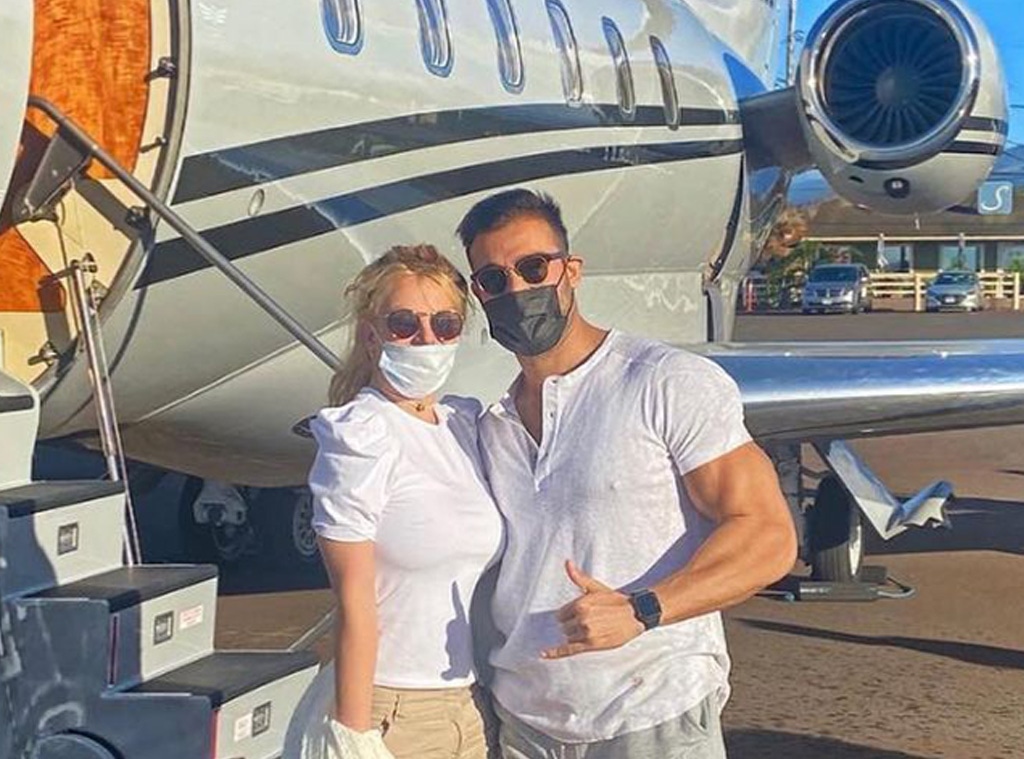 Sam Asghari/Instagram
Plane and simple, Britney Spears is leaving town.
The pop star recently shared that she's going on a much-needed getaway trip with her longtime boyfriend, Sam Asghari. Taking to Instagram on Monday, Nov. 16, she captioned her post, "Felt like a little trip to paradise for an early birthday celebration."
The "Mood Ring" singer shared a photo of her and Sam posing in front of a private jet. Making their trip more adorable? The couple wore matching white tees.
Britney looked comfy and cute as she paired her shirt with khaki shorts, brown suede platform heels, round sunglasses and a face mask. The personal trainer, on the other hand, donned cozy gray shorts and mint-colored Nike sneakers. Like the 38-year-old star, he also wore round sunglasses and a face mask.
"I'm doing that whole work on yourself thing at the moment," Britney shared in another post, alongside an image of her ready for takeoff inside the plane. "PS ... I wanted to get creative."
It's unclear how long the Glory singer plans to be on vacation.
However, a source tells E! News the singer is headed to Maui and "wanted to get away" following the latest update in her ongoing conservatorship battle. Earlier this month, a judge ruled that her father, Jamie Spears, will continue to act as the conservator of her estate despite Britney's request to suspend his role.
"She's very upset about the Jamie thing," the source shares.
Watch:
Britney Spears Thanks Fans For Support Amid Conservatorship Battle
According to the singer's lawyer, Samuel D. Ingham III, Britney is afraid of her father. The accusation was made in court on Nov. 10 during a hearing over the future of the star's conservatorship.
Britney's attorney also alleged that she will no longer perform as long as her dad is in control of her career, Entertainment Tonight reported at the time. It was also revealed in court that Jamie and Britney haven't spoken to each other in quite some time.
According to ET, Britney's mother, Lynne Spears, is supporting the star's wishes and wants her ex-husband to be removed from the conservatorship. Jamie's lawyer argued that he hasn't violated his role as his daughter's conservator, the outlet reported.
Because of the Circus singer's ongoing fight for independence, her fans have created the #FreeBritney movement. Click here to read through the complete timeline of events surrounding Britney's conservatorship.