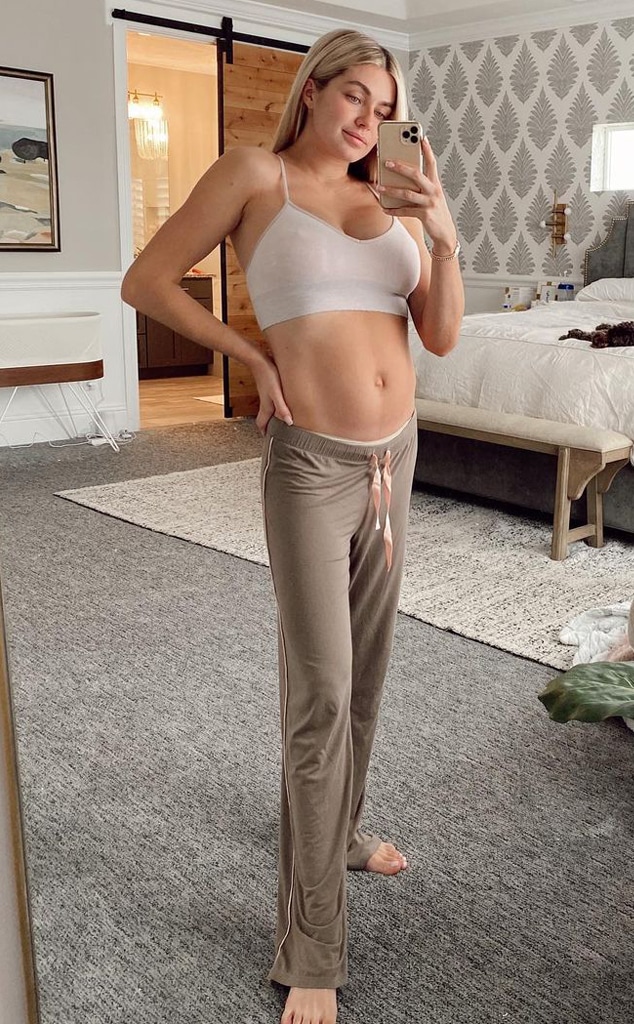 Instagram
Lindsay Arnold is taking a moment to celebrate her postpartum body.
It was just this month that the Dancing With the Stars pro welcomed her first child, a baby girl with husband Sam Cusick. The couple recently revealed they named their newborn daughter, Sage Jill Cusick.
And now, Lindsay is sharing updates on her first few weeks as a new mom.
On Saturday, Nov. 14, the reality TV personality took to Instagram to praise her body's transformation since giving birth to her little one. 
"11 days postpartum," she began her post. "Feeling incredibly grateful for this body that carried our sweet Sage and is now feeding her and taking care of her."
"I think it's easy to only feel grateful for our bodies when we feel we are at our tip top [sic] shape," the professional dancer added, "but I have truly never felt more proud of my body and it's [sic] tired/sore muscles, sore nipples, and my new c section [sic] scar that will always remind me of the most special day of my life when we got to hold our little girl for the first time."
Lindsay said that she wants to cherish this moment by remembering to "focus" on how her body makes her feel.
As she explained, "Going to try and remember this feeling forever and focus more on loving my body because of what it does for me rather than how I look."
This isn't the first time in recent weeks the star has opened up about her motherhood journey. On Monday, Nov. 9, the DWTS pro shared an in-depth YouTube video that documented the day her water broke.
Watch:
Necessary Realness: It's a Celebrity Baby Boom!
In her YouTube video, the professional dancer told her husband, "It's happening!" 
"My water broke," she said. "I am four centimeters dilated. I am contracting and the nurse said we are having this baby today. This is so weird!"
"Best day of our lives," Lindsay wrote on Instagram, alongside a short clip of the video. "There are truly no words to explain the love I have for my little family and the gratitude I feel that we get to be this sweet little girls [sic] Mom and Dad." 
On Nov. 2, Lindsay revealed she welcomed her little one into the world.
"The most beautiful surprise on this very special day," her Instagram caption read at the time. "Baby Girl and mama are healthy and well. More details to come but wanted to share this first pic of our little family #birth #mama #babygirl #csection #pregnancy #39weeks."
Days after welcoming her daughter, Lindsay opened up about her birth experience in a candid Instagram post. She explained that Sage was born "eight days" ahead of schedule.
"I woke up to my water breaking around 3:30 am at home in bed and contractions started immediately after. Sam and I grabbed everything and headed straight to hospital," she shared. "Baby girl was still breech and I was progressing very fast so we prepped right away for C-section delivery. I am so grateful for the incredible team of nurses and doctors who delivered our baby girl to us safe and sound."
She closed, "Thank you all so much for the love and support you have sent our way."