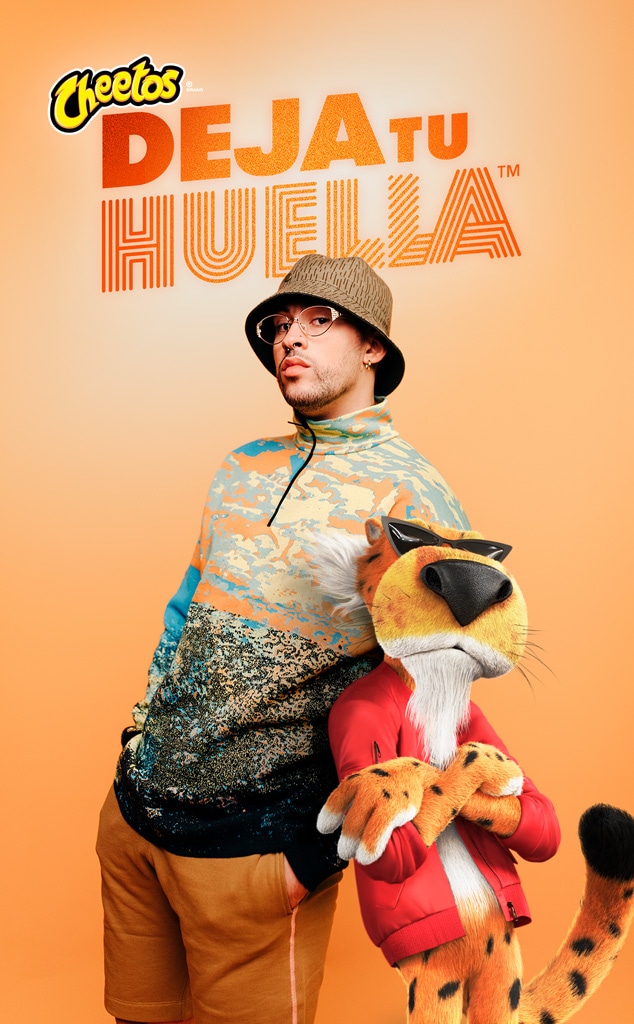 Cheetos
Bad Bunny is the definition of star power.
Take a look at his eccentric fashion, his hit-making music and "yo hago lo que me da la gana" attitude—which was the essence and title of his sophomore album—and you'll notice why many want to emulate his path to global fame.
Put simply: There's just no denying El Conejo Malo is one-of-a-kind. And he knows it, too.
In an exclusive interview with E! News, the 26-year-old singer, whose real name is Benito Antonio Martínez Ocasio, opened up about challenging stereotypes, especially in the Latinx community, how he hopes to continue to "motivate people to be free" and more.
Plus, he shared details about his exciting new partnership. The Puerto Rican superstar is using his celebrity for good by joining forces with Cheetos to give back to the Latinx community with the "Deja Tu Huella" (Leave Your Mark) program. Through his Good Bunny Foundation, Bad Bunny and Cheetos have committed to donating $500,000.
Find out the many ways the star is leaving his mark on the industry and the dreams he hopes to make a reality in the near future in our interview below!
Watch:
Bad Bunny & More Latinx Music Stars: By the Numbers
E! News: Tell us why you partnered with Cheetos and what this opportunity means to you?
Bad Bunny: "To be honest, this opportunity seemed very interesting to me, especially because I wanted to do something fun and something that left a mark as an artist. And it was important for me to do this collab with Cheetos because I feel like I'm doing it for the Latin community, not only in the U.S. but for the whole world."
E! News: You've already left such a huge impact on the music world, but especially in breaking down stereotypes typically associated with machismo in the Latinx community. How does it feel to know you're one of the reasons that has changed?
BB: "It honestly feels good because I'm using my impact for something positive. To lead so many people just by the way I live, by being myself... to motivate people to be free and liberated to be themselves, it feels good. Any time you can make someone feel good, it's the best thing. It's infectious, and that's how you end up feeling good yourself."
Amy Sussman/BBMA2020/Getty Images for dcp
E! News: What advice do you have for people who want to follow in your footsteps and become more comfortable being themselves?
BB: "In the same way I said you should be yourself, I believe you should do things with your heart. You should do things that evoke a feeling, so you can leave your mark no matter what. It should move you, and with that attitude, you're going to leave a mark. I always do things from the heart, with intention and with passion. And I think that's how I will continue to make my mark."
E! News: You are also known for your fun and bold style. How has your fashion evolved, especially during these times?
BB: "In all honesty, there's been an evolution in everything I do. I follow my intuition and soul, and right now I'm in a change in my life where things have affected me in a great way. The way things are going in my life and how I feel, I can see the change in my personality and in my style."
E! News: Have the people around you influenced your style?
BB: "Absolutely. I'm influenced by the new generation and other artists as well. But mainly the new generation, who I think are more creative and daring with their fashion, especially men in the Latin community. I've done my part in creating a space for others and for myself to feel more comfortable."
E! News: Do you see yourself branching out into the fashion industry? And if so, can fans expect for there to be a Bad Bunny clothing line in the future?
BB: "Of course. It's one of my goals and dreams. I'm working on it... I'm focused on my music, my career, everything, so it's one of my goals to dedicate my time to fashion."
E! News: And because we all need to know, what is your secret to clear skin?
BB: "My skincare routine is I take a shower only on Saturdays. In all honesty, I don't do anything. I just wash my face with the same body wash I use to wash my ass [laughs]. I don't do anything... I'm blessed."
This interview has been translated from Spanish to English, as well as condensed and edited for clarity.