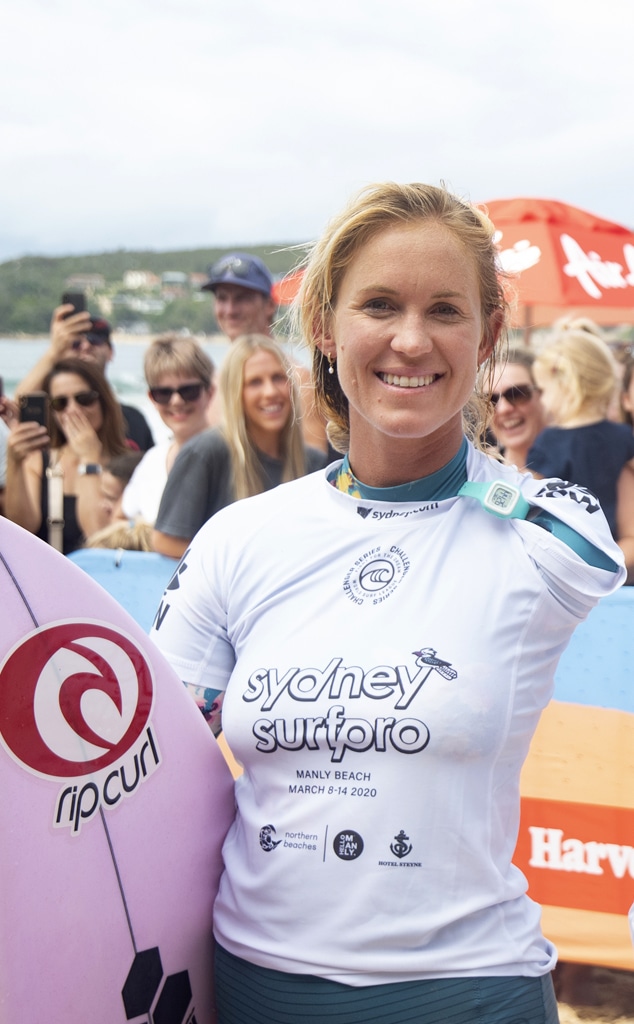 Ethan Smith/WSL via Getty Images
Bethany Hamilton will now have to teach three kids to ride the waves! The surfer revealed in an Oct. 17 Instagram video that she is expecting her third child with husband Adam Dirks. 
In the video, Bethany and her two kids, Tobias, 5, and Wesley, 2, play around in the ocean in their paradise home of Kauai, Hawaii. The 30-year-old holds her pregnant stomach while perched on a surfboard. In the next part of the video, she and the kids walk across a log, which has "Tobias," "Wesley," and "?" written across it. 
The rest of the video is a glimpse into Bethany's family life, which includes Tobias surfing the ways (impressive!) and Bethany snuggling up to Adam on the beach.
Bethany was 13 when she was attacked by a tiger shark while out surfing with a friend. She lost her arm in the attack. Determined to return to the ocean, Bethany began surfing again less than one month later. 
In 2004, Bethany released the book Soul Surfer: A True Story of Faith, Family, and Fighting to Get Back on the Board. In 2011, it was adapted into a movie, starring AnnaSophia Robb as Bethany. In a fun twist, the real Bethany did all of the actress' stunt surfing in the film. 
The devout Christian has released a total of nine books, most recently the 2018 children's book Unstoppable Me. A documentary, titled Bethany Hamilton: Unstoppable, was released the same year. 
Shortly before revealing her third pregnancy, Bethany gushed over her husband Adam in an Instagram post. 
"I choose him everyday. I believe love can be a choice beyond just a 'falling in love feeling,'" Bethany wrote on a pic of her and Adam, a Christian youth minister, whom she married in 2013. "The beauty that our marriage has become was worth all the boundaries, which could be considered sacrifices, I set before I was married through the dating time period. And even today, the daily commitment is a continual journey."
Watch:
Necessary Realness: It's a Celebrity Baby Boom!
The next stop on this couple's journey will be welcoming their new child into the world.