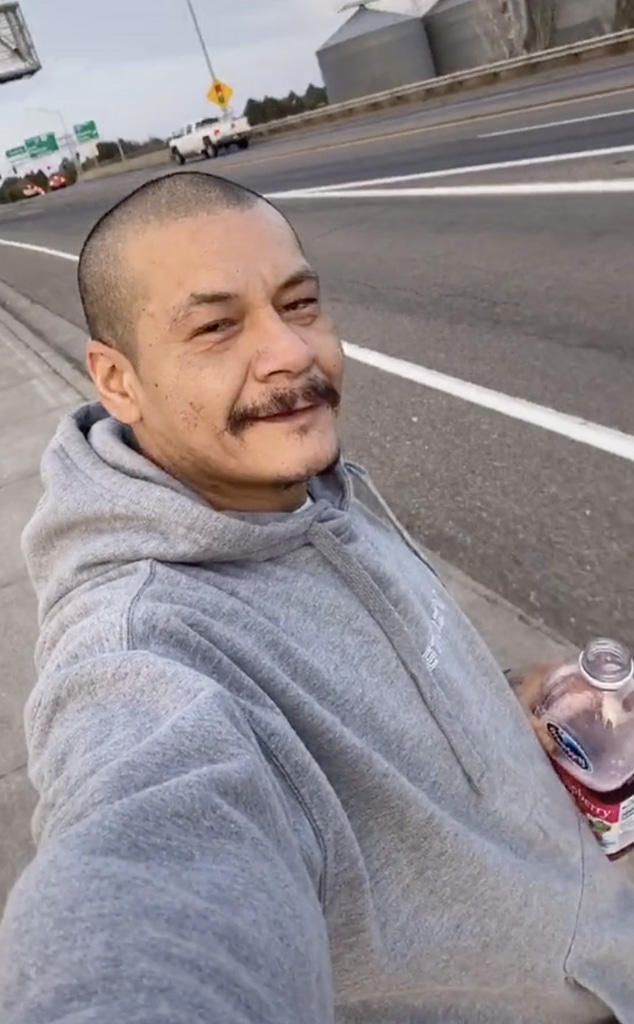 Doggface208/TikTok
No matter what side of TikTok you're on, you've seen Nathan Apodaca—you know him as Doggface208—skateboarding on his way to work while drinking Ocean Spray cranberry juice and lip-syncing "Dreams" by Fleetwood Mac. 
With over 46 million views and nearly 8 million likes, it's safe to say everyone is obsessed with the good vibes from his viral video. Not only has this 25-second clip broken streaming records for the 1977 hit song, but the worldwide attention has scored Nathan a new car from Ocean Spray and commercial with TikTok. And Stevie Nicks and even Mick Fleetwood have joined in on the #DreamsChallenge, which encourages users to remake Apodaca's laid back video.
"I didn't think it was going to be this big," Apodaca, an Idaho potato worker, told E! News. "I was doing a video like I usually do, just trying to make somebody smile."
And he certainly achieved that goal—and so much more. Read on for more about Apodaca's viral hit, his new celeb fans and whether or not cranberry juice is really his favorite drink.
E! News: Tell us the story behind this viral video.
Nathan Apodaca: Basically, I was going to work and my car battery ran out. So, I grabbed my longboard, grabbed my juice, and then took off. I was looking through my favorite songs and Fleetwood Mac is in the top 10. It just felt right and I did it all in one take.
E!: What do you plan to treat yourself with?
NA: I want to get a house for my family and me. I'm talking with a realtor now. Because of the donations, I'm blessed to put a down payment on a house. We're trying to make this work, that's all I want out of this.
Watch:
TikTok's Highest Paid Stars: Addison Rae, Charli D'Amelio & More
E!: If you were to meet Mick Fleetwood, what TikTok would you create together?
NA: Recreating the TikTok with Mick would be legendary to do. If he doesn't want to do the #DreamsChallenge, we could do another Fleetwood Mac song, introducing it to the kids who are just catching on to this song. I'd just be blessed just to meet him.
E!: Who has been your favorite celebrity to connect with from all of this?
NA: There have been a bunch of people who have reached out, even YouTubers. Lele Pons and George Lopez have been my favorite. George actually shared me on a couple of his Instagram Stories as well. For me, it's incredible when celebrities take the time to do that because it reminds me we are all human.
E!: Besides Dreams, what other songs are at the top of your playlist?
NA: I got DMX, Hall and Oates and Marvin Gaye. I listen to everything all the time and bounce back and forth to things that make me happy. I'm always on cloud nine, so whatever I feel at the time is what I'm playing.
E!: OK be honest, is Ocean Spray Cranberry Juice your drink of choice?
NA: No matter where I go, I have it with me. Now, everybody asks me where it's at. I like the cran-raspberry flavor, but since Ocean Spray gave me many different flavors, I'm drinking the cran-apple right now.
This interview has been edited and condensed for clarity.