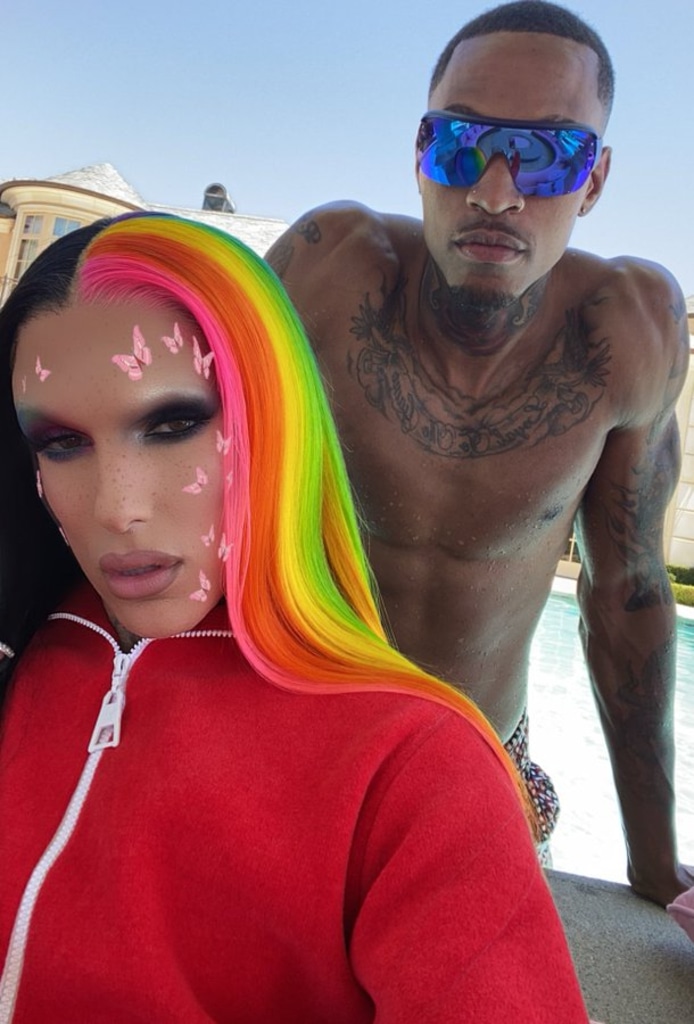 Twitter
As Jeffree Star put it, "Never a dull moment."
Indeed, that's true of the makeup guru's life as of late. On the heels of claims that some of his designer goods were stolen, the beauty mogul returned to his YouTube channel after a near two-month absence to offer some life updates. During his latest upload, Star told fans "the last few weeks have been a really crazy whirlwind."
"I was recently hanging out with someone—some would call it dating. Some would call it f--king," he elaborated. "I was hanging out with someone. We are not hanging out anymore and there was a lot of online activity about it, and long story short is a random person made a fake account of Andre [Marhold] and proceeded to make up a bunch of crazy stuff about me for, like, we're going on like a week plus now."
"Now most people have common sense and they know that it wasn't real but it was convincing for a minute and now they're scamming people out of money and it's turned into a whole crazy legal thing, but I can't believe people were falling for fake news, posting about it."
The Internet personality referenced some of the false claims allegedly made about him by purportedly fake accounts. "Now, I get it. It's my job. It's what I signed up for, but to hear crazy rumors about 'Jeffree does meth,' 'Jeffree has AIDS, 'Jeffree has this, 'Jeffree does this'—I was like what in the actual f--k?"
E! News has reached out to Marhold for comment. 
He also told viewers that legal action has been taken. "The internet is a little cuckoo this year, so now that that's over and that person is being prosecuted, it's been a very interesting time...So, all those fake accounts—we found out who you were. Thank god for IP addresses and law enforcement." E! News has reached out to the Los Angeles Police Department for comment. 
Watch:
Jeffree Star Apologizes to James Charles
On Sept. 30, Star also addressed rumors circulating that he had been robbed. 
"Jeffree Lynn got a little played," he said in a video on his Instagram Story. "So, I've been hanging out with someone, just two grown adults having sex and chillin', nothing serious. But, I was presented a whole different person than who this man really was. So, and that's fine—y'all know out there, I'm sure a lot of you out there have dated or dealt with or even hung out with some shady a-- people, and yes bitch, it happened to me.
"So, about a week ago," he continued, "Jeffree Lynn discovered a lot of things and this person secretly had no job, no money, not even a bank account and we're talking this person is 30 years [old] plus. So, all these things that I were [sic] told were all false. And I was lied to and I was like, 'Okay, bye sweetie. It was really good meeting you. Thanks. Bye!' And then all of a sudden, there's some Louis Vuitton luggage missing. There's some backpacks missing and there's a few sunglasses missing. So, 'Jeffree Star got robbed'—someone just stole a few things."
Star also clarified that it was more the action that upset him than the actual losses. "Now, I know. Jeffree you can just rebuy it. I'm not complaining about no value, no money—it's just a principle. I don't care if someone steals a nickel off your counter, it's wrong," he said. "Some designer s--t got stolen from me and it isn't about what it is, it's just about the principle. It's just sad. So, instead of answering the phone, this person was just posting like they were still at my house driving a car that they moved once in the parking lot. I'm like this s--t was so weird. So, I just wanted my stuff back."
A denial was issued on one of Marhold's alleged Instagram accounts, though that account has not been verified.