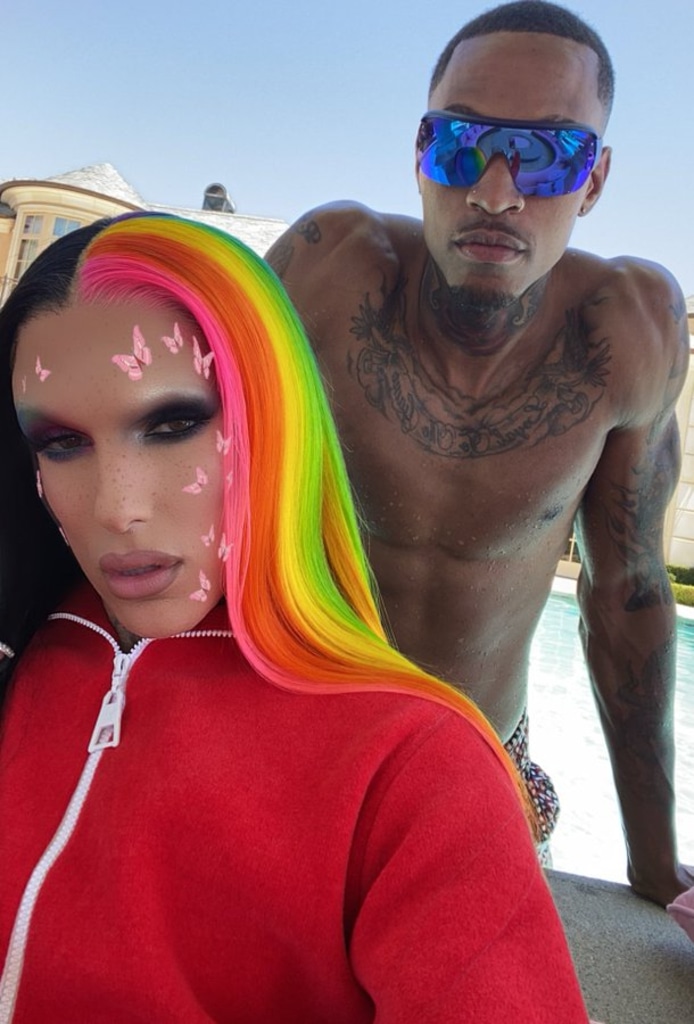 Twitter
Jeffree Star accused live-in boyfriend, Andre Marhold, of robbing him of designer handbags in a new Instagram video.
The YouTube star claimed in since-deleted videos on his Instagram Story that over a week ago he learned Marhold had "presented a whole different person than who this man really was." As he put it, Marhold "played" him and had "no job, no money, not even a bank account." Marhold has denied the allegations.
"All these things that I was told were all false," Star claimed, adding, "I was lied to and I was like, 'OK, bye sweetie. It was really good knowing you. Thanks!'"
The YouTuber, who is known for buying designer goods, alleged that he later learned he was missing backpacks, luggage and sunglasses, some of which were purchased from Louis Vuitton.
He conceded, "Now, I know. Jeffree, you can just rebuy it. I'm not complaining about no value, no money—it's just a principle. I don't care if someone steals a nickel off your counter, it's wrong."
He also acknowledged that some people, including critics on Twitter, believe he had it coming. But Jeffree stated, "If you enjoy bad news for anyone, including me, you're sick. Because that logged on Twitter and... some people are like, 'Yes, someone got him'... I'm like, 'Bitch, there's a special place in hell for you.'"
Star then explained that he and Marhold were "just two grown adults having sex and chillin', nothing serious," but said he just wants his stuff back. 
He continued, "But on a real level, bitch, you know I'm always unbothered... At the end of the day, you got to talk to God about your fate, not me. I don't got to deal with it."
Following the accusations, Marhold took to his Instagram Story to write, "Jeffrey blocked me [laughing emojis] y'all this man lies thru his teeth! Sad bruh (crying emoji)." He also added, "Jeffree unblock so we can talk about this on LIVE so the people can see how you lie!"
News of their ill-fated romance comes a month after the Jeffree Star Cosmetics owner insisted that Marhold was not using him as a payday. He tweeted on Aug. 24, "I know it's devastating news for some people, but I don't give money to anyone I'm dating or anyone who is f--king me. Work on your own insecurities sis, I'm not the problem."
As for Marhold, his previously private Instagram account is now public. In an Aug. 27 post, he uploaded a photo of him and Star with the caption, "I JUST NEEDED A BAG."
Additionally, in a since-deleted Instagram Story, Marhold seemingly threatened Star, "Ima [sic] just leave my page public for another another [sic] hour, then go private and really let these people know about you. YOU & ME BOTH KNOW TOU DONT WANT THAT? JUST DELETE THE VIDEOS AN CALL IT."
Watch:
Morphe Cosmetics Cuts Ties With Jeffree Star
Star has experienced his fair share of controversy this year. 
Amid the Black Lives Matter movement that took place earlier this year, the YouTuber confronted his troubling history of using racial slurs. He apologized for his previous actions, explaining that it "does not reflect who I am today."
However, his prior use of the racial slurs and involvement in a feud between Tati Westbrook and James Charles still resulted in makeup company, Morphe, cutting ties with him. In a statement, the brand explained, "Today we've made the decision to cease all commercial activity related to Jeffree Star and affiliated products. We expect this to conclude within the coming weeks."