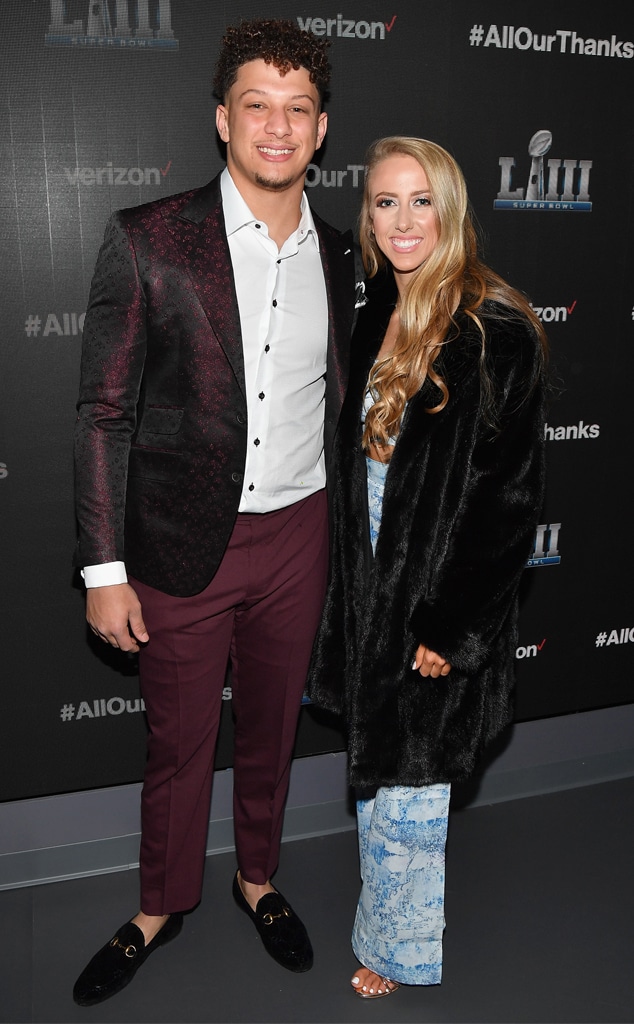 Paras Griffin/Getty Images
Patrick Mahomes is putting the safety of his fiancée Brittany Matthews first.
Sports fans expressed concern for the Kansas City Chiefs quarterback after he shared a postgame hug with New England Patriots player Stephon Gilmore, who, two days later, tested positive for coronavirus. 
During a press conference, Mahomes said he's been doing his best to practice social distancing but acknowledged he had a "little lapse" at the end of the game. He noted he was only trying to "show respect to a great football player" and expressed his hope that Gilmore gets better soon.
"I mean, it's a different time," the 25-year-old told reporters. "I mean, I think that's the biggest thing, and we knew that coming into this season. If you thought you were going to go through the entire season and no one was going to test positive, then you had a little bit of false hope. So, you just trust that the protocols in place are the right protocols."
With his fiancée expecting their first child together, Mahomes is working to be extra cautious on and off the field. 
"I mean, obviously with Brittany being pregnant, I try to do whatever I can to social distance and stay away," the MVP continued, "even be available to the team but, even more part for me, just kind of staying and keeping my family safe."
Mahomes then spoke about a few of the precautions he's been taking at home. "When I went home over the weekend, I slept in a separate, different bedroom," he said. "I stayed away from her as much as possible. And so I've kind of gotten these negative tests back. So, I just try to do my part just to try and keep myself away from her and social distance whenever stuff like this arises. But the only good thing about being here every single day is I get tested every single day. So, it's good at keeping track of where I'm at."
Watch:
Justin Bieber, Katy Perry & More React to Coronavirus
The game between the Kansas City Chiefs and the New England Patriots was originally scheduled for Oct. 4 but was pushed back after the Patriots' quarterback Cam Newton and the Chiefs' practice squad quarterback Jordan Ta'amu tested positive for COVID-19, according to NFL.com. Per NFL Network's Tom Pelissero, zero Chiefs players have tested positive for coronavirus following the Oct. 6 round of testing.