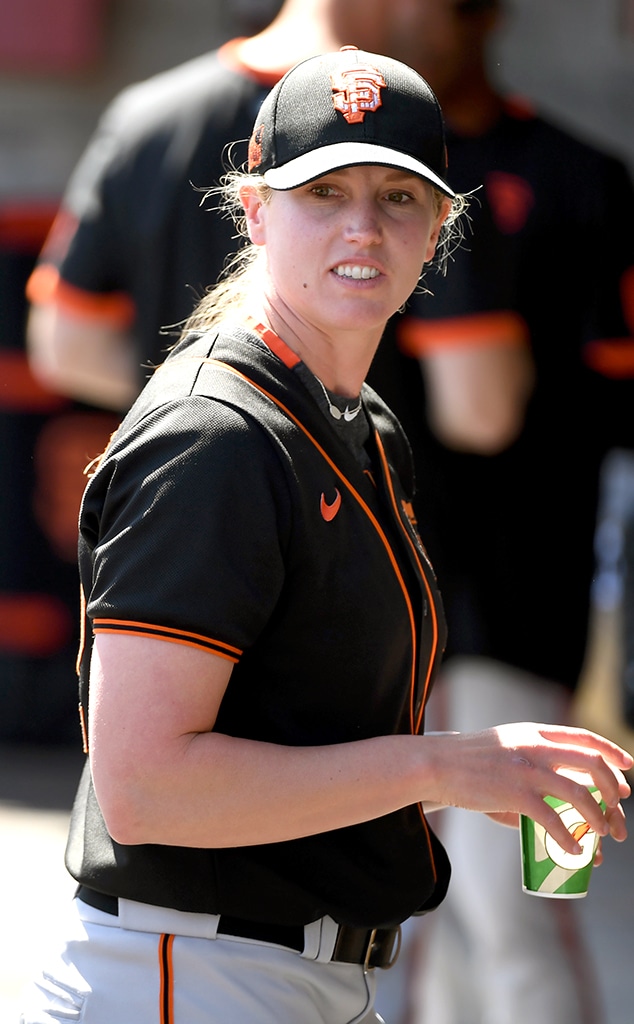 Norm Hall/Getty Images
As Marilyn Monroe said, "Diamonds are a girl's best friend." And for Alyssa Nakken—and the generations she's set to inspire—that's a baseball diamond.
During the San Francisco Giants' exhibition game against the Oakland A's on Monday, 30-year-old Nakken made history when she stepped out to first base, making her the first woman in the league's nearly 150-year history to coach in an on-field capacity. Yes, it has taken more than a century for just one female to break through those ranks, but Nakken is ready to change that statistic.
After all, last night's game wasn't the first history-making moment for the Giants staffer. Back in January, she became the first woman to have a full-time coaching position in Major League Baseball. "I know the ins and outs and who to talk to," she previously told NBC Sports Bay Area's Amy Gutierrez. "I've given blood, sweat and tears to this organization already, literally, and I'm so excited to continue that."
Back in 2014, the former college softball player started her MLB journey as an operations intern with the Giants. "I didn't know exactly what I was stepping into," she told Gutierrez, "but during the interview I stepped into a room with 10 men on the baseball operations team and just talked about my love for the game, my understanding of the game and that I was ready to come in and work and learn."
Also on her agenda: Make a lasting impression. "There's a lot of people that want to work here," she admitted. "If I want to stand out, I need to make an impact, not just with the people around me, but the whole organization."
After operations, she soon began working on the administrative side, planning everything that goes into a World Series run—and the events that follow. By the time Gabe Kapler was hired as manager in November 2019, Nakken had solidified her spot as an invaluable member of the team.
The two would chat about the game, the future and her unique perspective, with Nakken never realizing he was subtly interviewing her for a new gig. "It was just me having conversations with Gabe and some of the staff about my thoughts on the clubhouse and the team and how do we put the best team on the field every single night," she recalled, noting to Gutierrez, "Never once did Gabe talk about being the first or even being female. We needed an All-Star on this staff to just help kind of guide the ship."
Watch:
Celebrity Couples Who Pack on the PDA at Sporting Events
That All-Star was, of course, Nakken. "I just feel so fulfilled at the end of every single day," she raved in February as she took in her office, which happens to be Oracle Park. "I feel like I'm growing and I feel this great sense of confidence and just so supported by family and friends and this organization has done so much for me."
It's a sentiment she wants to spread. "I hope that everybody can feel this way someday, just the sense of support and love," she continued. "It fires me up. I'm so excited."