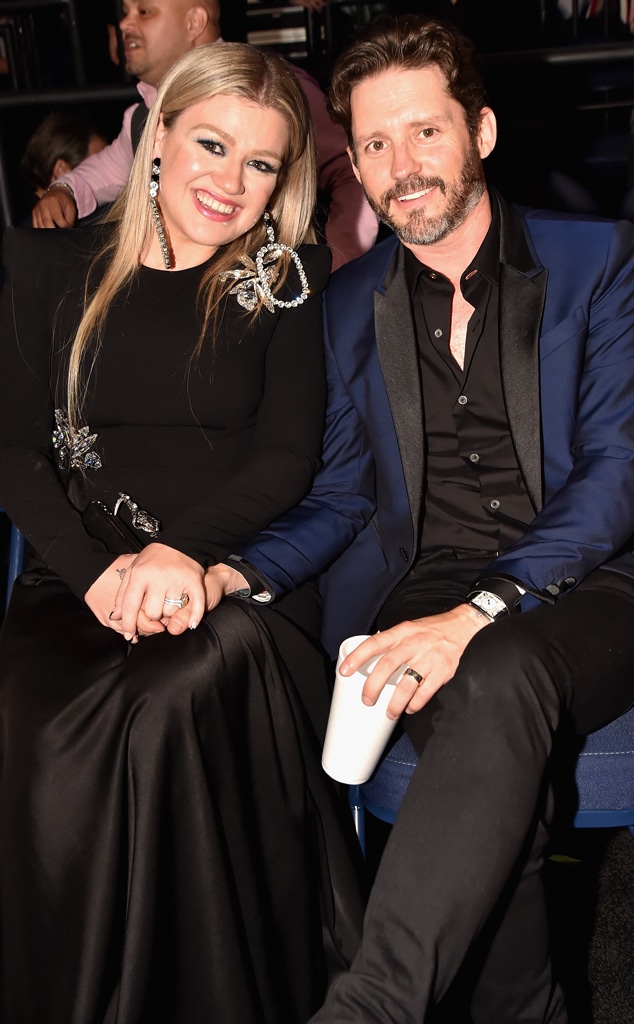 Jeff Kravitz/FilmMagic
Kelly Clarkson has a winning attitude!
The talk show host and singer may have recently filed for divorce from her estranged husband Brandon Blackstock, but she's sharing a few kind words about him.
On Friday, the 38-year-old star learned that she won a Daytime Emmy Award for The Kelly Clarkson Show. She earned an award for the category: Entertainment Talk Show Host.
"OH MY GOSH!!!!!! What is happening?!!!! This is amazing!!! Thank y'all so much," she wrote on Twitter following her win. "And a MAJOR thank you to my entire crew that really is the reason I won!!! I can't wait to celebrate with our whole crew when humans can congregate again!! This calls for a PARTY!!!!"
Shortly after, the songstress took a moment to thank Brandon for all of his support—whom she credited as the one who encouraged her to do the show in the first place.
"Thank you so much to @BBlackstock for believing in me & convincing me to do @KellyClarksonTV show," Kelly expressed.
At this time, Brandon has yet to comment on Kelly's Daytime Emmy win.
Earlier this month, The Voice coach surprised fans and pop culture lovers when she filed for divorce from her husband of almost seven years. According to court documents, which were obtained by E! News, Kelly quietly filed in Los Angeles at the beginning of June. She cited irreconcilable differences as her reasoning for divorce.
Watch:
Kelly Clarkson Files for Divorce From Brandon Blackstock
Additionally, Kelly also requested joint legal and physical custody of her and Brandon's two children: River Rose (6) and Remington Alexander (4).
The two have yet to publicly addressed their split. However, sources close to the pair previously told E! News that their divorce has come as a complete shock.
"It came out of nowhere," an insider shared. "It's all so sad for the kids. They were always such a loving family. It never seemed like they had any issues."
A second source, close to Kelly's daytime talk show, had the same sentiments. "Brandon was around all the time on almost all show days and they were very loving towards one another. They drove home from set together every night," the insider said.
The two got engaged in 2012, and tied the knot a year later in Tennessee. Kelly's tweet on Friday is one of the first times she's mentioned her estranged husband since the divorce filing.
On Wednesday, the songstress opened up about her mental health struggles in a candid interview with Demi Lovato.
"I love how open you are about mental health because I have similar issues, and I suffer from depression," Kelly told Demi. "I think a lot of people, especially in the creative world or just from childhood even, [are] trained to just keep going... especially as a woman it's like, 'Don't let them see you sweat.'"
"Even when you overcome something, they're like, 'OK, she's already overcome it.' I'm like, 'No, no that's a daily effort in trying to be positive… That's not a given.'" she continued. "I think that's a daily thing that you work at and a daily thing that I work at."