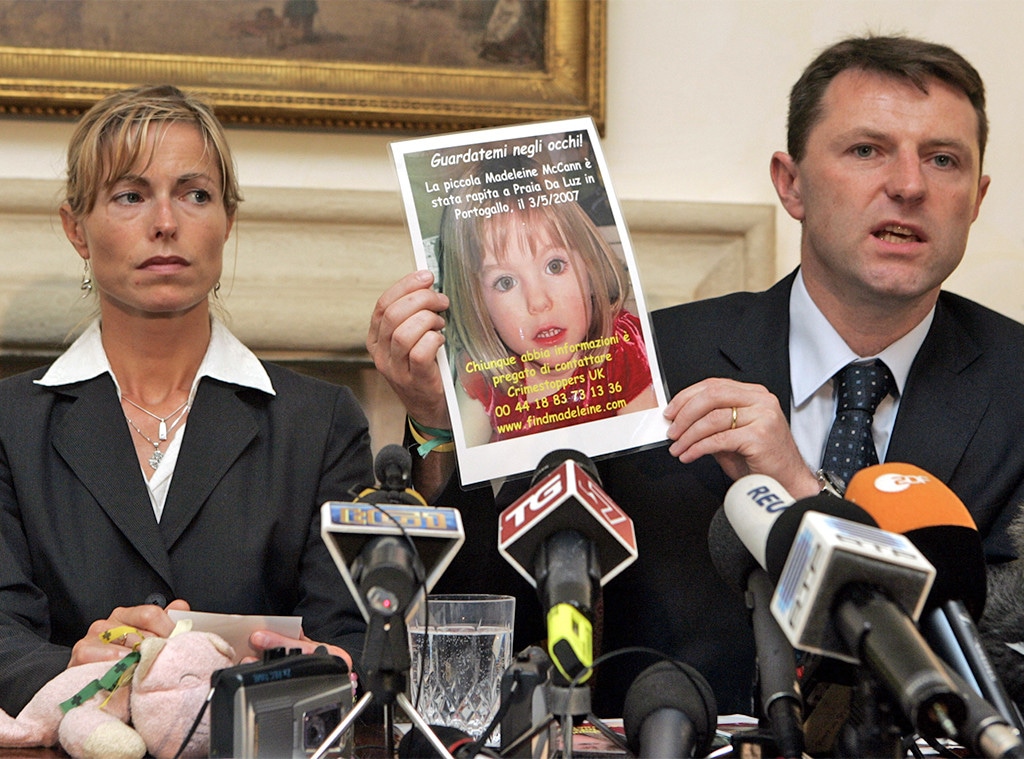 AP Photo/Pier Paolo Cito
Kate and Gerry McCann have gone without answers for 13 years, but they've refused to give up hope.
The couple proceeded with their life together in England the best they could despite a part of them remaining in Praia da Luz, Portugal, where their 3-year-old daughter Madeleine went missing in 2007 during the family's spring holiday.
The child's unsolved disappearance has been the focus of books, TV specials, an unauthorized Netflix documentary and endless speculation in the years since, every one of which went by with Kate and Gerry wondering if this might be the one that offered some real information about their child's fate. The case was closed in Portugal in 2008 but Scotland Yard opened their own investigation in 2011, and then Portuguese police reopened the case in 2013—and it has remained open ever since.
So it's no wonder that the McCanns, who are also parents of now-teenage twins Sean and Amelie, are trying to take even the most substantial-sounding new development in years in stride.
On June 3, British authorities announced that a man currently in prison in Germany for an unrelated offense is now a suspect in Madeleine McCann's disappearance.
"It's more than 13 years since Madeleine went missing and none of us can imagine what it must be like for her family, not knowing what happened or where she is," Metro Police Detective Chief Inspector Mark Cranwell, who heads up the McCann investigation—dubbed "Operation Grange" in 2011—said in a statement.
"Following the ten-year anniversary, the Met received information about a German man who was known to have been in and around Praia da Luz. We have been working with colleagues in Germany and Portugal and this man is a suspect in Madeleine's disappearance. The Met conducted a number of inquiries and in November 2017 engaged with the BKA who agreed to work with the Met.
"Since then a huge amount of work has taken place by both the Met, the BKA and the Polícia Judiciária. While this male is a suspect we retain an open mind as to his involvement and this remains a missing person inquiry. Our job as detectives is to follow the evidence, maintain an open mind and establish what happened on that day in May 2007."
The McCanns, both doctors, were on holiday with three other families in Praia da Luz when Madeleine went missing. According to numerous accounts of the events of May 3, 2007, Kate and Gerry went to dinner with the other adults at around 8:30 p.m. after tucking in Madeleine and her siblings in the bedroom they were sharing in the McCanns' quarters at the Ocean Club resort. The various parents took turns going back to the rooms to check on all of the kids every half hour. 
Gerry recalled checking on the children at 9:05 p.m. Dr. Matthew Oldfield, another member of their party, said he went in at 9:30 p.m. but later couldn't definitively say whether he had seen Madeleine in her bed or not. 
Kate returned to the apartment at 10 p.m. The door to the front bedroom, where the children had been asleep, was open. She remembered in her 2011 book Madeleine: Our Daughter's Disappearance and the Continuing Search for Her that, while she was standing there somewhat puzzled, the door slammed shut. And then she noticed the breeze coming from an open window.
PATRICIA DE MELO MOREIRA/AFP/Getty Images
She quickly realized that, while Amelie and Sean were fast asleep, Madeleine, who was going to turn 4 on May 12, was gone. After a quick, frantic search of the resort grounds, they reported Madeleine missing at 10:14 p.m. She had been wearing Eeyore pajamas from Marks & Spencer and had gone to sleep with her pink blanket and her Cuddle Cat.
"Apart from those first 48 hours, nothing actually has changed since then," Kate McCann told Sky News in 2017, referring to the fact that, though their daughter remained missing, there was no definitive evidence that she had been harmed, either. "I think the difficult thing has always been, how will we find her?"
But Kate said that they could "take heart" in the progress that had been made, "and we just have to go with the process and follow it through, whatever it takes, for as long as it takes. But there's still hope that we can find Madeleine."
Metro Police said last week that prisoner they're investigating lived in the Algarve—Portugal's southernmost region, a popular vacation destination full of beachfront resorts—off and on between 1995 and 2007. They shared pictures and descriptions of two cars linked to the suspect, a camper van and a Jaguar that was re-registered under another name the day after Madeleine went missing, and asked the public for any sightings of the vehicles from the spring and summer of 2007.
Moreover, the police announcement continued, the man had a cell phone conversation that ended approximately an hour before Madeleine disappeared—so whomever was on the other end of that call was considered a "highly significant witness." They released the two mobile numbers involved, both starting with the Portuguese country code 351, and asked for anyone with information about either number to contact authorities.
The next day, Cranwell said they had received more than 270 calls and emails.
In their own statement, the McCanns thanked the police for their continuing work and the public for their support, saying, "All we have ever wanted is to find her, uncover the truth and bring those responsible to justice. We will never give up hope of finding Madeleine alive but whatever the outcome may be, we need to know, as we need to find peace."
German officials, meanwhile, gave their own grim update on the case as well.
The imprisoned man has numerous convictions for child sexual abuse, German police said in a statement, per NBC News, and seemed to have earned a living "by committing criminal offenses, such as burglaries of hotel complexes and holiday apartments as well as trafficking in narcotic drugs."
On June 4, Braunschweig state prosecutor Hans Christian Wolters said, via Reuters, "We assume that the girl is dead. The public prosecutor's office in Braunschweig is investigating a 43-year-old German national on suspicion of murder." (The Metro Police said they are still treating their investigation as a missing persons case.)
The man was identified as Christian B. by German officials. Various international outlets have reported his full name, but his last name has not been officially disclosed, due to German privacy laws.
"We have evidence against the accused which leads us to believe that he really killed Madeleine but this evidence is not strong enough at the moment to take him to court," Wolters told the BBC last week. He said that the evidence they had was "strong enough to say that the girl is dead and strong enough to accuse a specific individual of murder—that strong." But, the prosecutor added, "One has to be honest and remain open to the possibility that our investigation could end without a charge, that it ends like the others have.
"We are optimistic it will be different for us but for that we need more information."
Watch:
Elizabeth Smart Never Wants to Watch Her Movie Again
Over the years a handful of suspects have been named, including Gerry and Kate McCann, who weren't formally cleared by Portuguese authorities until July 2008, about 10 months after police acknowledged there wasn't enough evidence to keep questioning the couple; and Robert Murat, a British national who lived not far from the Ocean Club and had volunteered to aid in the search for Madeleine when she first went missing—and who ended up winning upward of $750,000 in defamation damages from four U.K. media groups for coverage in their newspapers that strongly insinuated he was guilty of something.
Sky News, one of the outlets found to be at fault, was directed to keep its court-ordered apology to Murat up on its website for a year, according to The Guardian. He and the McCanns had vigorously denied any wrongdoing. 
"It is hard to describe how utterly despairing it was to be named arguidos and subsequently portrayed in the media as suspects in our own daughter's abduction," Kate McCann said at a news conference that July. "It has been equally devastating to witness the detrimental effect this status has had on the search for Madeleine."
Local authorities conducted a sweeping raid in Portugal on dozens of properties linked to around 80 suspected pedophiles in 2007, but "Operation Predator," as it was called, did not result in any substantive leads in the McCann case. In 2012, Scotland Yard said it had identified 38 persons of interest in the case, including 12 Britons. By October 2013 it was 41, including 15 British nationals.
Tips came in from all over the world, as did alleged sightings of Madeleine from as far away as India and New Zealand.
Six years ago, Metropolitan Police announced "a potential linked series of 12 crimes which occurred between 2004 and 2010...whereby a male intruder...gained access to mainly holiday villas occupied by U.K. families on holiday in the western Algarve."
NBC News reported in March 2014 that police were asking for the public's help identifying the perpetrator, whom they described as "having an interest in young white girls." Detectives said that during four of the cases being investigated, the man was believed to have sexually assaulted five girls between the ages of 7 and 10 years old while they were in their beds. The suspect was further described as "tan, with messy short dark hair," and he spoke English with a foreign accent.
Prosecutors in the German city of Stade said Friday that the newly announced suspect is also being investigated in connection with the 2015 disappearance of 5-year-old girl—identified as Inga G.—from the woods outside a family party being held in the town of Stendal, about 60 miles west of Berlin.
"It is being assessed whether there is a connection between the two cases," a spokesperson for the prosecutors' office said.
Though the news is disturbing, a spokesperson for the McCann family tells NBC News it also feels like the most "significant" development in the case to date.
FRANCISCO LEONG/AFP/Getty Images
"This is the only time in 13 years that police have been so specific about a suspect, down to the phone numbers, vehicles and particularly with a known individual," said Clarence Mitchell, a former BBC reporter who for awhile was the McCanns' full-time representative and still speaks for the family when needed.
Gerry and Kate "were coping as best as they can but want the focus to remain on the police investigation," Mitchell said, adding, "They still remain hopeful."
Kate told Sky News in 2017, "You don't realize how strong you are until you have no option, and I think that's very true. Obviously massive events like this cause a lot of reaction, a lot of trauma and upset, but ultimately you have to keep going. And especially when you've got other children involved."
"I think before Madeleine was taken, we felt we had managed to achieve a little perfect nuclear family of five," added Gerry, with a small smile. He cleared his throat. "And we had that for a short period...You adapt and you have a new normality and, unfortunately for us, our new normality at the minute is a family of four."