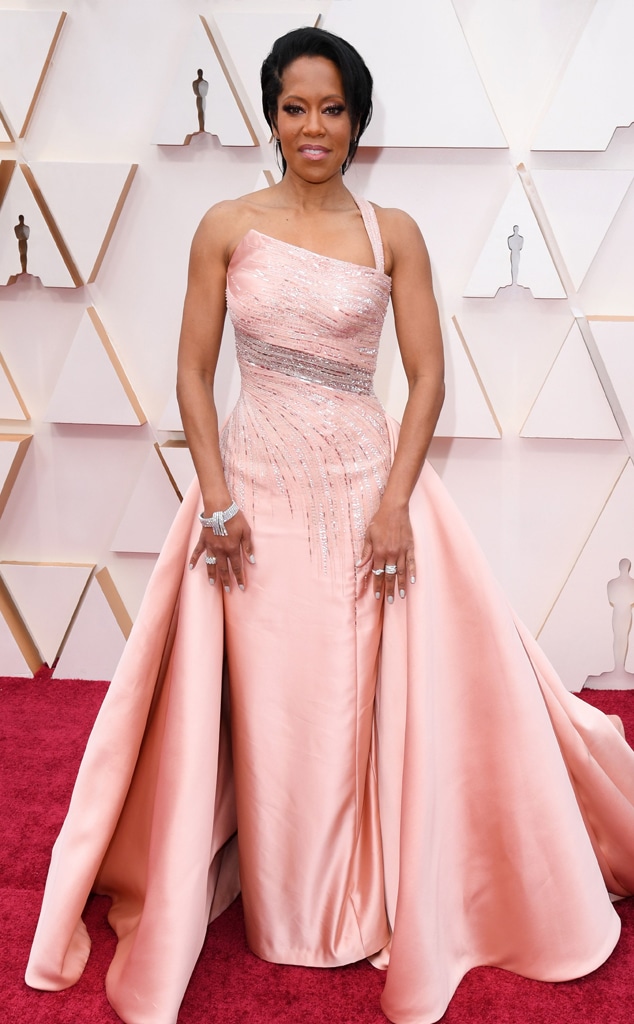 David Fisher/Shutterstock
Regina King is feeling hopeful.
During her virtual visit to Late Night with Seth Meyers, the Oscar winner shared how the recent surge in activism taking place across the world has given her a mix of feelings for the future. 
"I am managing a balance of optimism with the pain," she told host Seth Meyers. "This is the first time ever in my life that I've seen people in other countries supporting at the top of their lungs for Black people. You know, to see in Italy and Germany and all of these different places, people taking a knee and have signs that say Black Lives Matter."
"America is always the country that's going to the aid of someone else," she continued. "but that other countries are speaking out for not just America, but Black Americans, it makes me hopeful."
The duo also discussed King's show Watchmen, which takes place in Tulsa, Okla. 34 years after the Tulsa Massacre of 1921 when white residents attacked Black residents and businesses, and how the show is lending itself to conversations of race that many are having.
"It's definitely an honor to have been a part of a piece of work that was entertaining but also social relevant," she explained. "Prior to Watchmen, I'd done, you know, Seven Seconds and American Crime and both of those shows are shows that the commentary is rooted in things that are going on in our country right now."
"So, with Watchmen it was just so unique because [creator] Damon [Lindelof] and the writing team were able to give a history for a lot of people, infuse a bit of a love story in there, to shine a light on how pain is inherited, a light on the police violence in our country," she continued. "To do all of those things and be entertaining at the same time, and there are even comedic moments, it just feels like I was a part of something that's never been done before and that's really hard to do in 2020."  
For King, starring in the HBO limited series provided the opportunity to educate viewers on the Tulsa Race Massacre, which she noted is often left out when studying American history.  
Watch:
Black Lives Matter Protests That Are Changing The World
"I was definitely aware of Tulsa. My mother is a teacher and so, while that wasn't taught in school—school is not where I learned about it—but I think that we have this wonderful thing called Google now," she said. "And so, when people did type in Tulsa Massacre, they were able to discover that it wasn't just at Tulsa, there was a Rosewood, there was another incident like that in Florida, in Arkansas."
King added, "It just opened people up to correct the wrong that has happened in our school when it does come to U.S. history and omitting stories that actually took place and have become of the fabric of America. Whether or not you didn't know about Tulsa, because Tulsa happened, this is why we're here; why we're where we are right now."
(E! and NBC are both part of the NBCUniversal family.)
"E! stands in solidarity with the black community against systemic racism and oppression experienced every day in America," the network said in a statement on May 31. "We owe it to our black staff, talent, production partners and viewers to demand change and accountability. To be silent is to be complicit. #BlackLivesMatter."