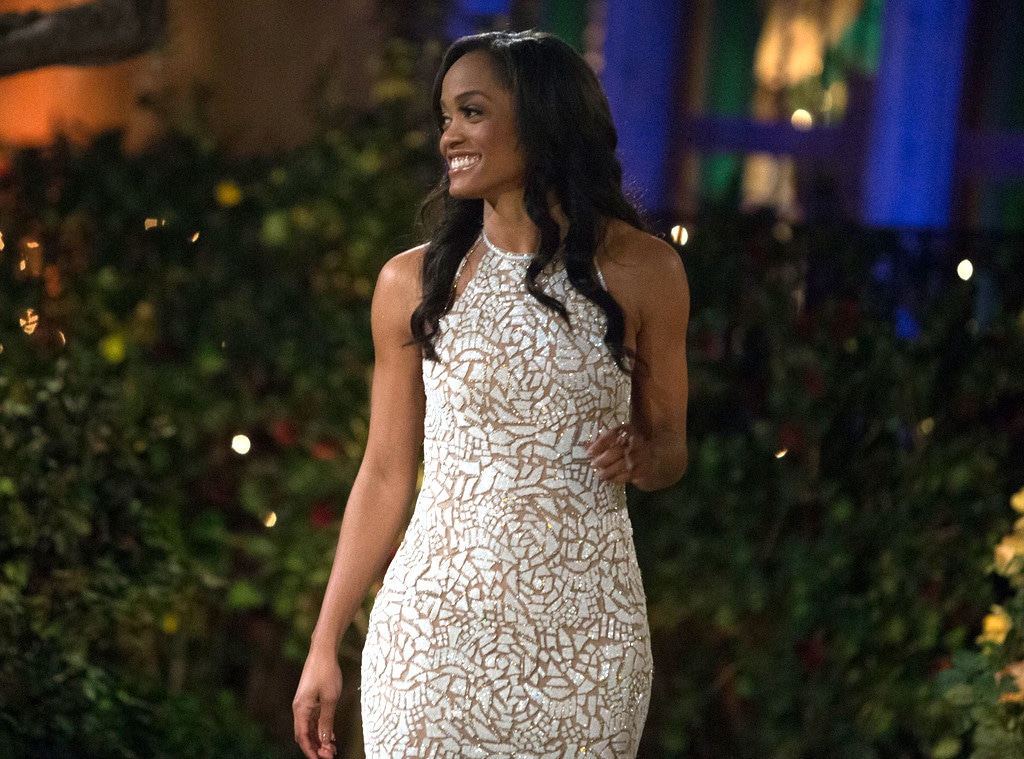 Paul Hebert/ABC
40 Seasons. 18 Years. 1 Black Lead. 
Those are the numbers at the center of a new campaign aimed at holding the Bachelor franchise accountable for diversity and anti-racism, starting with a petition and a call to cast a Black man as the lead in season 25 of The Bachelor. (Clare Crawley has already been cast as the lead for season 16 of The Bachelorette.) 
In 40 seasons of The Bachelor and The Bachelorette, Rachel Lindsay is the only Black lead, and the petition and campaign are hoping to change that, while also making other changes to how the show operates.
The petition features 13 calls to action, including casting a Black lead in season 25 while also casting BIPOC (Black, Indigenous, People of Color) for "at least 35% of contestants," giving equitable screentime to BIPOC contestants, actively supporting those contestants with mental health resources, hiring a BIPOC diversity consultant, condemning racism and paying attention to stereotypes, while also vetting new contestants to prevent anyone who has promoted prejudice ("e.g. ableism, racism, sexism, white supremacy, religious intolerance, homophobia, transphobia") from being cast. 
Several cast members from the franchise have shared the petition on their own social media accounts, including Rachel, Tyler Cameron, Ashley Spivey, Nick Viall, Seinne Fleming, Dustin Kendrick, Bibiana Julian, Jubilee Sharpe, Olivia Caridi, Onyeka Ehie, Alayah Benevidez, Lacey Mark, Marcus Grodd, Lauren Burnham, Mykenna Dorn, and Marquel Martin. 
Rachel has also said that she would not return to the franchise if it did not address its issues with race, and expanded on her reasoning for that in a lengthy post shared to her blog, Honestly Rach, on Monday, which highlights all of the changes she has called for over the years and the lack of a response from the show.
"Here is my point…if the National Football League, an organization notoriously known for not standing behind their athletes of color, can come out to make a statement to condemn racism and their systemic oppression and admit they were wrong for not listening in the past, then the Bachelor franchise can most certainly follow suit. Only time will tell how the franchise will respond, but to date they have been silent. Until then, make sure you tune in on Mondays for all the white reasons to watch The Bachelor: Greatest Seasons Ever as it will weekly highlight the very thing that is wrong with this franchise." 
The Bachelor: The Greatest Seasons—Ever is the newest installment in the franchise, which spends one three-hour episode a week highlighting one season of the show at a time. Tonight's premiere features Sean Lowe's season. 
The Bachelor, and more specifically The Bachelorette, has also dealt with serious issues in terms of contestants being found to have promoted racism or sexism on social media in the past. Lee Garrett was cast for Rachel's season, and his offensive tweets (including one comparing the NAACP to the KKK) were quickly discovered by fans of the show. Season 14 contestant and eventual winner Garrett Yrigoyen liked a handful of offensive posts on Instagram, some of which mocked Parkland shooting survivor David Hogg. 
Peter Weber's season of The Bachelor also featured contestant Victoria Fuller, who had modeled in a photoshoot about marlin fishing that used the slogan "White Lives Matter." Cosmo chose not to publish a shoot featuring Victoria that was shot during the season due to the photos. 
Most recently, The Bachelorette star Hannah Brown posted a video of herself saying the N-word as part of a song, which sparked a backlash in Bachelor Nation. She has since owned up to her mistake, issued an apology, and claims she has taken steps to educate herself about racism. 
"I wholeheartedly take accountability for the disappointment and pain I caused by saying this word and while I know I can't take it back, I can listen, learn, and take action to continue the dialogue and be apart of this historical and necessary change," she wrote on Instagram. 
Both the ABC Network and Warner Brothers have stated that they are standing by Black Lives Matter. 
"We believe in liberty and justice for all," ABC said on May 31. "We stand with our Black colleagues, creators, performers, storytellers, viewers, and every ally of the Black community against systemic racism, racial injustice, senseless violence and oppression. Your voice matters. Black lives matter." 
Warner Bros TV posted a quote by Bryan Stevenson that said, "Somebody has to stand when others are sitting. Somebody has to speak when others are quiet." 
"We stand with our Black colleagues, talent, storytellers, and fans—and all affected by senseless violence," their statement read. "Your voices matter, your messages matter. #BlackLivesMatter" 
Watch:
Rachel Lindsay Breaks Down Convo With Hannah B., Racism & More
You can find the petition here. As of press time, almost 19,000 people have signed. 
ABC and WBTV have not yet commented on the petition.