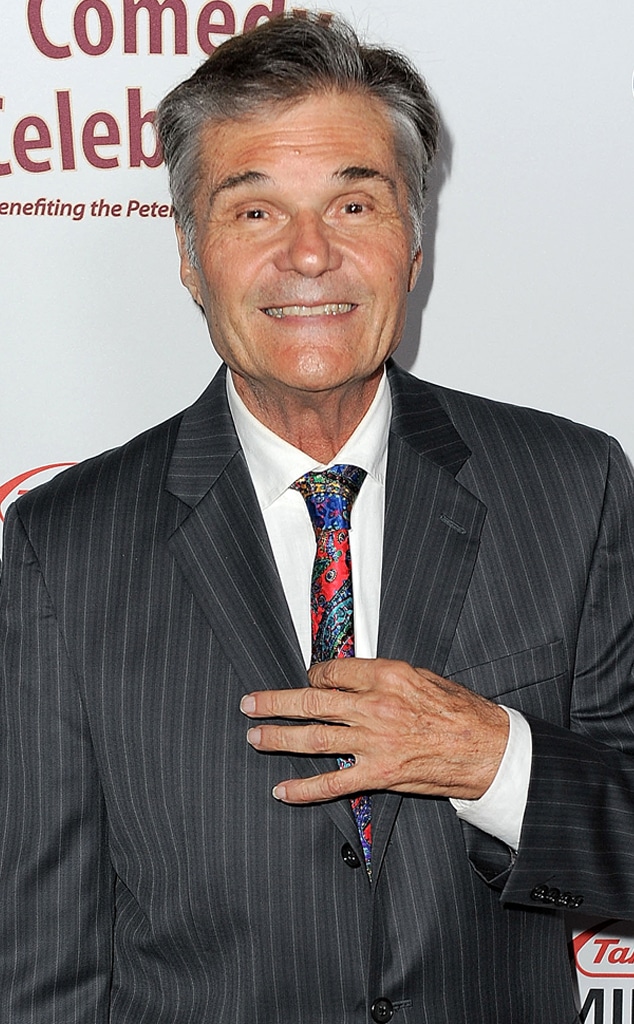 Michael Kovac/FilmMagic
Waiting for Guffman and Modern Family actor Fred Willard died of natural causes on Friday, May 15. The actor was 86.
"My father passed away very peacefully last night at the fantastic age of 86 years old. He kept moving, working and making us happy until the very end," Willard's daughter Hope said in a statement to E! News. "We loved him so very much. We will miss him forever."
The legendary comic actor was best known for his roles in Anchorman, This Is Spinal Tap, Best in Show, A Mighty Wind and others.
Following the tragic news of his death, fans and former colleagues of the late actor took to social media to share their condolences and tributes dedicated to Willard. 
Modern Family co-star Jesse Tyler Ferguson shared on Twitter, "Rest In Peace sweet @Fred_Willard. You will always be a true original and I am so honored that our lives intersected. No one will ever come close to replacing your genius."
Another co-star Eric Stonestreet, who plays Ferguson's partner on the show, wrote: "It was a privilege to have the great Fred Willard know my name. Rest In Peace Fred. You were funny in your bones."
Ben Stiller, who recently lost his father Jerry Stiller, wrote, "Fred Willard was a brilliant comic actor and improvisor. He could make anything funny. His work goes down as some of the funniest ever, From Jerry Hubbard on...he inspired and influenced so many people in comedy. Sending love to his family."
Jimmy Kimmel shared a special tribute to the late actor as well, along with a recent clip from Willard on his show. 
"I am sad to say goodbye to Fred Willard, who was still the funniest of men at age 86. Here's what turned out to be our last moment on-air together…," Kimmel wrote. 
Scrubs actor Donald Faison wrote of his fondest memories working with the late actor. 
"I remember getting the opportunity to be on the tv show Sabrina the Teenage Witch and finding out Fred Willard was cast to play my uncle," he wrote. "I was so excited to be working with the comedic genius! I feel very lucky to have been able to share that little bit of time with him. It's one of the highlights of my career. RIP."
Faison's fellow Scrubs star Zach Braff wrote on Instagram, "I loved Fred Willard so much. He was one of those people who you'd just start giggling the second he started talking. Please go watch his films if you don't know him. LEGENDARY. HERO."
Christina Applegate shared that she was "gutted" to hear the news of Willard's death.
"His immense talent and kindness will never be forgotten. We love you Fred Willard," she wrote on Twitter. "Thank you for the decades of laughter."
The Office star Steve Carell wrote, "Fred Willard was the funniest person that I've ever worked with. He was a sweet, wonderful man." 
Ellen DeGeneres wrote on Twitter, "Fred Willard always made me laugh. I just adored him, and today I'm sending love to his family and his many friends."
Vic Berger shared one of his favorite clips of Willard's iconic roles.
"So sad to hear that Fred Willard passed away," he wrote on Twitter. "One of my favorite roles of his was as Ron Albertson in Waiting For Guffman. Watch how many dentist jokes he delivers in under ten seconds." 
Television host Chris Harrison wrote, "We lost an absolute legend today. Fred Willard was so incredibly generous to join us the last few years on #Thebachelor He was a kind, gentle, thoughtful, talented, loving man. God bless you Fred. Our thoughts and prayers go out to his family #RIP." 
John Cusack wrote, "Fred Willard - RIP to a wonderfully original actor comedian - Any time he appeared in anything I'd stop and watch smiling and laughing."
Full House actor Bob Saget also shared his deepest condolences on Twitter. 
"Fred Willard. The dear hilarious kind man we just lost," Saget wrote. "Here am I with he and Martin Mull while shooting a documentary about Martin. Seeing them having fun together reminiscent of the Fernwood days was truly a joy. Rest In Peace dear Fred."
Watch:
Legendary Comic Actor Fred Willard Dead at 86
Jackée Harry remembered working with the late actor on Sister, Sister.
"We were fortunate to have worked with the hilarious Fred Willard on several episodes of Sister, Sister. His comedy chops were unbeatable," she shared on Twitter, alongside a video clip. "We'll miss you, friend."
Jason Alexander wrote, "God bless you, Fred Willard. You sure did make us laugh. #ripfredwillard."
Josh Gad wrote, "My heart is hurting right now learning of the passing of my friend Fred Willard. Fred was one of the most gracious human beings I ever knew. When I got my first TV role on #BackToYou nobody was more kind & welcoming than Fred...whether attending my wedding or just calling me."
The late actor's passing comes less than two years after his wife Mary died at 71. Willard is survived by his daughter and grandson.