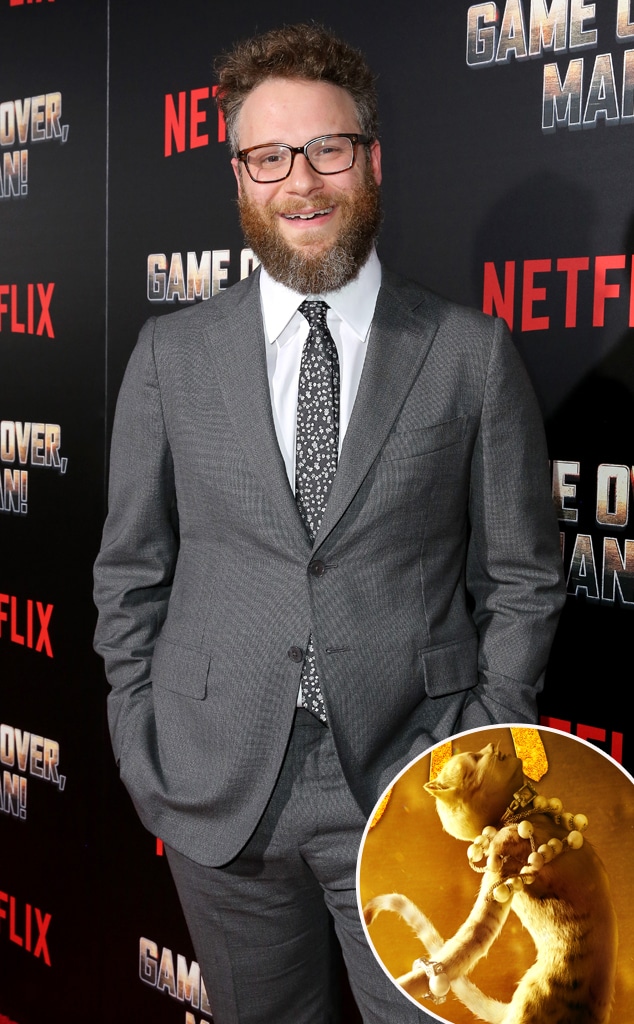 Rachel Murray/Getty Images for Netflix, Universal Pictures
Is Seth Rogen a Cats fan now?
On Tuesday, the comedian decided to watch the film adaption of the Broadway play for the first time…while stoned. Thankfully, Seth documented the hilarious experience on social media gave his followers a real treat as he live-tweeted his reactions. 
"I'm pretty stoned and watching Cats," he tweeted. "I've never seen the broadway show. It is truly trippy. Am I supposed to know what a Jellicle is? They've said it 200,000 times but I don't know what's happening haha."
One detail that immediately stood out to the Knocked Up star was how disproportionate the cast's bodies were, especially compared to real cats. "These cats are like 2 feet tall in this world. That's a huge f--king cat," Seth wrote. Later he tweeted, "They move so funny." Seth also couldn't get over how humanlike some of their features were: "Ian Mckellan just straight up has normal fingers."
When Jason Derulo's character made his entrance, Seth noted, "Jason Derulos feet don't look like they're touching the ground."
The irony of the Cats costumes wasn't lost on Seth either. Noticing Judi Dench's bold ensemble, he said, "Judi Dench is in a cat fur coat which I can only assume is socially APPALLING in this world." He also poked fun at their footwear, writing, "These cats are straight up wearing white chuck taylors!!!"
Still perplexed by their shoes, Seth tweeted, "Did they commission little chucks from the cat shoe maker?" He later added, "Some cats get high heels which is funny to picture in real life."
Footwear aside, Seth couldn't help but bring attention to another inconsistency with their wardrobe: "Some cats in pants. Some no pants."  
But for Seth, the most mind-blowing moment came from Cats' behind the scenes features, where he learned that the actors attended cat school to master their feline movements for the film. 
"They made them go to cat school," he said in one tweet, followed by, "I have a hard time getting actors to rehearse for like 20 mins. They got these people to train to lick their hands and rub them in their hair for weeks!!!"
Watch:
Jennifer Hudson Teaches E! How to Be a Cat
While the Pineapple Express actor didn't share his final thoughts on the film, he did give his followers an update one hour into his live-tweeting of the movie: "Alright I'm turning this off and watching 90 day fiancé. Good night. Stay clean as f--k." 
Other takeaways included, "Judi dench looks the most cuddly," "This is so 'Broadway funny'" and "How many times they say the word 'cat' in a this?"
And from the sound of it, Seth didn't watch long enough to figure out what a jellicle is. He asked again, "WHAT IS JELLICLE?!,!?"