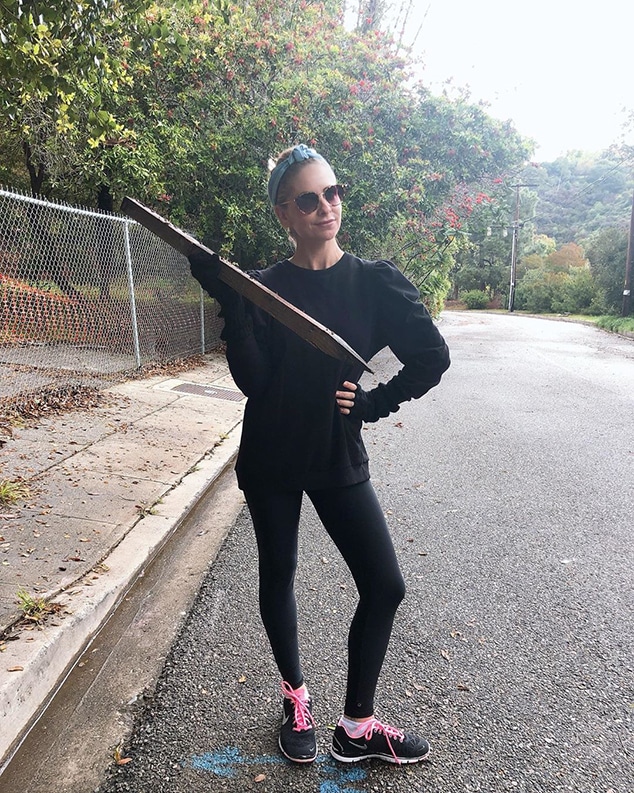 Instagram
Sarah Michelle Gellar, the Chosen One, is out there giving Instagram users exactly what they want—no, need—right now.
The Buffy the Vampire Slayer star took to social media to share a photo of her holding a giant wooden stake. Mr. Pointy bulked up.
"Hmmmm........ found this on my walk today," she wrote.
But it didn't stop there. "Run!" David Boreanaz, aka Angel, commented.
"Buffy, what are we going to do now?" Michelle Trachtenberg, Gellar's TV sister Dawn, commented.
On her Instagram story, Gellar posted the famous Buffy the Vampire Slayer quote, "If the apocalypse comes, beep me" followed up with a photo of her and the stake and said, "Beeped."
Buffy Summers is on the case. And this may be the only dose of Gellar as Buffy we'll ever get. E! News sat down with the actor and entrepreneur in September 2019 and she made it clear her time fighting the forces of evil were (likely) behind her and she had no plans to be involved in the remake/reboot.
"No. I've told my story, right? My Buffy was the incarnation of the horrors of adolescence manifested as actual demons. I am not an adolescent. I don't work in that story. And what I love is that the story that I told still resonates and is still important. Now, if someone did a new version of it, all it would do is draw people back to the original, which I think is awesome, but I don't work in sort of…in that world," she said.
Buffy originally ran from 1997-2003 and Gellar is quite OK with forever being associated with the iconic series.
"I think that's what's so great," she said. "You always want to be a part of something that's impactful…that has a legacy that holds up. And I think that's what's so incredible about the show, is that while it was relevant when it was made, it's still relevant today and that it still touches people and still has that same emotional impact."