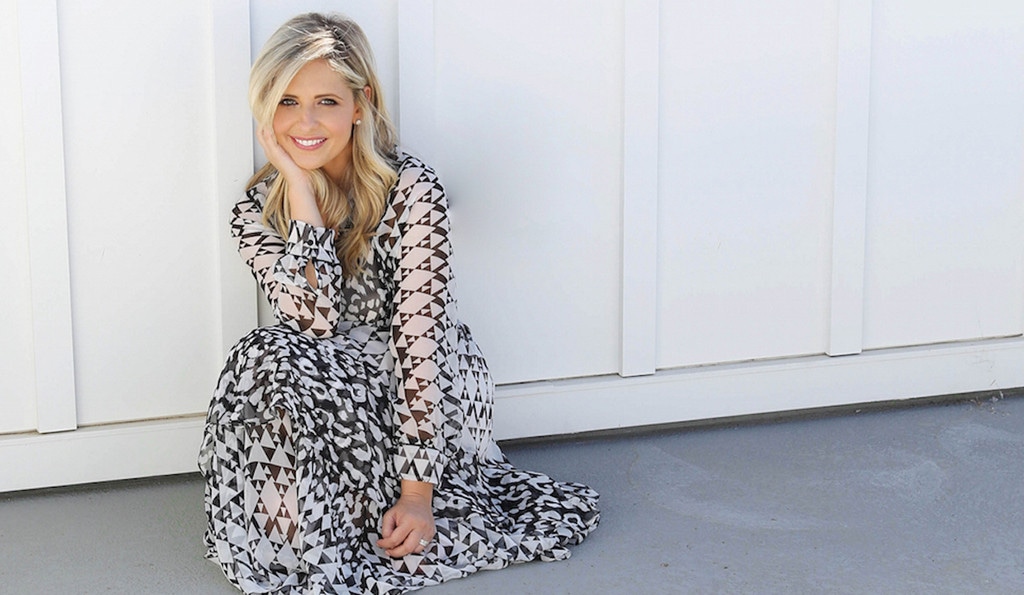 Danielle Kosann
Sarah Michelle Gellar is ready to slay TV audiences again, but it'll just be audiences, no vampires this time. In the age of TV revivals, Gellar is leaving the past in the past and turning her eye toward telling new stories that speak to her.
"Yeah, I took a break for a while," Gellar said about acting, noting she is currently raising two young children—Charlotte, 10, Rocky, 7—and started Foodstirs, a cooking company known for ready-made kits she co-funded. "Foodstirs is at a point where it's in over 8,000 points of distribution and we're doing so well. And I said, now is sort of the time where my kids are in school full-time and Foodstirs is running and working and doesn't need me there every day. And I felt like I had a little bit more story to tell."
The Buffy the Vampire Slayer star, who was promoting her partnership with and use of Colgate Optic White products in her busy day-to-day life ("It's whitening that works," she said), had her last series regular TV gig in 2014 opposite Robin Williams in The Crazy Ones. Now, she has two TV shows in development. There's Sometimes I Lie, which she's working on with Ellen DeGeneres, and Other People's Houses with Ringer creators Eric Charmelo and Nicole Snyder. In these projects, Gellar is both star and executive producer.
"I think I'm at a point now where I work better in that capacity, where when I have my hand in sort of all the little pots and I can sort of shape and create and really tell the story that I want to tell as opposed to having it determined for me. I just think I'm at that point where, where I've earned that, and I kind of need that," Gellar told E! News about her behind-the-scenes involvement on her new TV projects.
Both of the TV projects Gellar is working on are based on books she devoured.
Sometimes I Lie follows Amber Reynolds, a woman who wakes up in a hospital and is unable to move, speak or open her eyes. Unbeknownst to those around her, she can hear everything. Gellar said she was drawn to the idea of an unreliable narrator and the twists and turns that shocked her in the book. The limited series will also explore a toxic friendship. Specifically, "the toxicity that happens between two women and how codependent and how competitive that friendship can be."
With her Fox project, Other People's Houses, Gellar said she wanted to look beyond the curated lives people manufacture on social media by telling viewers what's really happening behind the screen. "We would love to really tell the story of what you see and what the reality actually is and how that affects how we look at ourselves, how we judge ourselves and how we feel about ourselves," she said.
Gellar shot to fame before social media. She first became known to TV viewers, and won a Daytime Emmy, for her work in the early 1990s as All My Children's Kendall Hart. She made her jump to primetime famously with Buffy the Vampire Slayer. As the titular slayer in the series created by Joss Whedon, Gellar quickly became the face of TV badassery—and remains to this day, both at home with her kids and husband Freddie Prinze Jr. and to legions of fans around the world.
"Actually, the other day…Rocky was saying how men can kick butt and Freddie was saying, 'Well women kick butt too.' And he was like, 'What do you mean?' And I saw Freddie pulled up—there's like a YouTube thing of the best Buffy action sequences or whatever. And he was showing it to Rocky and Rocky said, 'That looks like my mom! And I said, 'That is your mom!' And he was like, 'Oh!'"
When the time comes, should her kids be interested in learning about Sunnydale, the Hellmouth, Angel and everything that comes along with Buffy the Vampire Slayer, Gellar will welcome but not force it. "Charlotte is not old enough yet, I don't think, 'cause I think that the concepts and the true story of the narrative is over her head, but she has definitely expressed it," she said.
But neither her kids nor diehard fans will see Gellar pick up Mr. Pointy and stake some vampires unless they're streaming old episodes. While news of a Buffy reboot made headlines in 2018, Gellar, who previously wished the project well, is keeping that chapter closed and said she wouldn't be involved in any capacity.
"No. I've told my story, right? My Buffy was the incarnation of the horrors of adolescence manifested as actual demons. I am not an adolescent. I don't work in that story. And what I love is that the story that I told still resonates and is still important. Now, if someone did a new version of it, all it would do is draw people back to the original, which I think is awesome, but I don't work in sort of…in that world," she said.
Despite previously revisiting the cult-hit Cruel Intentions in a pilot for a sequel series, Gellar said she's done with revivals and reboots. "You know, I think ultimately you realize that you tell a story at the time, and then you close that chapter. For me, I think it's best because I'm at a different point in my life than I was when I told that story. So, any incarnation that I did now would be different anyways? So, I'm not sure if they totally work together," she said.
But, Gellar said, reboots and sequel series do have a place, citing the success of Fuller House and Magnum PI. "I'm not sure how well it works in a world where people are still revisiting [a show]. Like, I don't want to see a Friends reboot. So that's sort of where I lay in it. But, by the way, that's just my opinion. I'm one person."
Even though it ended in 2003, viewers are still revisiting or finding Buffy the Vampire Slayer thanks to streaming, comic books and high-profile fans like Stacey Abrams. The show has become multi-generational as viewers of the original seven-season run introduce it to their families now.
"I think that's what's so great," she said. "You always want to be a part of something that's impactful…that has a legacy that holds up. And I think that's what's so incredible about the show, is that while it was relevant when it was made, it's still relevant today and that it still touches people and still has that same emotional impact."
Just because Gellar is looking to the future, doesn't mean she isn't respectful of Buffy's legacy and her longtime association with the hero. "As Buffy would say, 'It doesn't suck,'" she said.