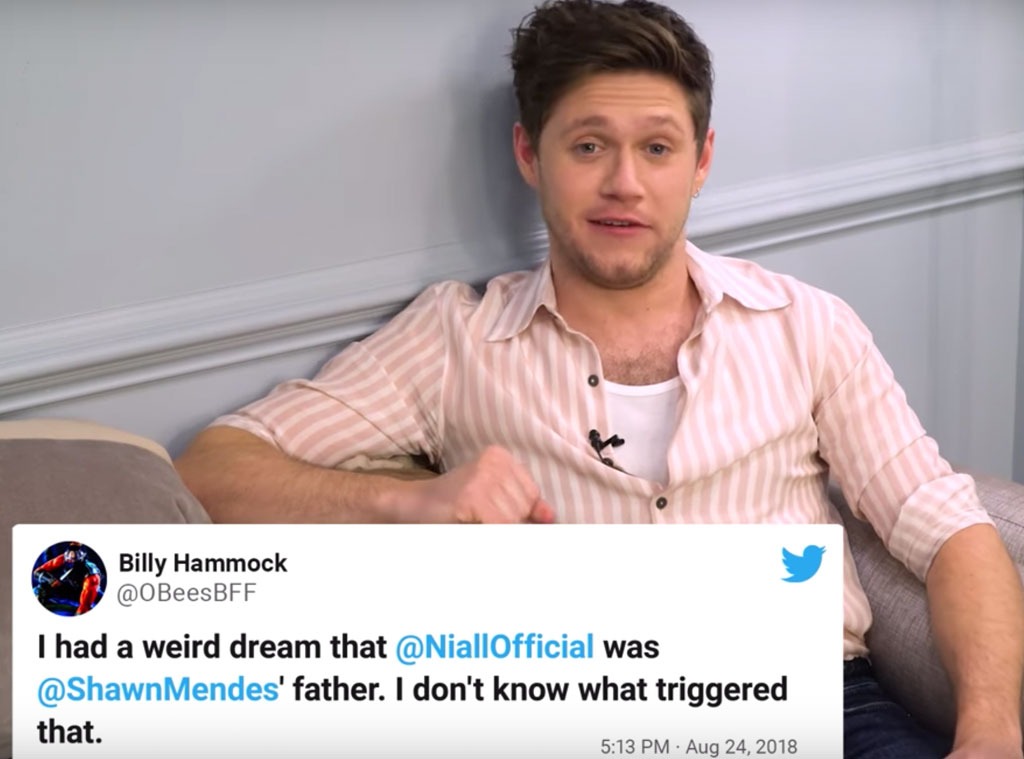 YouTube
This what dreams are made of—literally!
On Monday, Niall Horan took a deep dive through Twitter with The Late Late Show for its hilarious new segment "Tweet Dreams," where the former One Direction star read the weird dreams that his fans have tweeted about him.
Kicking things off, Niall's first tweet involved a zombie apocalypse and some golf clubs: "I dreamt I was stuck w/ @NiallOfficial in a zombie apocalypse & we used our gold clubs as weapons." Unfazed by the fan's dream, Niall said, "Me too. And if that was the case, I would be using my golf clubs as weapons."
The tweets only got funnier from there. Another fan wrote, "I dreamt that Niall Horan's latest song was written and originally performed by Meat Loaf." After getting a chuckle out of the tweet, Niall said, "Not sure how I feel about it. But that's what dreams are for."  
For his next Tweet Dream, Niall read, "I had a weird dream that @NiallOfficial was @ShawnMendes' father. I don't know what triggered that. lol." Surprised and amused, the "Nice To Meet Ya" singer said, "I'm not Shawn Mendes' father. His father is a much older man than me with a beard. And he's also Portuguese, which is nothing like being Irish."
Still on the topic of the "In My Blood" singer, Niall added, "I do see myself as an older brother figure in terms of myself and Shawn's relationship. I think he thinks the same. I look after him in that capacity…Imagine if I was Shawn Mendes' dad? Odd."
After reading the tweet: "I had a strange dream about trying to invite @NiallOfficial over to my house, specifically to eat some soup. Pretty realistic actually," Niall revealed what his perfect date would look like.
Watch:
Niall Horan Gives His Best Jason Kennedy Impression
"Yes, I'm a big fan of soup," he said into the camera. "Wholesome guy. Soup is a wholesome thing. Yeah, it is pretty realistic. I would come over. If you invite me over to your house, I would like two things: Soup and beer. And that sounds like a great laugh." 
Saving the best for last, Niall's final Tweet Dream involved an interesting performance with some special guests: "Weirdest dream ever last night. @NiallOfficial performed in a giant concrete bowl. People were taken to their seats in shopping carts.. then, here comes the weird part, he performed 'Slow Hands' with the Teletubbies." 
See his reaction to the outrageous tweet in the video above!