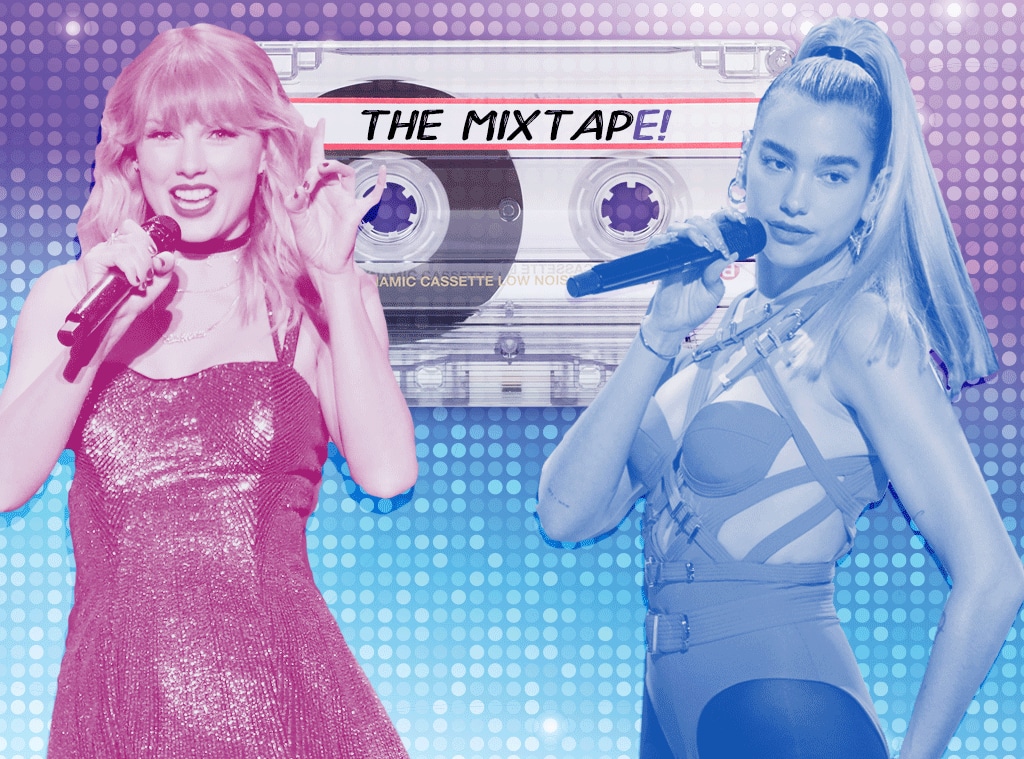 Getty Images/E! Illustration
New music Fridays are a thrilling, yet daunting prospect for any music lover. 
It's essentially a weekly holiday where fan-favorite artists and fresh faces alike drop their latest offerings for all the world to hear, flooding streaming services and digital retailers with an onslaught of aural goodies. But who has the time to sit there and listen to everything before updating their playlists? There's just too much good stuff! (And, if we're being honest, usually a few stinkers, too.)
As it turns out, we do. Welcome to The MixtapE!
By now, you've probably already bopped around to Justin Bieber's latest track off his upcoming album Changes, the Kehlani-assisted "Get Me." And there's no doubt that you've listened to Taylor Swift's powerful new anthem "Only the Young." Maybe you're even still crying from Demi Lovato's emotional debut of her comeback single "Anyone" at Sunday's Grammy Awards. But that's truly just the tip of the iceberg on this New Music Friday.
As always, we've taken a dive into everything this week has to offer, listening to (nearly) all of it. What follows are our picks for the best of the best. You're welcome.
Taylor Swift—"Only the Young": On this track, originally written with "You Need to Calm Down" and "The Man" collaborator Joel Little for Lover but held back and included in new Netflix documentary Miss Americana, Taylor continues her recent streak of politically-conscious pop, encouraging her young fans disillusioned with the state of the world to not give up on participating in democracy just yet. It's a clearheaded call to arms from one of the biggest pop stars in the world, and, with the 2020 presidential election looming, it couldn't have come at a more important time.
Dua Lipa—"Physical": After delighting with the disco sounds of "Don't Start Now," aka one of 2019's best singles, Dua Lipa gives another taste of her forthcoming second studio album, Future Nostalgia (due on April 3). On "Physical," she takes a trip back to the '80s with the synth-pop sounds of the decade of excess and it's absolute pop perfection. At this point, there's no reason to believe the highly-anticipated LP will be anything but absolute heaven on earth. It can't come fast enough.
Kesha—"Summer": Five days before the planned release of Kesha's excellent fourth studio album High Road, this song wasn't even a part of its track list. Written and produced alongside "Praying" collaborator Ryan Lewis, "Summer" was the very definition of a last-minute addition, but its place as the closing track on the buoyant album, a triumphant return to form for the queen of party-pop, is damn-near perfect. A soaring expression of nostalgia with an ebullience that feels almost infinite, it's a show-stopper.
Meghan Trainor feat. Nicki Minaj—"Nice to Meet Ya": Meghan lured Nicki out of retirement for a fire verse on this banger, off her long-awaited third studio album, Treat Myself. And for that, we thank her. Come for the return of the Queen of Rap, stay for the week's best beat drop. Seriously.
Saweetie & GALXARA—"Sway With Me": The Birds of Prey soundtrack is shaping up to be something truly major. On this latest taste of the album, out with the film on February 7, GALXARA's electropop prowess is paired with Saweetie's fire flow bring this banger, with its clever interpolation of the oft-covered jazz standard "Sway," to life. And we are living for it.
Demi Lovato—"Anyone": We were crying right along with Demi when she debuted this stunningly plaintive piano ballad at the Grammys on Sunday. Record just days before she suffered an overdose in 2018, the track is a remarkably frank cry for help written during incredibly dark times. Thankfully, she's able to now stand in the light—stand at all, really. And the vocals? Chills. 
Ryan Beatty—"Evergreen": At long last, the frequent Brockhampton collaborator' second studio album Dreaming of David is here. And what a dream it is. The entire LP is a stunning piece of aural artistry from a queer musician on the rise, but this track is an early standout. As the sensual mid-tempo track gives way to a stuttering wall of sound in its final moments, something like euphoria sets in. It's absolutely heavenly.
Phony Ppl feat. Megan Thee Stallion—"Fkn Around": The Brooklyn-based neo-soul group link up with Meg for this flirty little slice of funk. Meg's flow sounds right at home over this easy groove, proving that it doesn't have to be all hard all the time.
KIRBY—"Penny": And just like that, we have our first can't-miss R&B album of 2020. Over the course of seven tracks, Sis. proves that KIRBY, who's penned tracks for the likes of Ariana Grande and Beyoncé, is a force to be reckoned with all on her own. This sublimely soulful song is an early standout.
j ember—"Lower Than Low": We'll admit, we hadn't heard of this Toronto-based singer-songwriter before stumbling across this hypnotic slowburner today. But he's on our radar now. And he should be on yours too. 
Bonus Tracks:
Louis Tomlinson—"Always You": On this sweet standout track from the One Direction star's debut album Walls, he pays tribute to longtime girlfriend Eleanos Calder in a moment that calls to mind some of the best tracks he penned for the band back in the day.
Louis The Child—"Don't Mind": The Chicago-based DJ duo deliver on this summery dance track that's got us dreaming about warmer months.
Gia Woods—"HUNGRY": The Persian queer pop up-and-comer shows so much promise on this grungy and defiant banger.
Allie X—"Devil I Know": If there's any justice, the forthcoming Cape God will be the album that opens Allie up to a wider audience. If all the tracks as half as good as this dark pop delight, there will simply be no excuse for it not to.
Eladio Carrión feat. Brytiago—"3 AM": This standout off the Latin trap up-and-comer's debut album Sauce Boyz has us thinking that Bad Bunny (whom he collaborated with on 2019's "Kemba Walker") has some new competition.
Happy listening!