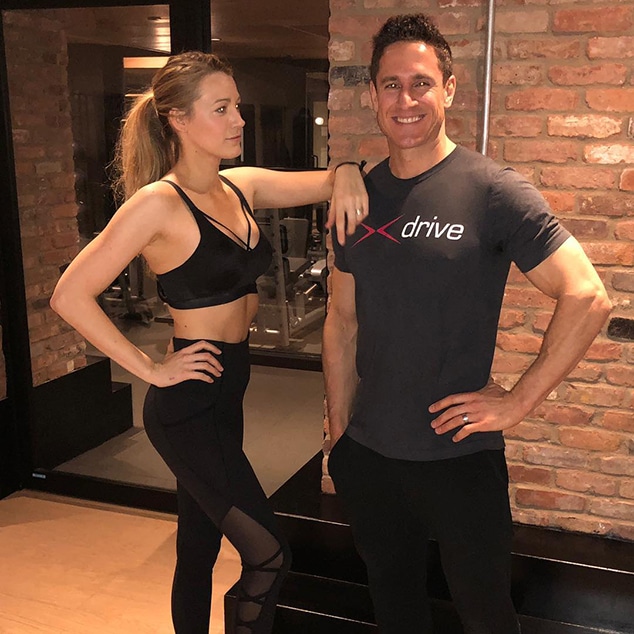 Instagram
Whoever said working out from home isn't possible clearly hasn't met this trainer.
As much of America chooses to participate in social distancing by working from home and avoiding gyms amid the Coronavirus, E! News is asking some of Hollywood's top fitness instructors to share their tips on how to break a sweat without leaving your place.
"To keep our immune system strong, we want to keep our muscles trained and eat right. If we stop exercising and we stop moving around, that's going to affect our sleep quality, which will affect our immune system," Don Saladino shared with E! News exclusively. "Continue to try to break a sweat, to get outside and move around. Stay positive and don't get down because it will beat up your immune system."
When not working with Drive495, the fitness instructor can be found sharing his tips with clients including John Krasinski, Ryan Reynolds, Liev Schreiber and Emily Blunt. In other words, this guy knows what he's doing.
So what can you do from home as soon as today? Don shared four exercises with us that will have you feeling better in no time.
Push Ups
"A push-up is a moving plank. It's a full-body exercise but you're also using your core," Don explained to us. He recommends 3-5 sets of 5-10 reps depending on your strength level.
Lunges
"I would say the same thing on sets and reps. A lunge is a compound movement. It's working your quads, your hamstrings and your glutes. It's also opening your hips. It's working on everything from the ground up. Your ankle joints, your knee joints, your hip joints—all different areas—which is really important," Don shared.
Cardio
"I think sprinting is overlooked. It doesn't have to be big distances. It can be a 10-15 meter sprint, where every time you do it, you increase speed," Don shared. "Do a 10-meter sprint, take a minute rest and do 10-15. It will get your heart rate up. In the beginning, I recommend not taking as much rest but then as you get faster and faster, you're going to need to take more rest."
Watch:
Blake Lively Talks Getting In Shape for "The Shallows"
Lateral Bound
"A lateral bound is where you're jumping side to side and landing on one leg. The purpose is 'If you don't use it, you lose it.' Most people out there, their bodies are getting slow and tight because their bodies aren't using the elasticity of their muscles to their fullest potential. When you stop doing things like sprinting and running, that's when our bodies start moving slowly and getting tight," Don advised. "Moving laterally allows the hips to open up, to get the heart rate elevated and work with a little bit of speed. Beginners should start really slow and easy and people who are in great shape, you should try to jump as far as you can. If you're not used it or you're warming up, start easy."