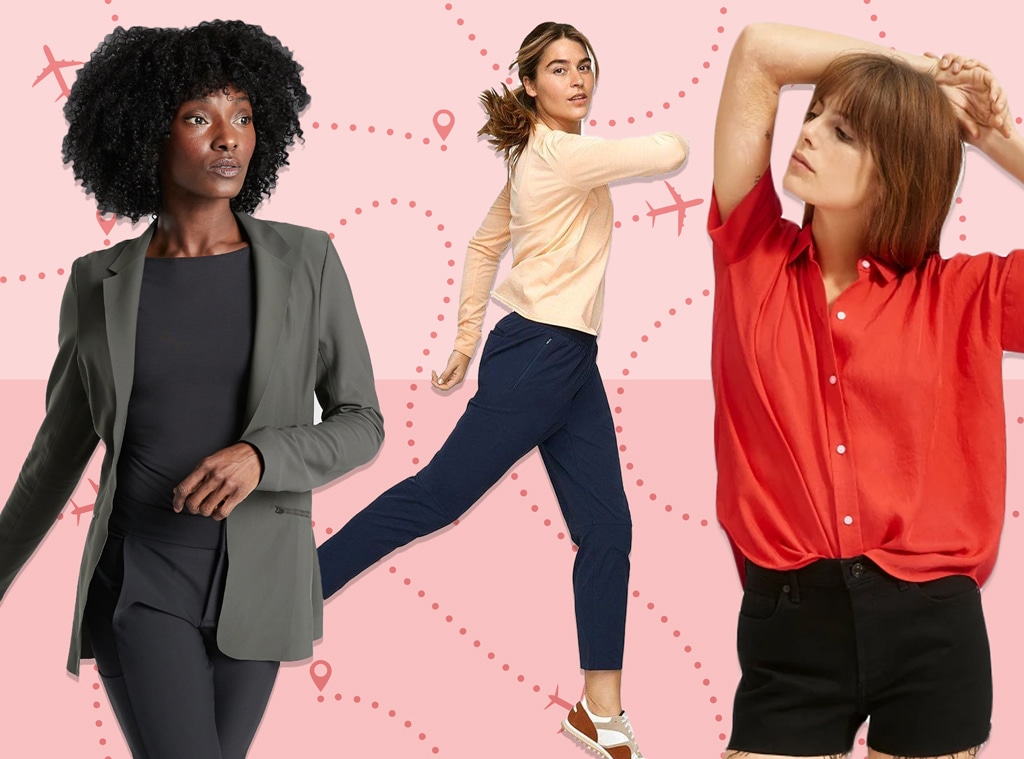 E! Illustration
We love these products, and we hope you do too. E! has affiliate relationships, so we may get a small share of the revenue from your purchases. Items are sold by the retailer, not E!.
They say it's about the journey, and not the destination... but when it comes to traveling in uncomfortable clothes, the journey can feel like it's taking forever!
Few things are worse than being stuck on a long flight in too-tight pants, or crammed in the car in a top that doesn't breathe. Or what about those times where you have to rush from the plane to your first destination in an outfit that looks like it's never seen an iron? That's why we went hunting for the most travel-friendly clothes, from movable dresses to breathable pants to tops that will look as fresh and crisp as the day you bought them, even after a trans-Atlantic flight. 
Shop our picks below, and pack up! 'Cause adventure is out there...
The Japanese GoWeave Sleeveless Wrap Dress
Heading to an event the moment you step off the plane? This is the dress for you. With a waist-cinching tie and a flattering V-neck, this wrap dress has style to spare, but the best part? It's made from their special wrinkle-resistant Japanese GoWeave fabric, so you can toss it in your suitcase without fear, or wear it on the plane and buckle up without worrying about wrinkles.
Brooklyn Plaid Ankle Pant
Wear 'em dressy, wear 'em casual, wear 'em however you want, 'cause these pants are ready for anything. Made of Recycled Poly, a material sourced from post-consumer plastic bottles, you'll love the lightweight breathable fabric that'll keep you comfy on the go, and won't wrinkle no matter how much you try. They're both packing and machine wash-friendly.
Ora Set
Go lower key in your travel gear with this comfy set that's shapeless, sleeveless, and basically says, "I'm on vacation!" It's effortless dressing at its finest, with wide-leg pants sporting an elastic wasitband, side pockets and a high rise, and a corresponding cowl-neck top with dramatic side slits for a little fashionable oomph.
High-Waisted Jegging
When you want the look of jeans, but you don't want to wear 'em on a flight, jeggings are the answer. With a ton of stretch and just the right amount of structure, these will keep you comfy on a long flight, holding their shape like authentic denim, but without the restriction. Go ahead and have more plane snacks!
Cashmere Boyfriend Sweater
Equal parts chic and cozy, this sweater is the best of both worlds to suit all your travel needs. It's made of 70% recycled cashmere, so not only is it super soft, but it's doing good for the environment. It also has a boatneck with a rolled neckline and an oversize fit, but while it definitely delivers on the comfy front, its classic style is perfect for your next business meeting, if that's your first destination off the plane.
RecTrek Pant
This is the definitive go everywhere, do everything pant! With a relaxed fit and slight crop, these are made of OV's stretch-woven RekTrek fabric, so these pants will move with you whether you're fighting for extra leg room on the plane, or scrambling your way up a mountain during your spring break getaway.
Sasha Jersey Dress
You might think dresses aren't travel-friendly. You might even bristle at the thought of wearing one on the plane. Let us change your mind with this sweet faux wrap dress, with a leg slit and tulip sleeve. It's comfy, breathable, drop dead stylish, and wears well on trips of any length. Plus, it's an easy instant Going Out outfit!
The Japanese GoWeave Light Square Shirt
Available in seven eye-catching colors, this top is made of the same magical fabric as Everlane's go-to wrap dress. That means you can wear it on the plane or toss it in your bag without fear of wrinkles, but it's superior style means you can wear it with jeans, shorts or dress pants and look exceptional in every way.
Interstellar Blazer
Maybe you need something fashionable that travels well for more upscale events, or maybe you want something lighter than a jacket but heavier than a shirt to guard you against aggressive airplane AC. This is that jacket, made of EuroLuxe fabric for smooth stretch that stays wrinkle-free. It's also rated to UPF 50+.
Boston Proper Women's Wrinkle-Resistant Straight-Leg Knit Solid Color Pant
Boston Proper calls these their "ultimate travel pant." Why? 'Cause they're pull-on style with an easy-banded stretch waist, and made of a soft knit fabric that's wrinkle resistant and packing friendly. Wear them for work or play, and rest easy knowing they'll be ready for the next day looking as fresh as the moment you pulled them out of their packaging.
Winona Midi Support Dress
If you think we're on a kick of convincing you to get on the travel dress bandwagon, you're right. This is another one to get obsessed with, made of super-light Recycled Featherweight Stretch fabric with the added bonus of an internal support system so you can go bra-free. Plus, it's wrinkle and abrasion-resistant, quick-drying, and rated up to UPF 50+.
Nina Jersey Pant
With a slim leg and a slight flare, these pants are comfy enough for planes, trains and automobiles, but they're also ready for the dance floor once you reach your destination. Made of matte microfiber jersey with a foldover waistband, they blend the best of both comfort and style in one fabulous pair of pants.