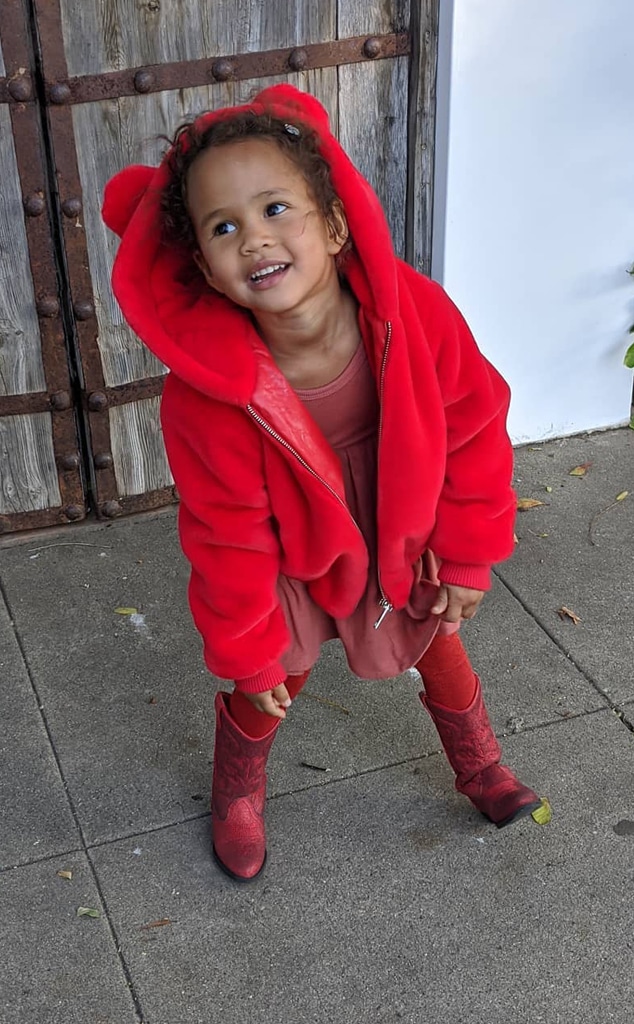 Instagram
Luna Stephens is a fashion icon in the making.
Chrissy Teigen and John Legend's 3-year-old daughter showed off her styling skills in a new post on her dad's Instagram on Friday. In the photo, the smiling toddler is seen wearing a faded red dress, red leggings, red cowgirl boots and—you guessed it—a red zip-up coat with animal ears. And as the singer revealed in his caption, the toddler put the look together herself.
"Luna. Styled by Luna," the 41-year-old wrote.
The little one's personality is just as bold as her monochromatic outfit. She proved that when she, Chrissy, John and baby brother Miles, 20 months, welcomed a new puppy into the family fold earlier this month.
Chrissy shared several videos of the new dog (a poodle mix name Petey) on her Instagram on Jan. 5, but the best one came when Luna was seen carrying the pet over to her dad.
In a hilarious moment of testing her parents' patience, Luna said, "John, would you like to hold her?"
As The Voice coach responded to the adorably sassy question, "I'm not John. I'm your dad."
Of course, this is just some of the excellent Luna content the internet is gifted. On Dec. 5, the Cravings author shared another cute as heck photo of her budding fashionista posing in front of the fireplace in their California home.
Luna is wearing a patterned dress with a pink faux fur coat as a fire roars behind her in the photo, captioned "also feeling the faux."
The glamorous shot was a follow-up to the former model's Instagram showing Miles wearing a faux fur coat that was far too big for his tiny body.
"It's faux!," the 34-year-old wrote in her caption.
We can't wait to see what other looks little Luna puts together.