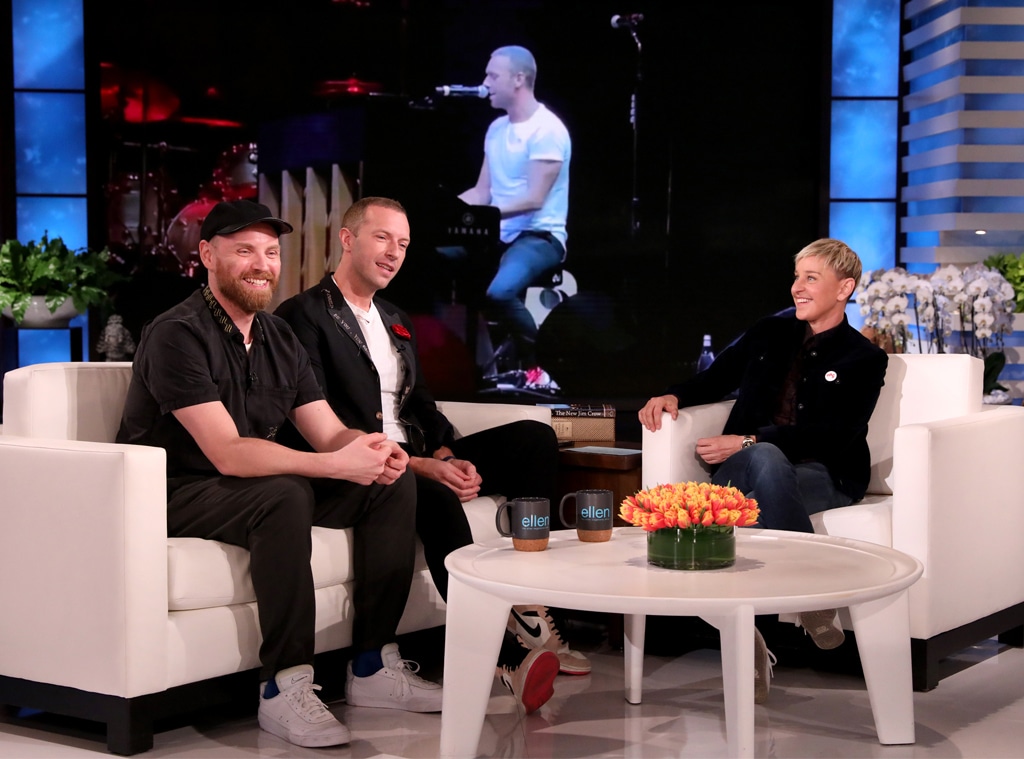 Michael Rozman/Warner Bros.
Classic dad moment.
On Wednesday, Chris Martin stopped by The Ellen DeGeneres Show and couldn't help but gush over his daughter Apple Martin, which of course ended with an embarrassing story about his and Gwyneth Paltrow's 15-year-old.
"My daughter works in a clothing store," the Coldplay frontman told host Ellen DeGeneres. "This is her first job and she's about to be 16 and I'm so proud of her. She's, you know, making her way in the world. And I didn't tell her, but I went to surprise her…And I thought, 'I better buy something.' So I took a t-shirt from the rack and I lined up in the queue. And she was at the checkout…And she saw me."
After spotting her famous dad waiting in line, Chris said that his shocked teenager mouthed, "Dad, get out," which made him feel "terrible."
"So, I moved to the other line. I was holding my t-shirt and really scared of my daughter. And I paid for the t-shirt and I'd brought her some fudge…she loves this candy fudge. So, I said to the lady, 'Could you give this to my daughter?' And as I was leaving she shouted, 'I love you dad.'"
Just moments before, Ellen had surprised the "Fix You" singer with a throwback video of himself from 1998. In it, a fresh-faced, braces-rocking Chris in his twenties declared that the band would be a massive success in eight years' time.
Joking that he was only 12-years-old in the video, Chris, who was joined by fellow bandmate Jonny Buckland, admitted tthat his younger self had no idea what the Grammy-winning band would actually become.
"I think we dreamed big without thinking it might be possible," he said. "So when I said that, I half felt it but thought I was saying something ridiculous…It's amazing."
After thanking the audience for their support, Chris continued, "Because ultimately, you only survive because of other people and at that time, we had zero fans. That's the only reason we're still going is because of all those amazing people."
Still on the topic of embarrassing stories, Chris treated Ellen to another hilarious anecdote. This time, it involved an awkward exchange between him and Emily Blunt about a pitch he had for the A Quiet Place franchise.
"When A Quiet Place came out, I had an idea for a joke afterwards. A so, I sent Emily Blunt and her husband [John Krasinski] this idea for the musical of A Quiet Place," he said, explaining that it was him playing the piano while lip-syncing to follow the film's premise. "And they never replied. So, every time I see that [A Quiet Place 2] trailer, it makes me sick."