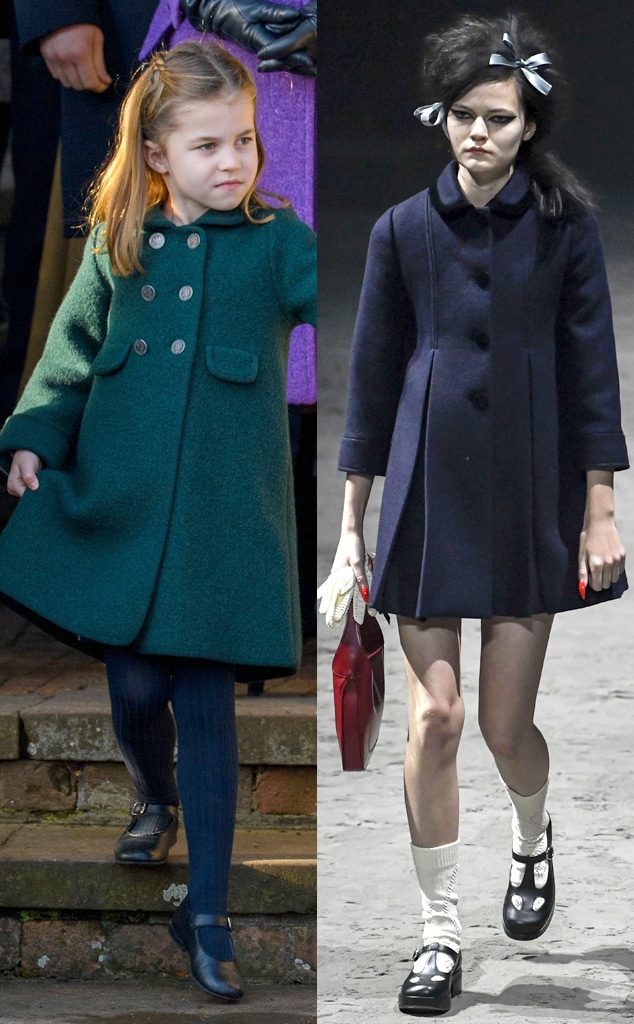 Tim Rooke/Riccardo Giordano/IPA/Shutterstock
Step aside, Kate Middleton!
There's a new fashion queen in town, and her name is Princess Charlotte. Jokes aside, the 4-year-old royal is seemingly the center of Gucci's latest menswear collection. The fashion powerhouse debuted its sleek, sophisticated and oh-so-stylish line during Milan Fashion Week Men's.
The show also marked creative director Alessandro Michele's five-year anniversary with the luxury label.
And in true Gucci fashion, the runway was full of colorful patterns, flashy details and classic silhouettes that had a charming twist.
Models sashayed along the catwalk in tailored tweed coats, baby doll dresses, Gucci-printed stockings and Mary-Jane shoes that were reminiscent of Princess Charlotte's playful style.
Case in point: The 4-year-old royal dazzled in a forest green wool coat, navy tights and black Mary-Janes during her first-ever Christmas walk with her parents, Kate and Prince William.
Princess Charlotte's festive outfit during the holiday could easily be replicated with Gucci's latest collection.
British Vogue, who pointed out the similarities between Gucci's collection and Princess Charlotte's famous style, spoke with Alessandro backstage about his latest creation.
Samir Hussein/WireImage/Riccardo Giordano/IPA/Shutterstock
And while the creative director didn't directly take inspiration from the royal family member, he wanted to do something that reminded him of his own childhood and how carefree and whimsical children's clothing can be.
"The world of childhood is something that is surprising, poetic, captivating," he shared with the publication. "And all the small things that children do. This is something that connects all of us. We were all afraid of losing our childhood."
He added, "Sometimes when I look at children's clothes in markets, I do buy them. Some are really incredible, very beautiful. What is small has a very particular fascination for me, because it's connected to the world of children who are allowed to do what they want."
It appeared the theme and overall vibe of the menswear collection was to think about how childhood is "a time when you are free, there are fewer labels... when you can be yourself." 
Watch:
Princess Charlotte's Cutest Moments
Now, that's a message we can get behind.
Like her mom and aunt, Meghan Markle, it looks like Princess Charlotte will only keep inspiring trends and fashion pieces. It's only a matter of time before we starting seeing more brands follow in Gucci's footsteps and release collections inspired by the 4-year-old royal.