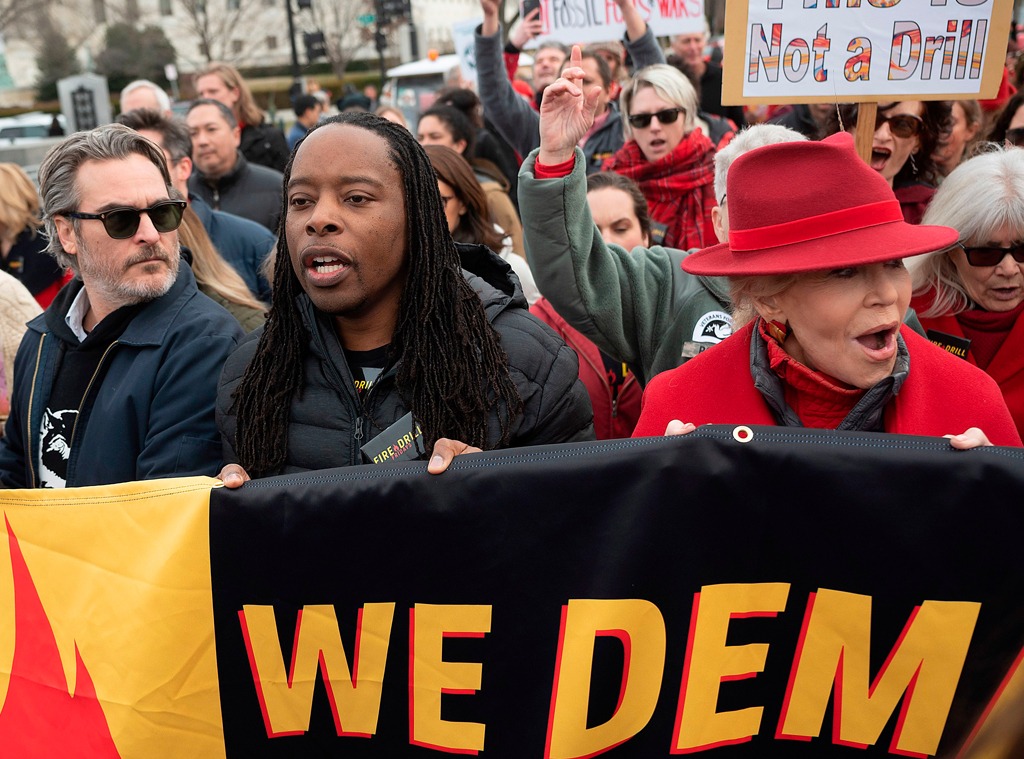 JIM WATSON/AFP via Getty Images
Jane Fonda took to the Capitol today for her final scheduled Fire Drill Fridays rally—and she wasn't alone.
Several celebrities—including Joaquin Phoenix, Martin Sheen, Susan Sarandon, Amber Valletta and Saffron Burrows—joined their fellow activists at the climate change protest. 
"Oh my gosh! This is our last march up to the rally site for our—not our final Fire Drill Friday but the last one in D.C. for a while," Fonda said in a tweeted video.
The 82-year-old actress has been hosting these demonstrations ever since mid-October, and each one has focused on a different climate issue. This week's march addressed the financing of the fossil fuel industry. 
The United States Capitol Police responded to "unlawful demonstration activity" on the Rotunda steps of the U.S. Capitol Building and ended up arresting 147 people, all of whom were charged with crowding, obstructing or incommoding. Although, the police didn't release any names. Fire Drill Fridays confirmed to CNN that Phoenix and Sheen were arrested at the protest.
At one point during the protest, Phoenix addressed the crowd and spoke about the meat and dairy industries.
"I think sometimes we wonder what we can do in this fight against climate change, and there's something that you can do today, right now, and tomorrow by making a choice about what you consume. And I think that it's something that is doable," the actor said, per a video shared by The Hill. "I struggle so much with what I can do at times. There are things that I can't avoid. I flew a plane out here today—or last night, rather—but one thing I can do is change my eating habits. So, I just want to urge all of you to join me in that."
This wasn't the first time Phoenix had spoken about this topic. He also applauded the Hollywood Foreign Press Association for serving a plant-based meal at the 2020 Golden Globes.
"I was so moved by the decision to make tonight plant-based. It was such an important step," he told reporters after winning Best Actor in a Motion Picture (Drama) for his performance in Joker, calling on more award shows to follow suit.
Watch:
Analyzing Joaquin Phoenix's Dark "Joker" Role: VidBits
These stars weren't the only celebrities to attend the rallies. Fonda, who has also been arrested for unlawfully demonstrating at the marches over the past few months, has been joined by Sally Field, Lily Tomlin, Catherine Keener, Ted Danson, Sam Waterston, June Diane Raphael, Marg Helgenberger, Rosanna Arquette, Piper Perabo, Diane Lane, Amber Valletta, Paul Scheer and Iain Armitage.