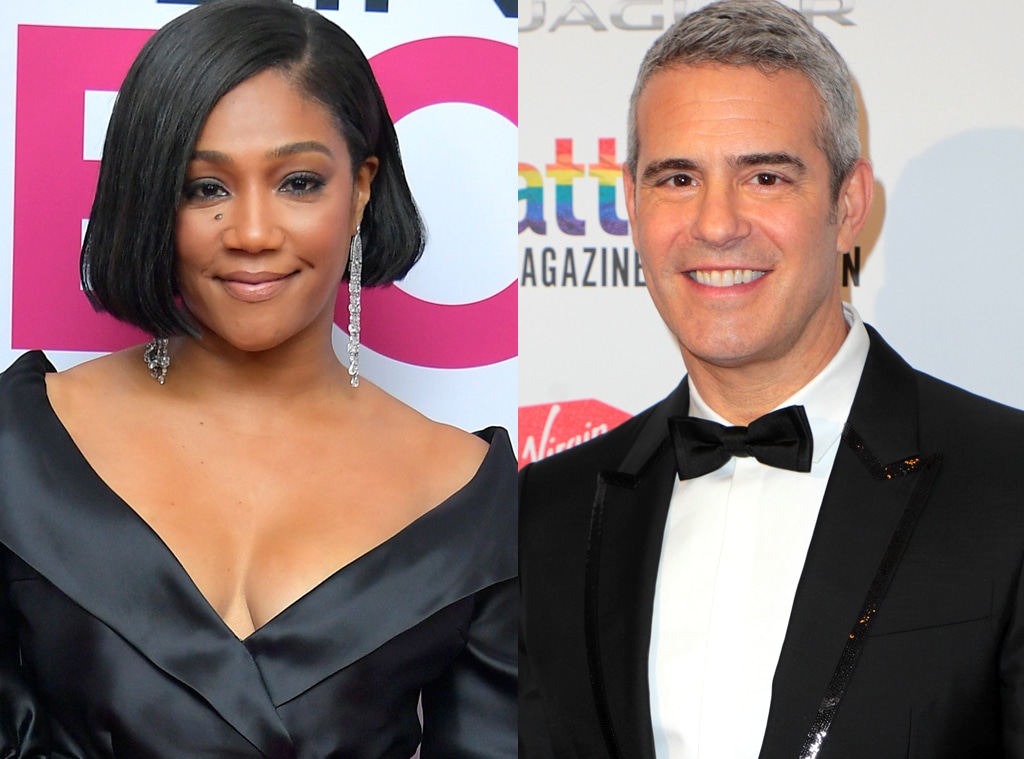 Roy Rochlin/Getty Images for Paramount Pictures; James Shaw/REX/Shutterstock
Mazel tov!
On Thursday, Tiffany Haddish spilled the tea on her lavish Bat Mitzvah with Andy Cohen on Watch What Happens Live in honor of her Netflix special Black Mitzvah. And in true WWHL fashion, the Q&A segment heated up.
Sitting beside her Like A Boss co-star Salma Hayek, the comedienne proudly donned the Star of David necklace that Barbra Streisand had gifted her. After praising the charm's elegant design, Tiffany told Andy, "And If I like you, I'll let you kiss me right there." Obviously, the Real Housewives buff didn't let this opportunity pass him by and he kissed it the star's neck.
To start his round of questioning, the new dad asked Tiffany which one of her famous Jewish pals helped her prepare for her big day, which included fellow comedians Sarah Silverman, Billy Crystal and Chelsea Handler. In fact, she bestowed Billy with the honor of calling up to the Torah because of the impact their friendship has had on her career. "He means the world to me," Tiffany gushed. "I love him very much. I look up to him a lot and he's taught me a lot."
Taking things up a notch, Andy then pressed the Girls Trip breakout star to reveal which one of her guests was the most drunk at the party. While it might not have been one of her A-List friends, it was still an incredible story.
"Ooh, my home girl Precious got really drunk," she said. "And she thought a pregnant woman wanted to fight her and the pregnant woman was really going up to her husband like, 'Where's the airbrush t-shirt for the baby?' And she thought the woman was coming up to her. She was so drunk."
Moving right along, Tiffany shared some of the other gifts she had received and admitted to getting some pretty strange items.
"I got a lot of unicorn things," she explained, referencing her memoir The Last Black Unicorn. "Somebody gave me a box of tissues, which I was like, 'What the f—k?' But there were unicorns on the outside of the box. But still, what the f—k?"
Switching gears for the After Show, the co-stars answered some fan questions. One viewer was curious to know if Tiffany thought Beyoncé was mentioning her in the song "Top Off" with the lyric, "If they're tryna party with the queen / They gon' have to sign a non-disclosure," which was believed to be referencing the Night School star spilling the beans on who bit the Grammy winner at a party. 
Without missing a beat, Tiffany replied, "Yeah, she was talking about me because she says, 'Tiffany!' Yeah, she was talking about me. Yeah, she put my name in the song. But did she do it for you?"
For her part, Salma was asked to weigh in on Meghan Markle and Prince Harry's announcement that they'll be stepping back from their royal duties following the Vogue shoot they did together in July.
"I think they're wonderful," she said. "I think whatever the decision is, you know, we have to respect it and she's really gorgeously humble and caring."
(E! and Bravo are both part of the NBCUniversal family.)