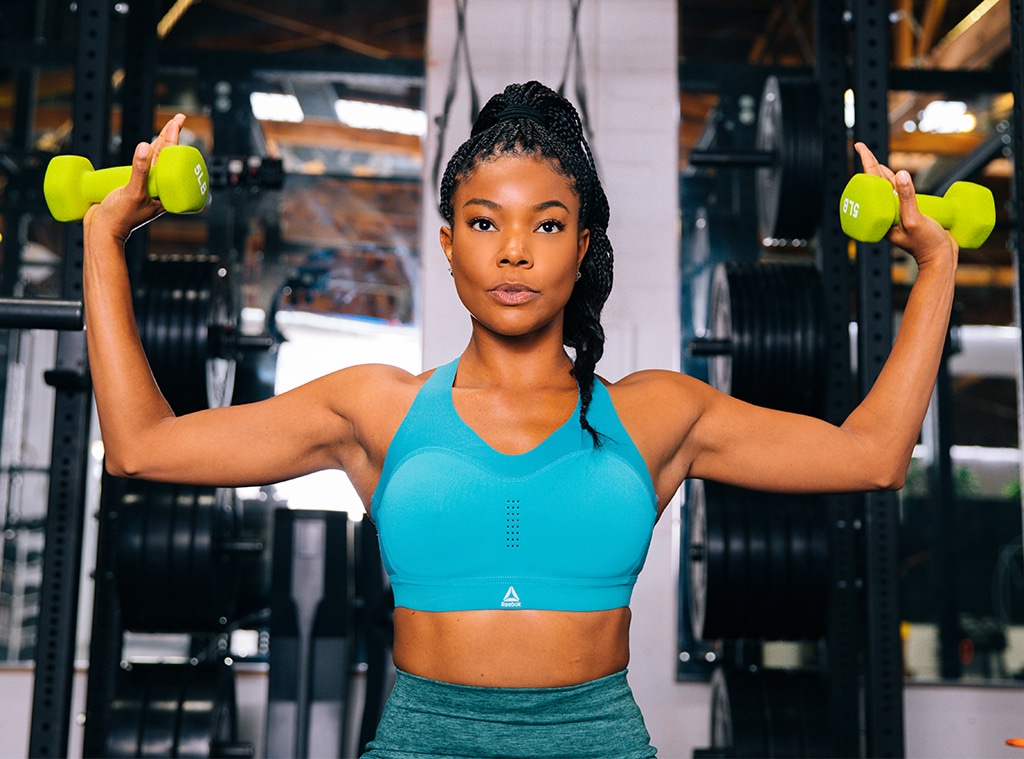 Raven B. Varona/Amazon
We love these products, and we hope you do too. E! has affiliate relationships, so we may get a small share of the revenue from your purchases. Items are sold by the retailer, not E!.
We've all been marveling over Gabrielle Union's stunning agelessness, and we have a sneaking suspicion that part of her secret to staying so youthful is her commitment to her health. "I live a busy lifestyle between family and work, but I always make time for a workout," she tells Amazon.
And now you can shop her favorite fitness picks, courtesy of her new Amazon store, which she curated in conjunction with Amazon Sports. Sure, she has lots of equipment picks, like this NordicTrack Fusion CST and a Bowflex Kettlebell, but there's also a ton of great sweatproof beauty picks, additional motivation tools, heartwarming book selections, and even items that can help with recovery.
Gabrielle chose some fantastic goodies, so much so that it's hard to pick our favorites... but we did our best! Below, we've included a few of Gabrielle's personal faves along with our must-have selections from her store. Check them out, and shop to your heart's content!
AmazonBasics 1/2-Inch Extra Thick Exercise Mat
As one of Gabrielle's personal faves, this 100% NBR foam exercise mat is perfect for yoga, pilates and any kind of floor workout routine that you do. It offers a textured surface and extra cushioning support thanks to its 1/2-inch thick lightweight but durable foam.
AmazonBasics Neoprene Dumbbell Pairs
Get your guns in check with this six-dumbbell set, ranging in weights from five pounds up to 15, with a stand made specifically to hold them when you're not working out. Though they're made of cast iron, they're coated in neoprene so they're durable and give you a non-slip grip, so no worries about dropping them when you're in the middle of an intense set. Gabrielle picked these as a personal fave, too.
AmazonBasics High-Density Round Foam Roller
Aid your recovery and work the tension out of sore muscles with this foam roller, made of high density expanded polypropylene to give you a deeper massage than other foam rollers. That means it's extra firm, so you can also use it for balancing and strengthening exercises, but it's still lightweight and easy to carry.
Powerbeats Pro
There's a reason why Gabrielle chose these wireless earphones as her faves. Yes, there's the Beats prestige, but they also give up to nine hours of listening time, and they're reinforced for sweat and water resistance, so they're pretty much made for intense workouts. Plus, they're lightweight and offer awesome sound with noise isolation. Perfect for you to tune everything out while you work out.
Perfect Fitness Ab Carver
We can't promise you that you'll get abs like Gabrielle if you get this ab roller, but maybe you can get close! This ab roller features built-in resistance, ergonomic handles, and an unltra-wide wheel tread so you have stability whether you're working your center core, or going for your obliques. The handles are removable for easy storage, and there's even a high-density kneepad to help with comfort while you're carving.
Garmin Venu GPS Smartwatch
With music, body energy monitoring and animated workouts, you'll have everything you need to support you on your 2020 health and fitness journey. This watch even monitors your respiration, menstrual cycle, sleep and stress, and even your heart rate. You can download Spotify playlists to your watch and connect it to your headphones, and build your session using animated cardio, strength, yoga and Pilates workouts right on your watch screen.
Vitamix A3500
Surely you know about the Vitamix, but did you know they make a smart blender? This is it, and not only does it connect to an app to draw from 17 programs and over 500 recipes, but it also has a wireless connection that allows the motor base to read container sizes and automatically adjust program settings and maximum blending times. It may even do your taxes for you, we're not sure... but it probably makes a damn good protein smoothie.
Eating Well to Win: Inspired Living Through Inspired Cooking
Obviously if you're going to start a new health regimen for the New Year, you're going to want to eat right! This is the cookbook that'll help, designed to enhance peak performance living. The book's author, Chef Richard Ingraham, has been NBA star (and husband of Gabrielle) Dwayne Wade's personal chef for over a decade, so you know he's got the goods... and the good recipes to help you keep your diet on track.
L'Oreal Paris Lash Paradise Waterproof Mascara
Maybe you're heading to the gym after work and don't have time to wipe the day off your face, or maybe you like to look glam while you're breaking a sweat. Whatever the reason, make sure you have a mascara that can last through your sweatiest moments without giving you raccoon eyes! Lash Paradise is what you want. It's volumizing and lengthening, and it doesn't flake, smudge, or clump. And it's waterproof, so... you know.
InstaShiatsu+ Massager
Get pain relief in your neck, back, shoulders, or wherever you want it with this full-body shiatsu massager. It has wrist supports for you to rest your arms while the unit rotates the tension out of your muscles. You can adjust the intensity by pulling down or lifting up on the wrist supports or clicking the speed button. There's even a heating option, so you can help the stress of your workout melt away so you can be ready for the next day's sweat sesh.