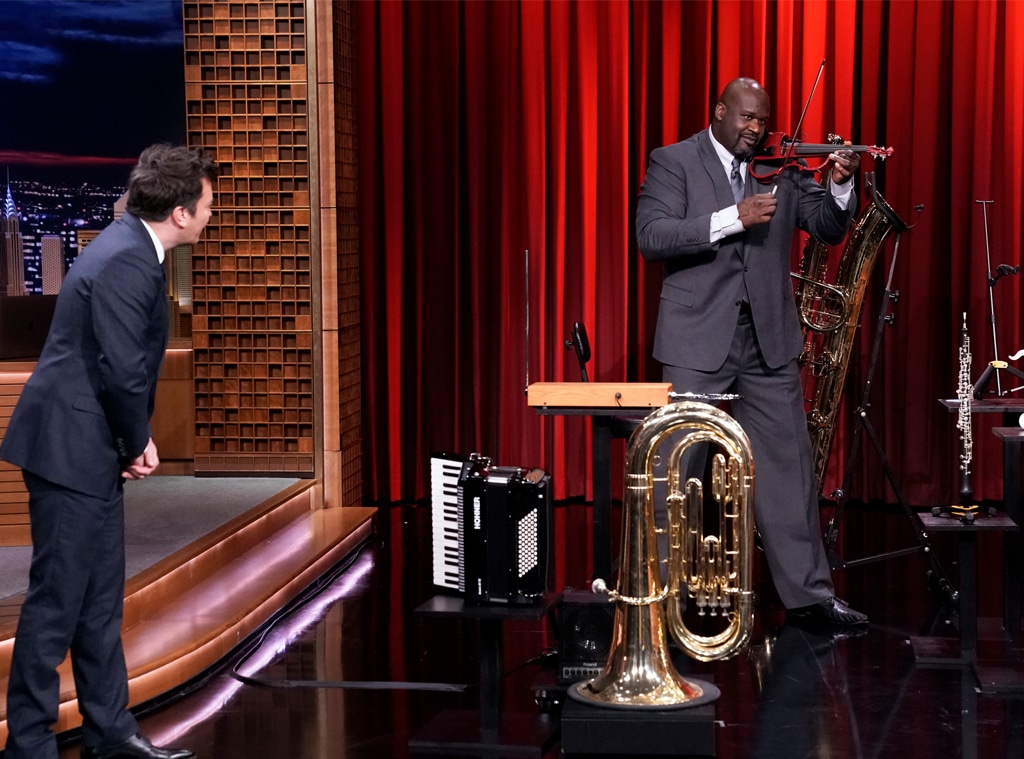 Andrew Lipovsky/NBC
Who knew Shaquille O'Neal was such a musician?!
On Monday night, the pro basketball player and Jimmy Fallon kicked off 2020 with a legendary game of the "Random Instrument Challenge" on The Tonight Show Starring Jimmy Fallon. With only a selection of random instruments at their disposal, the duo hilariously attempted to get The Roots to guess the name of the songs they performed.
First up was Jimmy, who was tasked with playing Montell Jordan's "This Is How We Do It" on a steel drum. Hyped to do his rendition of the famous 1995 hit, he joked, "Come on, Roots. Really listen. You got to really pay attention to this…" After experimenting with different strokes, the late night host was able to replicate the song's intro and get the point.
For Shaq's turn, the NBA alum had to play "Watch Me (Whip/Nae Nae) on an oboe. Sounds too good to be true, right?
"Excuse me, Roots, what's an oboe?" he asked before doing his best to master the instrument. Thrilled by his song selection, Shaq couldn't help but dance along as he played Silentó's catchy rhythm. Known for his Tonight Show dance moves, he even threw in a little Nae Nae to help The Roots figure it out. 
With things heating up and the score tied, Jimmy's next turn was crucial. Using a double contrabass flute, he performed Carly Rae Jepsen's "Call Me Maybe."
Surprised by the bizarre shape of the instrument, Jimmy needed a few pointers before jumping in. But, it's safe to say that he didn't figure it out and lost the point.
Eager to keep the led, Shaq did his best to play "London Bridge Is Falling Down" on the electric violin. Once he read the song title, he told Jimmy, "Oh, you're going down…This is easy." He might have mouthed some of the chorus, but he still got the point.
For their final number, the pair joined forces to perform Lil Nas X's "Old Town Road" on the harp and the tuba. Unfortunately, the tuba and Shaq didn't quite get along, so the star switched to the Vuvuzela to better perform the Grammy-nominated song's melody. 
Watch Shaq and Jimmy put their musical skills to the test in the video above!
(E! and NBC are both part of the NBCUniversal family.)