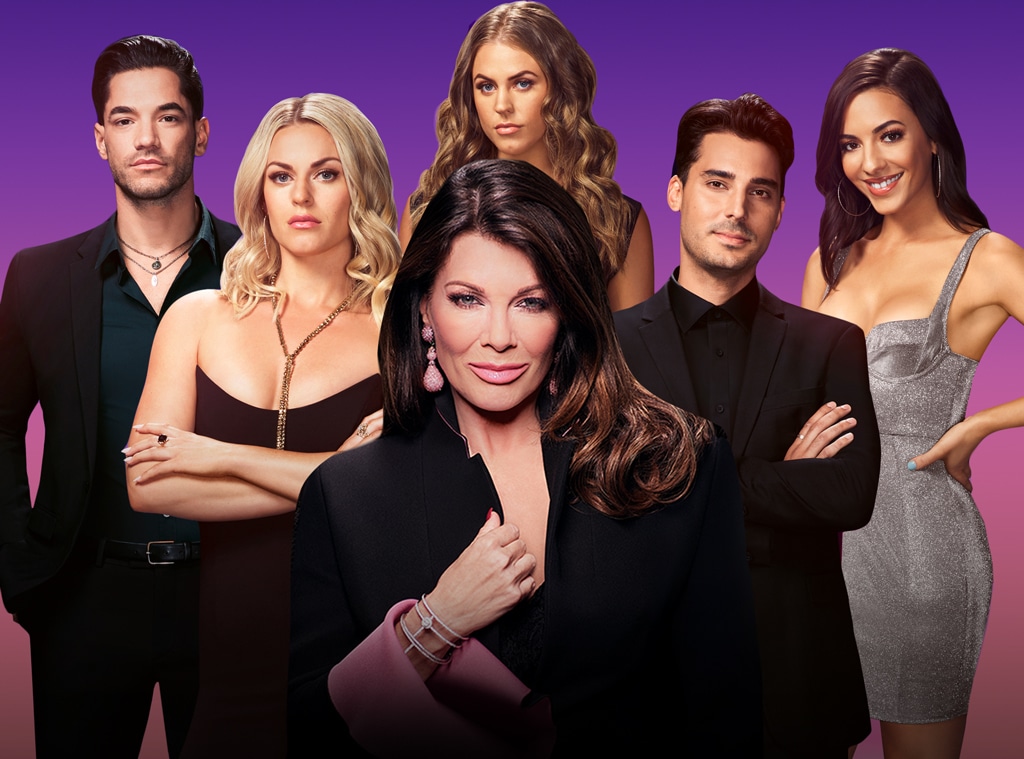 Bravo/E! Illustration
Vanderpump Rules is a show in transition.
When the Bravo hit wrapped up its seventh season last May, it did so with many of its OG stars seemingly having done a reality TV unthinkable: They'd grown up.
Nearly every major couple on the show was in the process of becoming homeowners—and in a new zip code, no less. (Ariana Madix and Tom Sandoval, Katie Maloney-Schwartz and Tom Schwartz, Jax Taylor and Brittany Cartwright, and Kristen Doute all purchased homes in Studio City, on the other side of the Hollywood Hills from SUR and the rest their former West Hollywood stomping grounds. Scheana Shay, for her part, bought property in Palm Springs, forever determined to be on the outs from the rest of this group.) A great many of them were either married, about to get married or about to get engaged to be wed. The Toms had become co-owners of a freaking bar. And the amount of cast members who still worked at Lisa Vanderpump's Sexy Unique Restaurant, ostensibly the reason for them being on the show in the first place, could be counted on one hand. 
It seemed as though everyone had found their way towards their happy ending. (Except for James Kennedy, of course. But we're not even sure what a happy ending for the caustic DJ looks like, if we're being honest.) And it was enough to have us wondering: Now what?
Clearly, it's something the cast has been pondering, as well.
"We're kind of at a crossroads right now, where so many things are changing," Stassi told The Observer in April 2019. "My personal opinion on it is that this could be a show that shifts a little bit and could go on for-frickin-ever...These are my friends, so not having the cameras around, nothing would change. If Bravo or whoever wants to watch us continue to grow and shift and see all those life changes, I think it could go on forever. But I mean, if they want to keep it just at SUR with servers, then that's different."
During an April appearance on the Everything Iconic with Danny Pellegrino, Katie suggested that the OGs split from the show to allow for it to repopulate with some fresh blood. "Get some 25-year-olds in there again. Get some little Stassis in there who are going to be insubordinate," she said.
Turns out Bravo was listening. Sort of.
When Vanderpump Rules returns for season eight tonight, all your faves will still be there. Rather than having been shuttled to some spinoff of their own, you'll still get the see the drama surrounding Jax and Brittany's nuptials, Stassi's engagement to new full-time cast member Beau Clark and Lala Kent's to (formerly reluctant to appear) Hollywood producer Randall Emmett on the show that introduced them all to the world. We'll get to watch Jax and Sandoval spar over who's the better friend, watch as Stassi and Katie deal with their dissolving bond with fellow Witch of WeHo Kristen, and see how James deals with girlfriend (and newly promoted cast member) Raquel Leviss officially working at SUR when he's still barred from the building.
But all those stories will have to make room for the addition of five new faces, with TomTom general manager Max Boyens, SUR assistant manager Danica Dow, and SUR-vers Brett Caprioni, Charli Burnett and Dayna Kathan in the mix ready to cause trouble.
Now, look, we get it. New cast members on your favorite reality shows can often feel like an invasion. They're outsiders entering into well-trod and beloved territory, expecting to be given the same attention you give your seasoned faves. And for every Ariana or James or Lala, who joined the series into its run only to become mainstays, there's a Vail Bloom (who?) or Billie Lee—interlopers who never quite fit and don't last long.
And sure, with five fresh faces joining at once—the most new blood the show has ever introduced at one time outside of the first season when everyone was a stranger—the odds that at least one of them isn't long for this world are pretty high. But at this stage in the game, the decision to inject the show with as many newbies as possible is a wise one. Why? Because people living out their happy endings doesn't exactly make for great television. And while we have no doubt that the Pump Rules OGs will never not be entertaining, the idea of watching their happy endings fall apart or their hard-fought strides towards maturity walked back would be too devastating to bear.
Just as the thought of no more Vanderpump Rules would be.
If the show wants to not just stay alive, but thrive, this sort of pivot is a necessity. So before you pull a Stassi and declare that you're not really in the market for any new friends at the moment, trust in your Bravo overlords to know what they're doing and head into season eight with an open mind. And don't just take our word for it. 
As Queen LVP herself said of her new hires in a season eight sneak peek, "It's great to have new faces, but their problems seem as complicated as their predecessors."
That's music to, if not their ears, at least ours. 
Vanderpump Rules returns for season eight on Tuesday, Jan. 7 at 9 p.m. on Bravo.
(E! and Bravo are both part of the NBCUniversal family.)