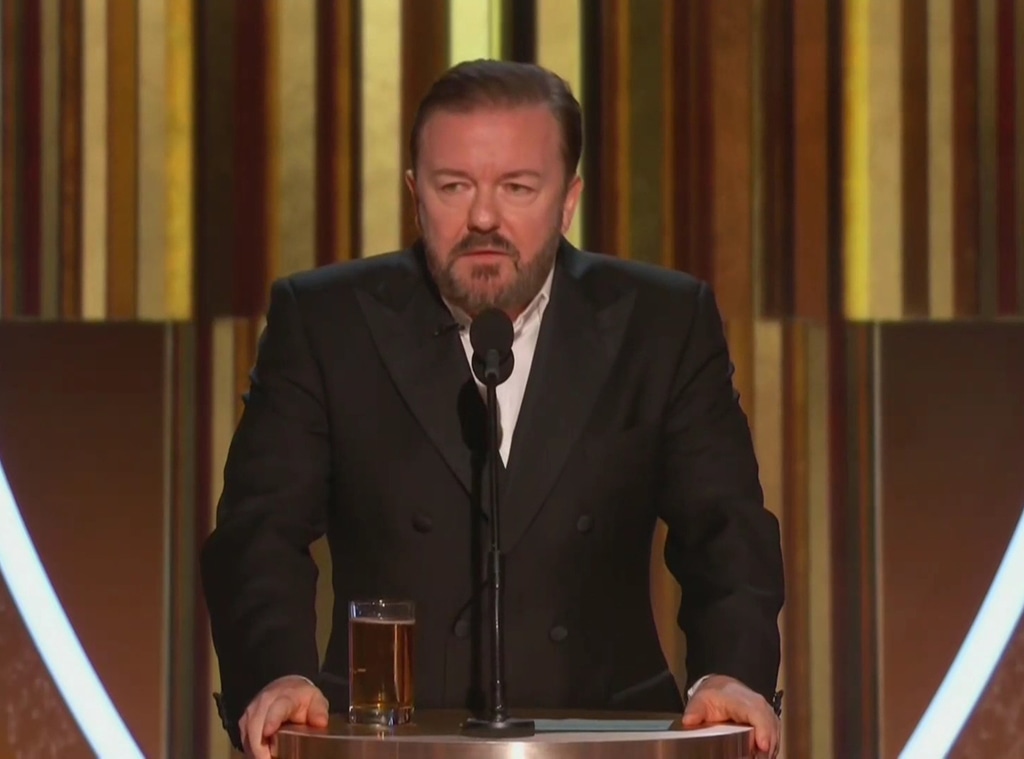 NBC
Ricky Gervais just hosted the Golden Globes for the fifth and, as he said many times, last time. 
If it weren't already going to be the last time he hosted, he did his best to make sure no one would ever want him to host again. Of course, he's done that every other time he's hosted too, but this time it sounds like it might be for real. He did, after all, call the Hollywood Foreign Press Association (who votes on the Globes) a bunch of racist vegetables, and consistently reminded us that he just did not care. 
"I don't care," he kept saying, just to reiterate. 
Whether you're a huge fan of Gervais or not so much, there was something for everyone tonight. If you're a fan, he was there. If you're not a fan, he mostly wasn't. After his monologue, he only occasionally made a very brief appearance to make one joke and then hand off the stage to the next presenter. 
But boy, if you were here to hear Gervais make a whole bunch of jokes you wouldn't typically think would be allowed on TV, that was a hell of a monologue. 
Gervais went IN on pretty much anyone he could, from Felicity Huffman to Leonardo DiCaprio to Judi Dench (poor, poor Judi Dench), and really, really did his best to piss off the Hollywood Foreign Press Association. He called them racist, said they didn't know what Twitter was (so they couldn't see his troublesome tweets), and claimed they couldn't speak English and that they had faxed him to ask him to host.
This theme of roasting the HFPA continued throughout the night, including a comparison to the Globes' all-vegetable meal, because the HFPA are a bunch of vegetables, apparently. 
The best, or at least most upsettingly visual joke of that opening definitely involved Judi Dench being born to be in Cats because of a mental image we won't recall here, but it involves her cleaning herself in that way that cats do, and we hope to someday forget. 
Gervais also scolded everyone in the room at the show for claiming to be "woke" when they worked for corporations. 
"If ISIS started a streaming service, you would call your agent, wouldn't you?" 
Later, he introduced "a short clip from The Irishman. It's 88 minutes long." 
Literal hours later, he returned to introduce the presenter for Best Director, a category whose nominations contain no women, despite a huge number of influential films directed by women in 2019. 
"That's bad. I've had a word with the Hollywood Foreign Press and they guaranteed that will never happen again...because working with all the major studios, they've agreed to go back the way things were a few years ago when they didn't even hire woman directors, and that will solve the problem. You're welcome.
Watch:
Ricky Gervais Teases His 2020 Golden Globes Open
Finally, at 11:07 p.m., he returned. 
"Kill me. We're nearly done," he said, checking his watch before introducing Sandra Bullock, who starred in Birdbox, "a movie where people survive by acting like they don't see a thing. Sort of like working for Harvey Weinstein." 
He closed things out asking people to donate to Australia, where they are suffering from devastating wildfires. And then he said to get drunk and take your drugs. What a night!