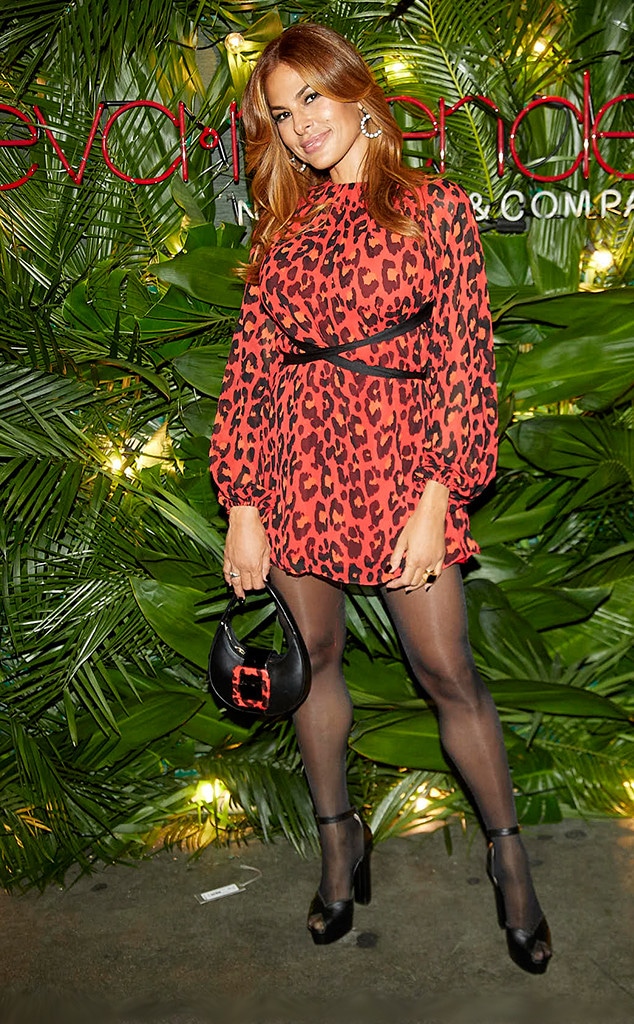 New York & Company
Keeping it classy!
Eva Mendes is known for her bold and bright fashion designs that she creates for her New York and Company line, so it's not unusual to see her showing off her latest and greatest on the 'Gram. 
The 45-year-old star did exactly that on Saturday after sharing a fun and flirty purple patterned dress that she called her "favorite."
"I think I resemble a horse at times. It's not a bad thing. It just is. If I was an animal I'd clearly be a horse. Or a Shetland pony," she captioned her quick video on social media, which also showed her smiling from ear-to-ear in the frilly piece.
Adding, "Anyway here I am horsing around in my new favorite dress. The Natalya dress. I LOVE THIS DRESS!!! Thank you @alejandroblanco for creating this with me! Love love love this!"
However, not everyone was a fan of the design.
"Dont like these designs you need a better Designer you to pretty for these ugly patterns," one person wrote underneath the actress' post.
However, it was Mendes' response that got even more people talking in the comment section.
"I'm so sorry you don't like this one. It happens to be my favorite piece of my new collection," the Hitch alum responded. "But I'm sure there's other stuff you may like. If not [Kate Hudson] and [Gabrielle Union] design some great things. So there may be something for you there."
Eva added, "Sending love for 2020."
Naturally, the 45-year-old star's reply got much-deserved praise. "Girl, you're so kind. Such a positive response to something negative," one follower shared. Another put it simply, "class act."
Class act, indeed!
Watch:
Why Eva Mendes Feels Pressure as a Mother and Designer
Great clap back aside, the mom-of-two has a lot of other things to look forward to in 2020 to be negative.
Late last year, Eva told E! News that she wanted to get back into acting. More specifically, she admitted that she'd love to work with her longtime partner, Ryan Gosling, again.
"Now that I'm older and that I'm a mother, I would obviously choose my roles differently," she shared. "I'm just a walking example for [my daughters] and I take that very seriously so it would have to be something that feels appropriate and that would still be fun for me. It's a lot of parameters, you know?"
"But yes, I would be very excited. And I really want to work with Ryan again," the fashionista continued. "My most fun experience was being on set with him when he was directing. It was really so creatively satisfying being in it together and he's such an amazing director. I would love that experience again, for sure."