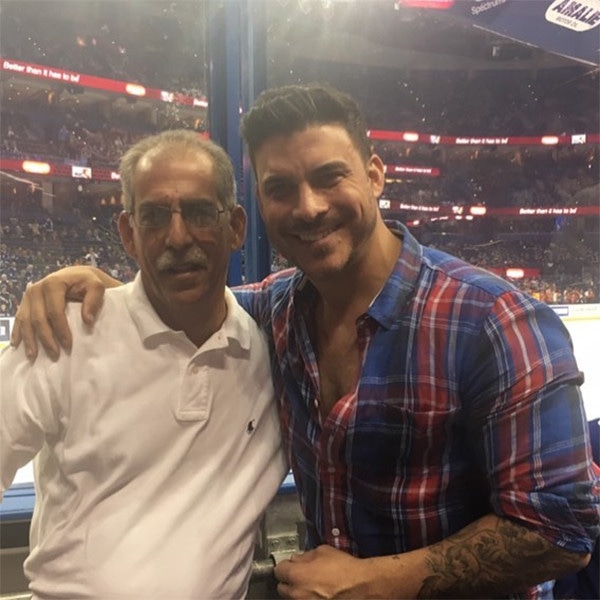 Instagram
Gone, but certainly not forgotten.
As Jax Taylor continues to celebrate the holidays with his wife Brittany Cartwright in and around Kentucky, the Vanderpump Rules star couldn't help but remember his father on a very special day.
Exactly two years after Ronald Cauchi passed away after battling esophageal cancer, his son took to Instagram with a heartfelt tribute.
"I lost my best friend, my idol, my everything two years ago today," Jax shared with his followers. "I wish I could say it's gotten easier but I feel like it has now sunken in and very real so my emotions are starting to take over as the time goes by."
He added, "Not gonna give a long, sad sob story here, it's just a son missing his father who was taken from him too soon. I love and miss you dad! #happyfireballfriday #f--kcancer #CaptainRon #makegoodchoices #Ronnie."
Bravo stars including Kim Zolciak-Biermann along with Southern Charm stars Austen Kroll and Craig Conover were quick to show their support on social media soon after the post was shared.
While Jax's father wasn't able to attend his son's wedding to Brittany, the couple assured E! News that his presence would still be felt.
In fact, when the wedding airs in early 2020 on Vanderpump Rules, fans will get a front-row seat into the special tribute.
"He's going to have a chair. I've got a sign that will be on his chair. [It will say] 'We know that if heaven wasn't so far away that you would be here today.'  He'll have like a rose. Jax is going to bring his ashes," Brittany previously shared with us. "We're going to make sure he's with us 100 percent."
After all, Ronald was a special man who continues to influence his son in more ways than one.
"I still don't understand how God could take the best man/person/husband/father/coach I know. After you passed I have to admit I wanted nothing to do with God, I was angry, sad, disgusted on how he could take such a beautiful man, but I remembered how much you loved him and how you always told me how important God was to you, so I started going back to church and believing again, I have to believe he has a plan, and that I will see you again one day," Jax previously shared on Instagram. "I love you dad so much, I hope you are proud of me and all the changes I have made with myself."