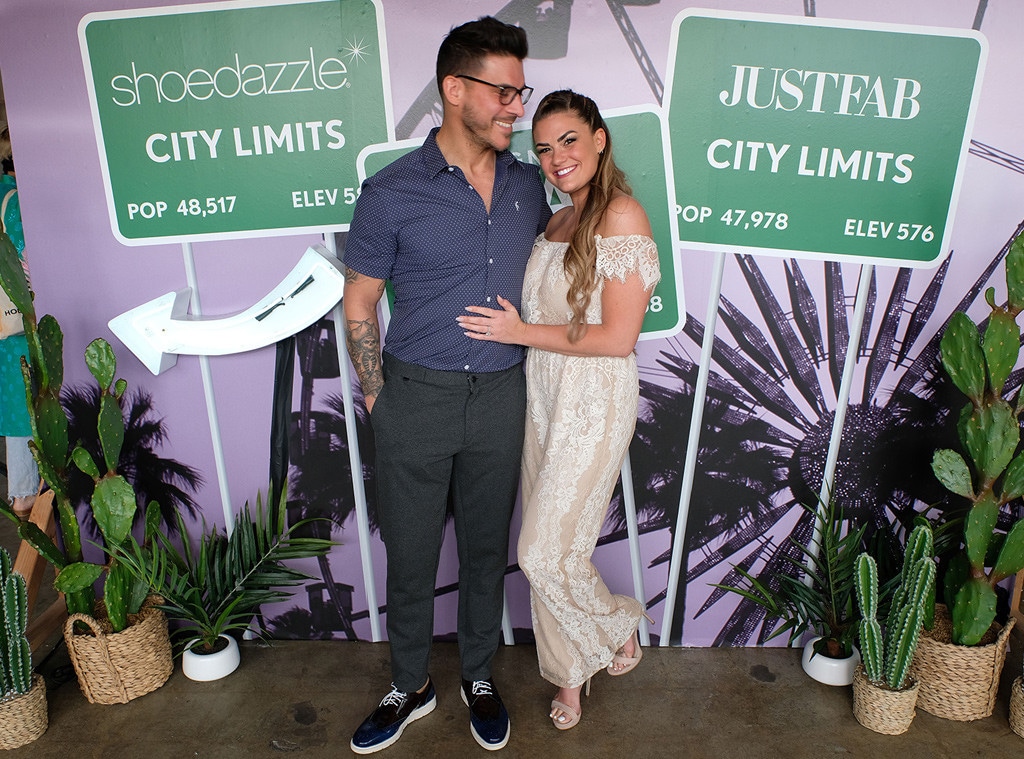 Courtesy of JustFab & ShoeDazzle
It's the Bravo wedding fans have been waiting for!
In just a few short days, Vanderpump Rules stars Jax Taylor and Brittany Cartwright will exchange vows and say "I Do" in front of family, close friends and more than a few SUR employees in Kentucky.
"I think everyone just wishes for this to be the fairy-tale ending. I want her to get pregnant. I want them to have a family. They bought a house. They are in their home. Both of them are so happy that I just want this to stay forever," Stassi Schroeder shared with E! News while celebrating the launch of her Outfit Of The Day Collection exclusively on JustFab. "I want Brittany to get everything that she wants. She deserves it."
And ever since Jax got down on one knee in Malibu and proposed to his leading lady in June 2018, fans want to know any and all details about their special day.
From the wedding dress to the heartfelt way the couple will honor Jax's late father, we have some details. Let's raise a glass and take a look at everything we know.
Final Preparations: On Wednesday afternoon, the bride and groom-to-be traveled to the Clark County Courthouse to receive their marriage license. "It feels so good to be home. I cannot wait for everyone to see beautiful Kentucky... " Brittany shared on Instagram. 
Master of Ceremonies: After Lisa Vanderpump's mother passed away, the Real Housewives of Beverly Hills star is unsure if she can attend the special wedding. As a result, multiple sources confirmed to E! News that Lance Bass is available and was asked to officiate. "Lisa has told Jax and Brittany that it's unlikely she will attend their wedding and arranged for Lance to fulfill the duties," an insider shared. 
Courtesy of JustFab & ShoeDazzle
The Dress: Later this season on Vanderpump Rules, fans will get a front-row seat into Brittany's wedding dress shopping. Ultimately, the final decision won't be shown this season. After all, it's a surprise for Jax. "It was the first dress shop that I went to," Brittany shared with E! News when reliving her perfect find at Kinsley James Bridal in Los Angeles. "In my mind, I thought I'd go to Atlanta and see Monte from Say Yes to the Dress. I'm going to go to Kleinfeld in New York City. In my head, I'm going to try on all these dresses but when I got there, I fell in love with a dress."
She added, "Jax cannot see it this season. It's custom. I added some touches to it for me. It is awesome."
Honeymoon Destination: When speaking to E! News at JustFab & ShoeDazzle's Desert Oasis, Brittany had her eyes set on a special destination. "What the goal is right now is Jamaica. I want to go to Jamaica. My mom went to Jamaica for one of her honeymoons. That sounds awful. One of her honeymoons," she joked. "I want like an over water bungalow type situation. Definitely something like in the Caribbean or tropical."
Watch:
Brittany Cartwright & Jax Taylor Talk Wedding Castle & More
Family Over Everything: As Vanderpump Rules fans know, the passing of Jax's father was devastating for the entire family. But once the wedding day comes, Jax and Brittany plan to honor Ronald Cauchi in many ways. "He's going to have a chair. I've got a sign that will be on his chair. [It will say] 'We know that if heaven wasn't so far away that you would be here today.'  He'll have like a rose. Jax is going to bring his ashes," Brittany shared with us. "We're going to make sure he's with us 100 percent."
Let's Party: Before the special wedding day, it's all about the bachelor and bachelorette parties. Much of the Vanderpump Rules cast headed to Miami for an unforgettable celebration. "All of the ladies and guys have been doing group activities together and are having a blast," a source shared with us. "The majority of the weekend will consist of everyone together."
Glam Squad: For those hoping to catch a glimpse into Brittany's wedding day look, we may have a preview. In the days leading up to her big day, Brittany took to Instagram and revealed the hairstyle she was working. And yes, she gave credit to the glam squad making it all possible. Jared Lipscomb is helping with makeup while Bradley Leake is executing hair. 
Charles Sykes/Bravo/NBCU Photo Bank via Getty Images
Sweating for the Wedding: When appearing in the January issue of Men's Health, Jax showed off his 42-pounds weight loss. "I'm not going to drink. I'm going to flip this around and make my dad proud. I'm going to go to the gym. We're going to start some businesses. We're going to move up," Jax shared with the publication. As for Brittany, she's joining in on the fitness and being a supportive fiancée. "He has helped me in so many ways to stick to my own gym classes, and being a great gym partner," she told Men's Health. "We diet together and we have amazing cheat meals together. I think he looks so handsome and his dedication to me and to change is so sexy!"
The Biggest Moment: While there's a lot to look forward to when the wedding day arrives, both Jax and Brittany have shared what they are most looking forward to. "Just the look on her face," Jax previously shared with E! News while attending the House of Sillage by Nicole Mather grand opening event at South Coast Plaza. "Seeing her in her beautiful wedding dress. She's been going crazy about her wedding dress." Brittany can't help but agree. "I'm not doing a first look," she admitted. "I don't know if I'm going to be able to talk."
Can We Watch? For those wondering if the wedding will be televised, Jax and Brittany aren't saying anything is official. At the same time, they are open to sharing their special day with loyal viewers. "It's such a special day and I want it to be perfect," Jax previously told E! News' Justin Sylvester. "We talk about it but I don't know." Brittany added, "We're hoping to get picked up again. That has to happen first."
Vanderpump Rules returns with a new season soon only on Bravo.
(E! and Bravo are part of the NBCUniversal family)
Originally published Friday, April 5, 2019 at 10:53 a.m. PST