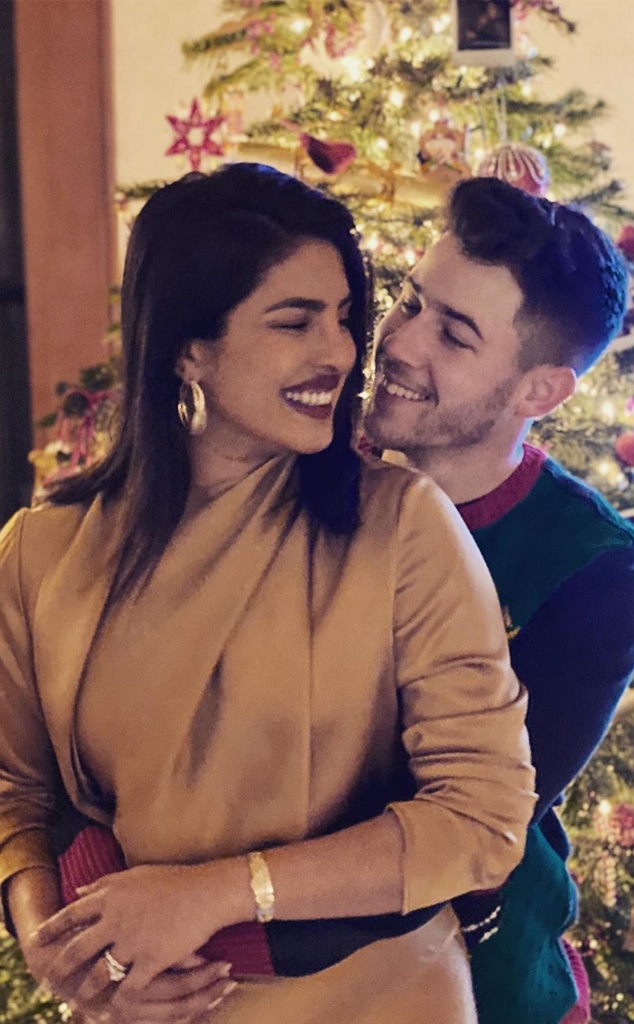 Instagram
Nick Jonas totally just won Christmas.
On Wednesday, the Jonas Brothers rocker surprised Priyanka Chopra with the ultimate Christmas gift: A snowmobile!
Apparently, that's just what the Quantico actress wanted. To make his gift even more special, Nick arranged for a Santa Claus to deliver the present to his wifey, which she caught on camera. Then, of course, the duo took the snowmobile for a spin.
Still thrilled by her gift, Priyanka thanked Nick on Instagram, writing, "Santa drove in on my bat mobile!! Aaaah! My husband knows me so well! Thank you baby. I love you! #christmas." She also posted a video of her joyride, where she can be heard saying, "Babe, this is amazing!"
Sharing a sweet shot of Priyanka posing with her present, the Grammy-nominated singer wrote, "Nothing better than seeing her smile. #christmas."
The couple spent the holidays with Priyanka's family and got into the Christmas spirit by decorating cookies and spending quality time with one another.
This marks Nick and Priyanka's second Christmas together since tying the knot in December 2018. To commemorate the special milestone, the couple posed in front of their tree and wished their fans a happy holiday season. Priyanka wrote, "It's the happiest Christmas. From ours to yours. Merry Christmas." And for his part, Nick captioned his post, "Merry Christmas from us to you."
Earlier this month, Nick paid tribute to Priyanka on their anniversary with a touching message. "One year ago today we said forever...," he captioned his post, which featured a portrait of the two from their epic wedding. "Well forever isn't nearly long enough. I love you with all of my heart @priyankachopra happy anniversary."
Also feeling the love, Priyanka wished her hubby a happy anniversary on her Instagram.
"My promise. Then..today.. forever. You bring me joy, grace, balance, excitement, passion.. all in the same moment...thank you for finding me..Happy First wedding anniversary Husband.. @nickjonas," she said. "And Thank you to everyone for the love and good wishes. We feel blessed." 
With one year of marriage under her belt, Priyanka still can't help but gush over the "Only Human" singer. In October, she opened up about married life with E! News, saying, "Every single day when I wake up I'm like, 'Oh, I have a home. Like this is my home. This person is my home. And I didn't know that feeling outside of my parents. It's like, 'Oh, this is the family that I have chose.' It's family."
She added, "I have a sense of contentment. I feel like that's the best part of being married."
Watch:
Priyanka Chopra Wants Kids With Nick Jonas!
And, their family has already started growing. Last month, the Isn't It Romantic star surprised Nick with a new puppy named Gino. "Pri came home with the absolute best surprise this morning. Please meet our new pup Gino," Nick shared on social media. "I haven't stopped smiling since I woke up this morning and finally realized what was going on. Thank you."
Maybe next Christmas there will be another addition to the Chopra-Jonas household! Speaking to E! News, Priyanka revealed that she's ready to start a family with Nick. "I've wanted to experience motherhood since when I was 12 years old," she said. "I love kids, I've always wanted to have them. And whenever it's time, I'm sure it will."