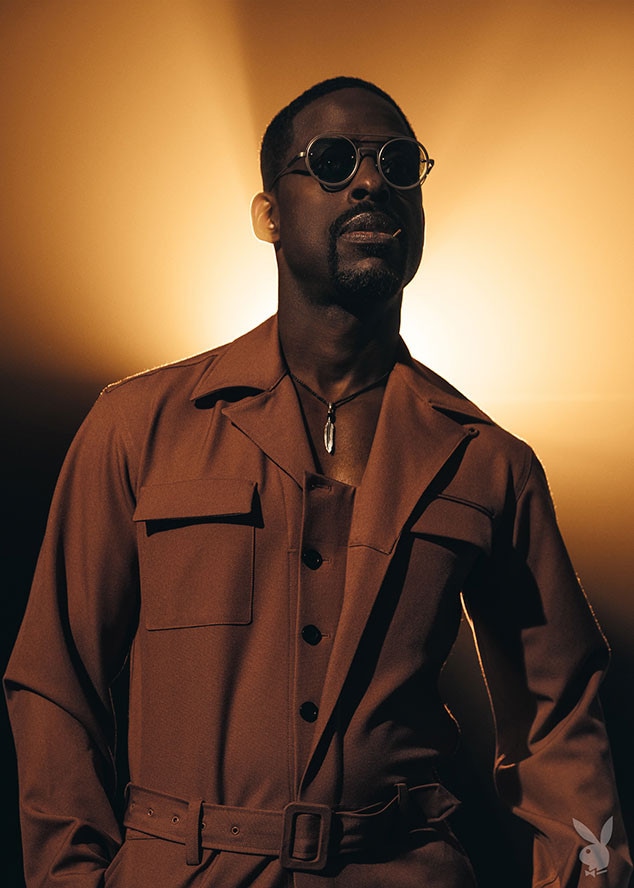 Aaron Feaver
Sterling K. Brown doesn't mind that people think he's sexy—but there's a caveat. 
The longtime actor has taken Hollywood by storm in recent years, dominating the small screen as This Is Us' beloved Randall Pearson and popping up in Hollywood hits like Black Panther, Frozen II and The Marvelous Mrs. Maisel. With a Golden Globe, two Emmys and four SAG Awards to his name, the industry has certainly taken notice. But, as a newly published Playboy interview acknowledged, it's not only his talent that has people talking. 
Describing his build as "sneaky fit," Brown told the magazine, "I'm not popping out of my clothes per se, but if I ever take my shirt off, you'd be like, Oh snap, I didn't see that one coming." Case in point: these very candid tweets from unexpecting This Is Us viewers. 
However, despite the Internet thirst, the accomplished star credits his acting merits—not his muscles—for his work. "I don't think I've ever gotten a job because of the way I was built. People have seen me as being a good actor, and they hire me for things in which they need a good actor," he told Playboy. 
In regard to sex symbol status, the article raised the problematic history of hypersexualizing black men. "It's a slippery slope, and it's one that is dangerous," Brown told the magazine. "It's nice to have your sexuality celebrated, as long as you're being celebrated in total, as a whole human being and not fetishized as one particular thing."
Now, with his own production company, Indian Meadows Productions, the star is able to spearhead racially inclusive storytelling—from start to sell. 
Watch:
Sterling K. Brown & Wife Ryan Michelle Bathe Talk Kids & "This Is Us"
"If you have a black movie, we need to stop selling it as if it's only for a black audience. A movie about black people can appeal to anyone. All human stories have a universal appeal when told well," he told Playboy, also raising the subject of black actors typically opposite non-black actresses. According to the article, it's an industry method used to avoid having a film marketed as a "black movie."   
"Will Smith has the strength to pair himself with whomever he wants and sell that movie globally," Brown told Playboy. "He can provide an opportunity to a sister to shine in a way they may not be able to if it weren't a Will Smith movie."
Playboy's Equality issue is on newsstands now.