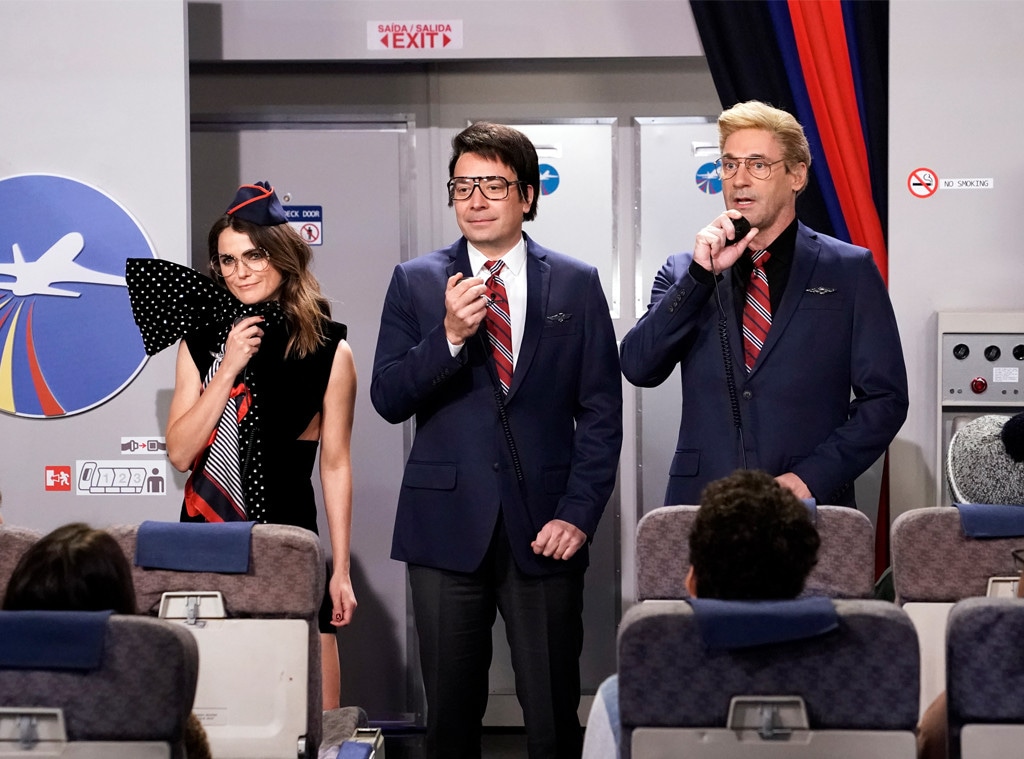 Photo by: Andrew Lipovsky/NBC
Nothing like a live show!
On Wednesday, Jon Hamm and Keri Russell put their improv skills to the test during The Tonight Show Starring Jimmy Fallon, where the actors joined host Jimmy Fallon for a round of "Mad Lib Theater." Using an actual Mad Lib template as their script, the trio put on an impromptu performance that will definitely go down in Tonight Show history. 
But first, they had to fill out the Mad Lib card. Listing verbs like farting and things like Gila monsters, MRIs and dirty underwear, the group breezed through the Mad Lib and couldn't help but laugh at some of their responses.
For one prompt, Jimmy needed The Americans star to say something that she'd never want to hear from her waiter. Giving the question some consideration, she said, "It's mariachi night!" When it came time to think of locations, Keri and Jon suggested some unique places. "Narnia," Jon said, followed by Keri's suggestion, "Chili's."
Then, things got interesting. After being asked to provide the last thing that he watched on his phone, Jon said, "Ah, it was Awkwafina's video for 'My Vag.'" His response was met by a roar of laughter from The Tonight Show audience.
For Keri's next turn, the late night host asked her to give him his best pickup line. And, of course, it was epic: "For real? Wanna f--k?"
Jimmy quipped, "I don't know if we can say that on TV…Let's say, 'Wanna make whoopie?'"
Finally, it was time to act out the script they had built. Set on an airplane, Jimmy, Keri and Jon played flight attendants that were delivering the airline's safety protocol speech. Dressed in their uniforms, they informed flyers that they'd be traveling non-stop to Narnia.
"I'm Ron Googly," Jimmy began, followed by Keri's introduction: "And I'm Miss Phhhzhk." For John's character, he used the moniker of Keri's former teacher. "I'm Mark," he said. "But you can call me Chuck Yerger."
Watch:
Keri Russell's Daughter Wants to Dress Her
He continued, "Now, we do apologize for the 14-nanoseconds delay because we're stalled because Gila monsters are farting on the runway...Ensure all your mobile devices, including smartphones, tablets and MRIs are turned off and stowed. If we see you using one, we'll kindly come up and say, 'It's mariachi night.'"
Taking over for the Mad Men star, Keri said, "Please take a moment to look around and find the nearest Chili's. In the event of a SantaCon, a dirty underwear will drop down from your seat above." 
Watch Jon, Keri and Jimmy try their best to keep it together in the hilarious clip above! 
(E! and NBC are both part of the NBCUniversal family.)