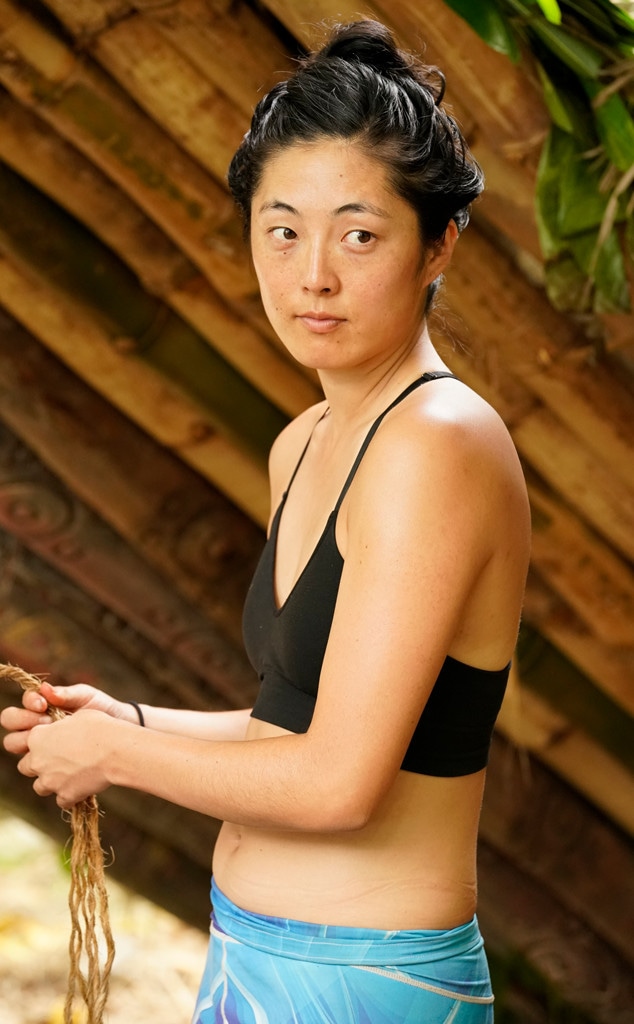 Robert Voets/CBS via Getty Images
After fans learned that Survivor's Dan Spilo had been removed from the show, fellow contestant Kellee Kim took to Twitter to share her thoughts on his ejection. 
"Tonight, on CBS Survivor, Dan Spilo was kicked off for, once again, inappropriate touching," she wrote in a note shared to Twitter on Wednesday. "While Dan's dismissal has validated the concerns that I raised from the beginning of the season, I wish that no one had been subjected to this type of behavior."
She then reflected on her own experience on the program.
"CBS and Survivor were on notice of Dan's behavior from the very first days of the game," she continued. "And, as Survivor fans know, shortly after I spoke up on camera, I was voted off the show. Since then, I've accepted genuine heartfelt apologies from fellow castaways, but I've continued to feel disappointed by how this pattern of behavior was allowed to occur for so long."
Even though she wished "many things had gone differently," Kim was still happy that her "decision to speak up made a difference." 
"What is most important to me now is how all of us—CBS, Survivor, other organizations and all of us as individuals—decide to learn from this story and commit to take action." 
Near the end of her letter, Kim expressed her appreciation for the "many people who have reached out to me over the last few weeks to share their own stories and messages of solidarity." 
"These messages, of feeling supported and believed have been an incredible gift," she wrote. "Thank you."
Host Jeff Probst announced Spilo's removal during Wednesday's episode of Survivor: Island of the Idols.
"I just spoke privately with Dan, and I want to update you guys," he told the remaining players. "A decision has been made, and Dan will not be returning to the game. He won't be coming back to camp. He won't be on the jury. He's gone."
A message on screen then explained that Spilo had been "removed from the game after a report of another incident, which happened off-camera and did not involve a player." Details of the alleged incident were not shared on the show and CBS declined to comment beyond the statement.
As fans will recall, Spilo was accused of "inappropriate touching" earlier this season. Kim spoke out about how Spilo made her feel uncomfortable, including during a confessional in which she discussed the topic with a crew member. Spilo was issued a warning and later apologized for his actions.
"I work in an industry in which the #MeToo movement was formed and allowed, thank God, to blossom and become powerful and strong," he began. "My personal feeling is if anyone ever felt for a second uncomfortable about anything I've ever done, I'm horrified about that and I'm terribly sorry."
He also added, "If ever did anything that ever even remotely made [Kellee] feel uncomfortable, it horrifies me, and I am terribly sorry. True, untrue, it doesn't matter what I feel. It doesn't matter whether I'm aware of it. It doesn't matter whether I ever sensed it. It doesn't matter whether I knew it happened or it didn't happen. If someone feels it, it's their truth."
Missy Byrd and Elizabeth Beisel also conspired to play up the idea that Spilo made Beisel feel uncomfortable to avoid being targets for elimination. However, Beisel later admitted she "never felt uncomfortable."
Kim was later voted off the show. Byrd and Beisel later released their own statements on Twitter.
Spilo is the first contestant to be removed from the show in 39 seasons. Probst spoke about this decision during an interview with Entertainment Weekly.
"It has been an unprecedented season," he told the outlet. "Complex social issues were woven into the game in a way we have never seen before. With our contestants' welfare at the forefront, we have spent a lot of time discussing every layer of the situation with human resources, diversity and inclusion representatives, show therapists, lawyers, publicists, and standards and practices. We all worked diligently throughout the entire process to make the right decisions and portray an accurate depiction of what took place. We have learned a lot and it will inform our process moving forward."