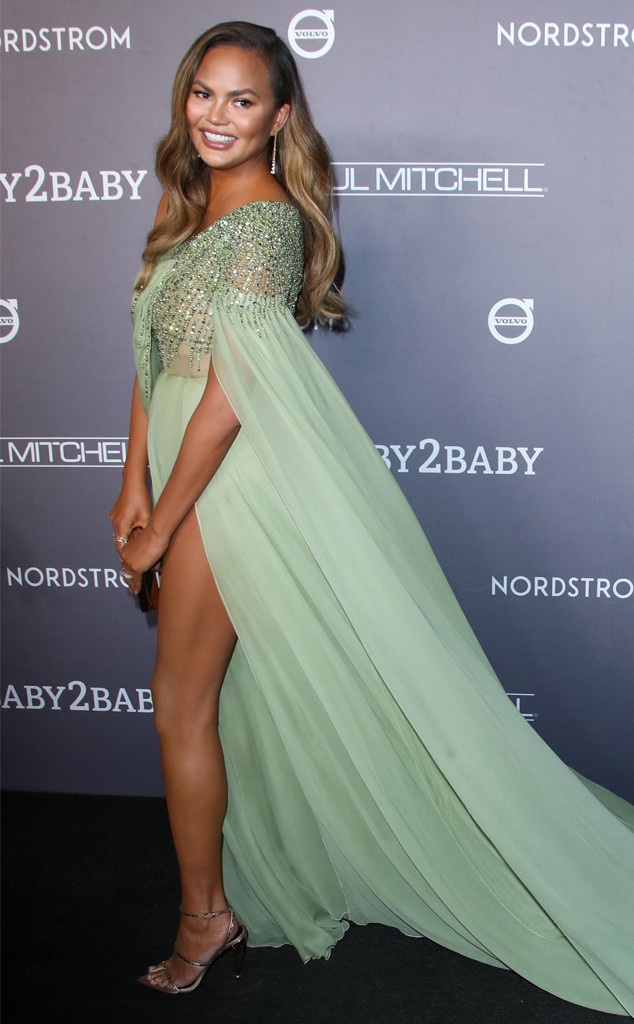 Matt Baron/Shutterstock
Chrissy Teigen just answered your burning questions about the lives of celebrities.
On Sunday, the star gave a candid look into her famous life by conducting a lengthy Q&A session with her Twitter followers. For two hours, the Cravings author answered a wide range of questions, from how she feels about paparazzi and how celebrities travel without being seen at airports, to how fame effects her mental health. And it was an eye-opening thread to anyone who finds fame intriguing.
Teigen's thread was inspired by a tweet from a fan who raised a pretty interesting Q. As they asked, "Do celebrities have junk drawers where they throw random cords and pens? I feel like @chrissyteigen would but like @KimKardashian absolutely would not." Teigen responded with a photo of her very own junk drawer captioned, "It's celebrity question asking time! Ask me, your favorite A list celebrity anything you would like to know about being a super huge A list celebrity."
Let's start with one thing that only celebrities deal with: paparazzi. Responding to a fan asking how she deals with them, Teigen responded, "If you're nice to them, they're good to you. One time I dodged one for miles and hid in an alley. He found me. I lept from my car, shaking and crying that he had a gps on my car. He was so kind and I ended up feeling terrible. It's a job."
She revealed in a follow-up tweet, however, that her outlook on the photographers isn't always positive. As she added, "BUT one time, a guy in nyc shot directly into a dressing room I was changing in. I memorized his face and still hate him."
One of the most wild reveals the mom of two shared in this thread has everything to do with celebrity travel.
According to Teigen, the reason you rarely spot famous people at airports is because there are covert entrances they can pay to use. As one fan wondered, "How the frick do most celebrities travel on planes? Are you ever just hustling through the airport trying to make it to your gate on time?"
The star dished, "There is a terminal a mile from the airport that you pay membership for. they do the same security privately and take you to the plane in a car. I know. I know." The more you know, right?!
It wasn't just travel and paparazzi the Queen of Twitter talked about, though. Indeed, she shared some personal facts about her life that shed light on the downside of fame.
Watch:
Chrissy Teigen on Raising Two Kids Under 4, Potty Training & More
Bringing up mental health issues, one fan asked, "With being famous and having anxiety, what's one of the most important things for you to keep your sanity surrounding that?" The Chrissy's Court host replied, "my medicine."
She also revealed that despite her various business ventures and her seemingly crazy busy schedule, there are times when she feels rather stagnant.
As one follower asked, "Change after becoming famous is presumed to be for the worse. Have you changed for the better since becoming a celebrity?"
Teigen, impressed by the inquiry, said back, "Whoa very good question. I dunno, honestly. I still see things from every perspective. But I'm also highly anxious and perceptive so it's kind of hell for my own mind. But also good? I like that I can help people but my own self is kind of...stuck?"
John Legend's love also revealed in the thread that she's grateful for Twitter for providing her with a respite from all of the controlled communication she has to practice. Having noted that she's constantly living in fear of being canceled, she said that being able to speak with people directly on Twitter is an emotional saving grace for her.
Don't worry, girl. We will always be here for your tweets! Check out the rest of Teigen's thread to find out how celebrities end up becoming friends, how she pays her bills and what she really thinks of award shows.