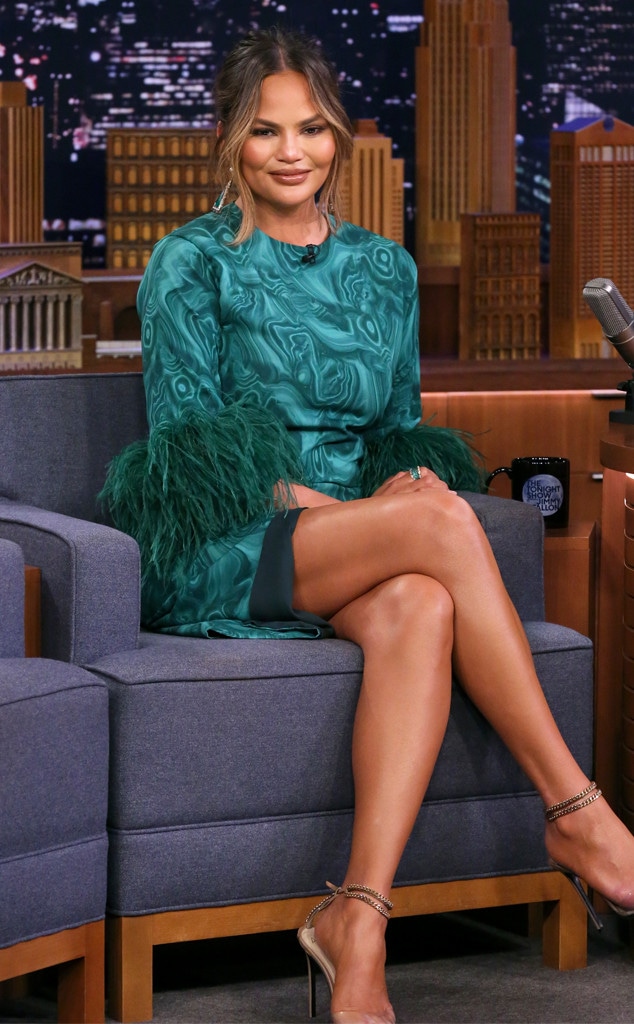 Andrew Lipovsky/NBC/NBCU Photo Bank via Getty Images
Another day, another iconic Twitter clap back from the one and only Chrissy Teigen. 
The model and "Cravings" author isn't one to bite her tongue or to let anyone disrespect her. By now, fans and followers—or just about anyone who's on the internet—know that Teigen is the queen of clap backs. 
On Saturday, during a NCAA football game between the Lousiana State University Tigers and the University of Alabama Crimson Tides, Teigen took to Twitter to make a hilarious observation. "wait so if someone wants to, they can hide off the field out of bounds then come in and sneak attack a touchdown. this is all good to know," Teigen tweeted in response to a play from LSU. 
But of course, as is usually the case, some people on Twitter weren't too happy with Teigen speaking on college football matters. 
One Twitter user responded to Teigen's initial tweet and said, "stick to being hot with giant cans." 
Teigen, however, didn't let the trolls faze her. She responded to the sexist comment, writing: "I know you're trying to be mean but I really needed this today so thank u."
Leave it to Teigen to take the hater's comment and turn into a compliment. 
After replying to the first Twitter comment, other fans continued to ask Teigen about what team she was rooting for during the game. "I'm going for no one, I just like to watch sports and learn sports," she tweeted. 
Early this week, Teigen also received some backlash after making a joke about her mother's spending habits. Teigen had jokingly tweeted: "my mom treats her air pods like they're disposable. buys a few a month. she says they would be easier to not lose if they had...a cord."
While the irony wasn't lost on many followers, others thought it came across a bit tone deaf. Teigen later checked herself and apologized for her comments.
"Oh man I haven't checked my mentions for a bit and I didn't realize how many people were super pissed off about this. It was meant as a joke (and exaggeration) about how my mom doesn't realize air pods are with a cord are headphones but it came across as super tone deaf and icky," she tweeted. 
On Saturday, the mother of two also tweeted: "Twitter is so much easier when you solely talk about reality shows and cooking. ANYTHING outside that, I don't think my weak mental state can take."