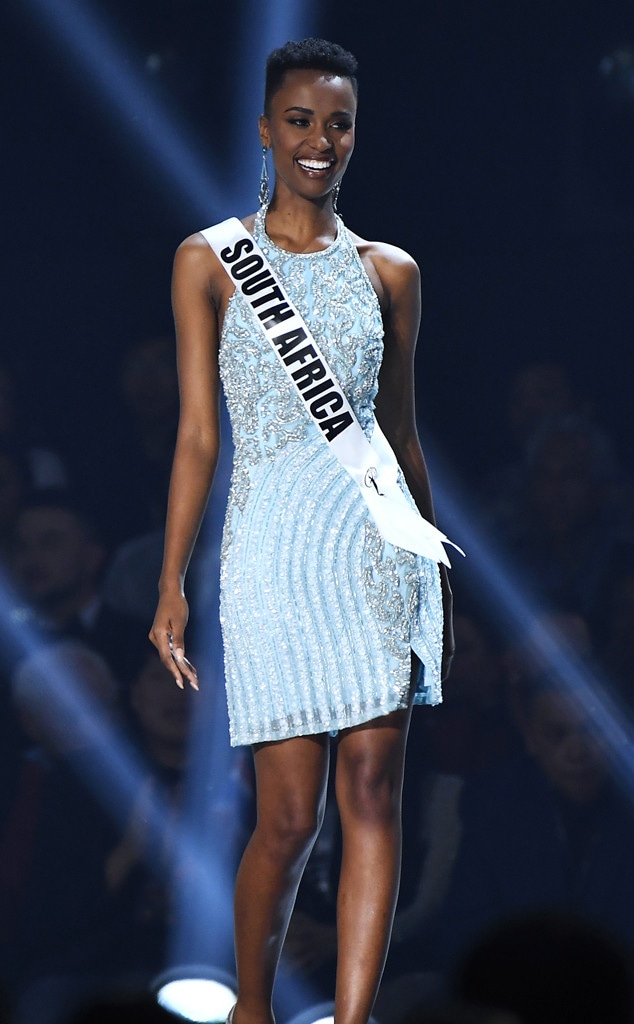 Paras Griffin/Getty Images
2019 is already proving to be an unforgettable year for the new Miss Universe.
On Sunday, Miss South Africa Zozibini Tunzi was announced the winner of the coveted competition, which was held at Tyler Perry Studios in Atlanta, Georgia. Taking the first runner-up title was Miss Puerto Rico Madison Anderson, while Miss Mexico Sofía Aragón earned the second runner-up title.
For Tunzi's final statement of the night, she really made an impact with her words.
"I grew up in ha world where a woman who looks like me with my kind of skin and my kind of hair was never considered to be beautiful," Miss South Africa said. "And I think that's time that stops today. I want children to look at me and see my face and I want them to see their faces reflected in mine."
For the fifth consecutive year, Steve Harvey returned as the host while Olivia Culpo and Vanessa Lachey took viewers and audience members alike behind-the-scenes, as they served as backstage correspondents.
In honor of Miss South Africa winning Miss Universe 2019, here are a few fun facts about her!
VALERIE MACON/AFP via Getty Images
1. Making History:
Miss South Africa's win marks a special one. Not only does this make three wins for the country but Tunzi is the first black woman to earn the title since Leila Lopes was crowned Miss Universe 2011. Moreover, all four major pageant winners of the Miss Universe Organization are black women! Now, that's something to celebrate.
2. Beauty on the Inside and Out:
The 26-year-old pageant queen is a huge advocate for natural beauty. According to her page on the Miss Universe site, she hopes to "encourages women to love themselves the way they are."
3. Using Her Platform to Make Changes:
Tunzi is an activist who fights against gender-based violence. "I'm asking the people of South Africa to be part of the fabric of my Miss Universe National Costume by writing love letters that pledge support for the women of this country," she captioned a recent Instagram post. "It is my hope that these pledges will start, and continue a conversation around gender-based violence. We have to start the narration where right-thinking people act as role models for those who think it's okay to mistreat women."
Watch:
Ashley Graham Dishes on Miss Universe 2017
4. Beauty and Brains... and Books:
The 26-year-old is an avid reader and lover of books, all thanks to her grandma. "The first book I ever picked up to read belonged to my grandmother. She gifted it to me because I loved sitting on her lap pretending to read whenever she was doing it...," Tunzi shared. "Till today, even with her horrible eye sight you will never catch her without a book in her hand.
Because of her I have a thirst for knowledge and a love for reading. She sparked a flame in me to always want to do more and to be more."
5. She's One Heck of a Model:
Take one look at her Instagram and you'll see a multitude of glamour shots of her modeling fabulous fashion pieces. With her taking on the new title of Miss Universe 2019, hopefully we see her serving more lewks!
Congratulations to Tunzi and all of the Miss Universe contestants. Tonight was certainly one to remember!