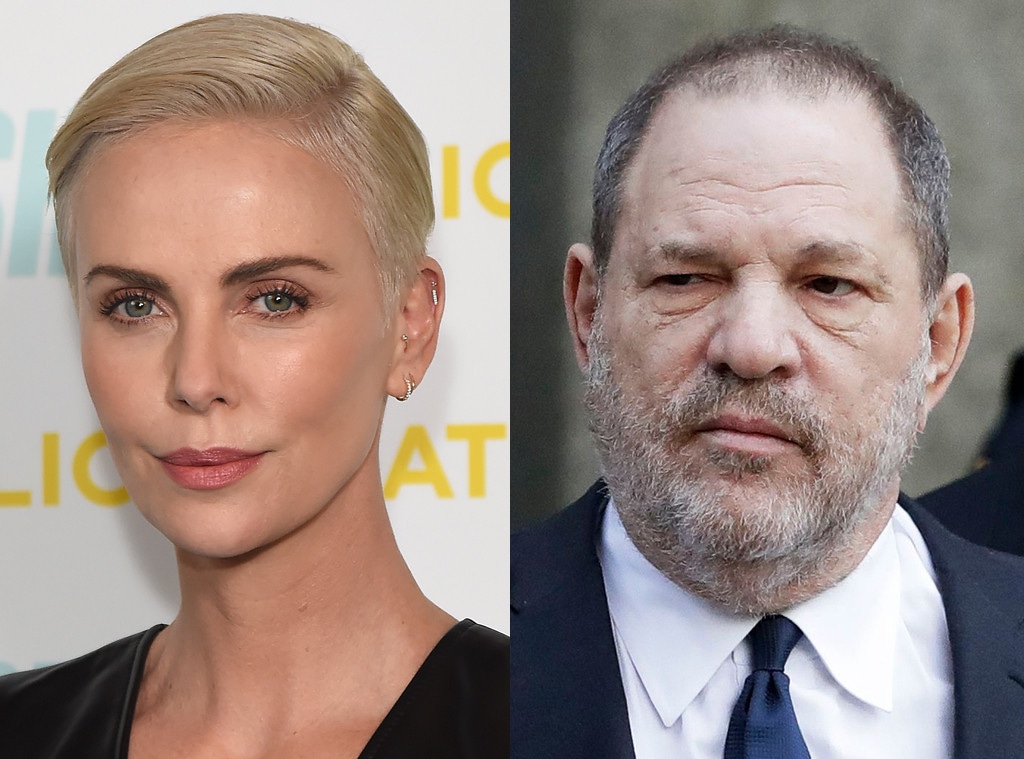 David M. Benett/Dave Benett/Getty Images, Mark Lennihan/AP/Shutterstock
Charlize Theron spoke out against Harvey Weinstein during an interview with The New York Times published Wednesday. 
During the discussion, the interviewer told the 44-year-old actress her new movie Bombshell—which tells the story of the women at Fox News during Roger Ailes' tenure and downfall—"made me think of the actresses that Harvey Weinstein is alleged to have harassed, like Ashley Judd and Mira Sorvino, and how he would marginalize them or pit other women against each other to maintain a system where he could stay on top."
"Yeah, and he did that to everybody," Theron replied, insinuating that Harvey lied about his relationships with the women. "Pitting women against each other? He was really, really good at that. There was a lot of, like, 'Well, I'm talking to Gwyneth [Paltrow] for this movie …' One of his lines was that Renée [Zellweger] and I slept with him to get jobs. There was no limit to him. Even in the sexual favors, he would still pit us against each other."
In December 2017, six women filed a lawsuit against the filmmaker. One of the plaintiffs claimed Weinstein told her "Renée Zellweger, Charlize Theron and other actresses gave sexual favors."
Zellweger's rep replied to the lawsuit in a statement to E! News. "If Harvey said that, he's full of s--t." A source also told E! News "there was never anything sexual between Charlize Theron and Harvey Weinstein."
A representative for Weinstein responded to the lawsuit, as well.
"Mr. Weinstein vehemently denies these accusations and has never stated he slept with any of them. It's ridiculous that anyone would believe these talented women, academy award winners, provided sexual favors in exchange for roles they earned based on their talent and brilliant work," the statement read. "It's simply not true."
The lawsuit came just a few months after The New York Times published an exposé detailing allegations of sexual misconduct against Weinstein. Just a few days after the article's release, Theron took to Instagram and shared a message with her followers.
Watch:
Charlize Theron Talks Megyn Kelly, Hand Injury & More
"The women who have spoken about their abuse are brave and heroic and although I didn't have a personal experience like this with Harvey Weinstein, I unfortunately cannot say I'm surprised," she wrote at the time. "This culture has always existed, not just in Hollywood but across the world. And many men in positions of power have gotten away with it for far too long. We cannot blame the victims here. A lot of these women are young, and just starting out in their respective fields, and have absolutely no way to stand up to a man with so much influence, much greater than theirs. If they speak up, they are shut down, and that could be the end of their career." 
She then added, "This is all a positive step forward in changing that culture, and these young women need to know that they have a support system should anything like this happen to them. And I want you all to know I support you."
Weinstein has also "unequivocally denied" any allegations of non-consensual sex.
Theron plays Megyn Kelly in the movie Bombshell, which also features Nicole Kidman and Margot Robbie. When asked how her friends reacted to news she'd be playing the anchor, Theron said "it was definitely awkward."
"In a weird way, the judgment she gets from a lot of people, I felt on me a little bit," she told the newspaper. "But up until four weeks into shooting, I was still grappling with who she was as a person, and it wasn't until I really zeroed in on that year and a half of the story that I could actually defend her."
To read Theron's full interview, check out The New York Times.
Bombshell hits theaters in New York and Los Angeles on Dec. 13 and arrives in theaters everywhere Dec. 20.